Sara Norris
Sara Norris
San Diego has many fine neighborhoods when it comes to eating and drinking, with a mix of new restaurants popping up all over and oldies-but-goodies that are still bringing it. But what if there was some weird rule, or Harry Potter spell, or something that stipulated that you were confined to just one neighborhood, forever? Where would you choose to live to maximize your eating and drinking pleasure? We pondered that essential question and ranked the top nine options.
9. Pacific Beach
Let's be honest, if you saw the headline and thought "PB!", your diet likely consists of greasy bar food, shots, burritos, and more shots. However, it does have several redeeming spots that offer a little something more, whether it's the refined global fare at The Patio on Lamont, the delicious morning fare at Fig Tree Café, or the spot-on seafood at the Pacific Beach Fish Shop.
8. Mission Beach
Things are looking up for the food scene in Mission Beach, which until recently didn't offer much diversity beyond the pizza joints and taquerias designed to attract the patrons stumbling out of beach bars. You can't beat breakfast at The Mission or the TKO fish tacos at Sandbar, but the revitalization of Belmont Park has brought a couple of new eateries to the area. The ocean view from the massive rooftop bar at Cannonball is killer (though it's currently closed, but only because they're making it MORE awesome), and Draft is serving up 69 (woohoo!) beers on tap (still great!) to thirsty beach goers right next to the boardwalk.
7. Downtown/Gaslamp
Going Downtown doesn't have to be all about night clubs, seven-inch heels, and dudes with hair that has been gelled to the point of fossilization. You can take your pick of bars, but unless you want to pay $15 for a vodka soda, happy hour is your best bet. If you're just looking to nosh, there are actually some decent places to grab a bite to eat that don't have a dress code. Lucky Liu's is a great spot for Chinese comfort food and Café 21 offers some relief from the typical fried bar food with their healthy-ish menu, plus they have sangria flights and a trio of Bloody Marys that are a meal in themselves.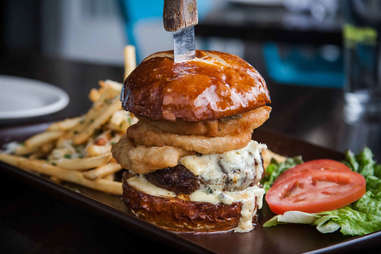 6. La Jolla/Bird Rock
There is no faster way to empty your wallet than dining in La Jolla/Bird Rock, but if you're looking to impress the ladies with a fancy pants dinner date, this is the place to do it. The area is more than high-end fine dining though; there's a little bit of something for everyone. You can take in the view at George's at the Cove, satisfy your munchies with pizza and beer by UCSD, caffeinate with a gourmet coffee from Bird Rock Coffee Roasters, or see what Chef George Morris is cooking up at Beaumont's.
5. North Park
The restaurant selection in this part of town is as eclectic as the people who live there. You don't just order a cup of coffee from Starbucks in North Park. You order a small-batch, in-house roasted pour over or cold brew on tap from Coffee & Tea Collective. The craft cocktail scene is also on point. You can sip on a Kentucky Tippler while playing a vintage Pacman arcade game at Coin-Op, have your choice of 300+ tequilas or whiskies in specialty bars like Cantina Mayahuel and Seven Grand, or get yourself an expertly made cocktail at Imbibe's Cocktail Bar of the Year, Polite Provisions. The fact that Carnitas' Snack Shack is in NP could arguably send this neighborhood to the top of the list.
3. East Village
Baseball isn't the only reason to visit East Village anymore (actually, eating might be the better reason at this point). Newcomers like Común, Rare Form, Stone Tap Room, and Table No. 10 have been snatching up all the real estate surrounding Petco Park, giving you tasty alternatives to hot dogs on game days. Bar options in this area include a little something for everyone; from craft beers at Monkey Paw and sports bars like Bub's to cocktails at the Cat Eye Club.
2. Clairemont/Kearny Mesa
It doesn't matter what kind of Asian cuisine you're into, you'll find it over here -- just take a drive down Convoy St. You couldn't find a higher concentration of Korean BBQ, sushi, ramen, Thai, Chinese takeout, and the like without moving to another country. It goes without saying that there's a good selection of sake, but craft beer is starting to make its way into this part of town now that Common Theory Public House has opened its doors.
1. Little Italy
A person could gain 10 pounds just by inhaling the delicious smells wafting in the air of Little Italy. There is no shortage of irresistible sauce-and cheese-covered carbs being served in this 'hood. Even the most recent non-Italian additions of Ironside Fish & Oyster and Juniper & Ivy are crave-worthy destinations. A variety of imbibing is also readily available in the area thanks to spots like Craft & Commerce, Waterfront, and Bottlecraft.