2015 was quite a year for eating and drinking in San Diego -- quick, everyone go for a run, like, NOW. From stellar Mexican food in Little Italy (?!) to a crack addiction that won't land you in legal trouble, these are the places that mattered when it came to dining and imbibing in San Diego this year.
Best new restaurant
Bracero Cocina de Raiz
Address and Info
Little Italy
Chef Javier Plascencia's second US eatery was one of the most highly anticipated restaurant openings in SD this year. The Baja-style modern Mexican fare brought some Latin spice to the pasta heavy streets of Little Italy. Plascencia is serving everything from raw and cold small plates like albacore two ways (seared and tartare) to shareable creations like shrimp and bone marrow sopes to more substantial offerings like peanut-smoked lamb shanks. Behind the bar they have a tequila-focused cocktail program in addition to a selection of local and Baja brewed beers as well as wines that rep both California and Valle de Guadalupe. In a city that is picky about its Mexican food, Bracero stands out, which is no easy feat.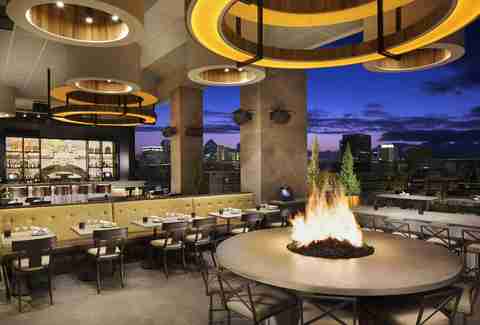 Best new bar
The Nolen
Address and Info
East Village
We're as surprised as you that our favorite new cocktail bar is located in a Courtyard by Marriott. Perched atop the 14th floor of the brand-new property, The Nolen serves up truly impressive views of the downtown skyline and beyond. Fire pits and a wind barrier help keep the space warm and cozy, while a menu of comfort food classics (flatbread, chili-glazed meatballs, and killer mac & cheese) keep hunger pangs at bay. A bar can't be great without a talented leader, and that's where Robert Yumul comes in. He's done time in some of the city's best watering holes, including Bankers Hill Bar + Restaurant and The Lion's Share -- and it shows. His menu of barrel-aged cocktails, cocktails on draft, and 'Hoptails' made with beer exhibit creativity, skill, and a deep understanding of the craft. Standouts include the PS I Love You (house rum blend with pineapple, lemon and pumpkin spice syrup) and the bourbon-based Bronarmy Navy (with Cynar 70, lemon, orgeat, and salt).
Best new breakfast
Breakfast Republic
Address and Info
North Park
San Diego is not necessarily a city known for early birds, but Breakfast Republic is worth sacrificing some sleep over. They have a creative spin on the most important meal of the day with sweet stuff like lemon 'n' coconut french toast and Oreo cookie pancakes, plus savory choices like duck breast omelets and breakfast bacon mac 'n' cheese. If there's anything that can get you crowing in the morning it's their caffeine overdose, because every day should start off with a flight of mochas.
Best new beer bar
The Brew Project
Address and Info
Hillcrest
It's no secret that San Diegans are beer obsessed, and The Brew Project is the newest spot to get your fill of everything local. Only SD brewed suds pour from their 24 taps so every visit is like taking a brewery tour without having to get on one of those buses full of marauding tourists. The menu is filled with shareable plates that you won't really want to share, like the carne asada fries, in addition to artisanal sandwiches that will help soak up all of that beer. Their spacious outdoor patio looks out onto 5th Ave and will definitely be on your list of favorite new places to brunch as well. Can't stick around? No problem. This place is not just a beer bar, it's also a grab-and-go bottle shop so your place can also remain well-stocked.
Best new burger
The Balboa
Address and Info
Bankers Hill
Once upon a time Doods Foods was slinging their burgers from a literal hole in the wall hidden inside of Tin Can Alehouse, but now they've taken over the entire joint and have been reborn as The Balboa. The name might be different, but they are still serving some of the best burgers in town. Each one is made to order with a ⅓lb all natural beef patty on fresh baked bolillo rolls. The place used to only serve beer in cans, but now they have a full bar with a cocktail program focused on the classics in addition to brews on draft and a wine selection. A lot might have changed in this spot, but keeping true to the Tin Can days there are still live shows happening every Friday and Saturday night starting at 10pm.
Best new party patio
Park & Rec
Address and Info
University Heights
Everyone in San Diego loves a good patio. Even more so, they love drinking on said good patio. Park & Rec is the best new place to do said outdoor boozing. They have two bars slinging craft cocktails separated by a large outdoor courtyard where you can listen to live music, play ping pong, or simply enjoy the beautiful San Diego weather year round. Their craft cocktail menu was designed by expert bartenders Anthony Schmidt and Trevor Easter and has a little bit of something for everyone. Pair one of their libations with a patty melt and tots from the pop-up food stand Royale with Cheese and you won't be disappointed.
Best new brewery
Abnormal Beer Co
Address and Info
Rancho Bernardo
First they started with Abnormal Wine Company. Then they blew our foodie minds with The Cork & Craft. Now with the addition of Abnormal Beer Company they have completed the perfect trifecta of food, wine, and beer all made under one roof. They started with some small test batches at the end of 2014, but this April with head brewer Derek Gallanosa at the helm they finally started brewing for the masses. Their core line up consists of 5pm Session, Debut IPA, and Mostra Mocha Stout made in collaboration with local roasters Mostra Coffee. It's not even a year later they're starting a $1 million expansion to keep up with demand that will increase their brewing capacity by 550% and fermentation capacity from 80 barrels to 440 barrels. They are also adding a barrel aging program to the mix.
Best new butcher shop
The Heart & Trotter
Address and Info
North Park
As the food scene grew in San Diego the demand for a place to get local, sustainable, antibiotic, and hormone-free meats grew as well -- thus the birth of The Heart & Trotter. They started out in a rental kitchen and putting on educational demos at events, but in 2015 they opened their own whole animal butchery in North Park. Using every edible part of the animal they make everything from sausages and patés to charcuterie and dog food. They'll even help you perfect your own butchering skills with their classes on lamb, pork, and sausage making.
Best new ramen
JINYA Ramen Bar
Address and Info
Pacific Beach
JINYA might be a chain... and located in PB, but don't hold that against them since they'll also be opening a Hillcrest location in 2016. Their menu consists of a variety of ramen options made with 10-hour simmered broth and three-day aged noodles, and they also offer tapas like pig ear chicharróns and JINYA buns full of braised pork and vegetables. Their Beachside Bowl is unique to the San Diego location and is made with umami-rich chicken broth, seasoned poached egg, crispy bean sprouts, green onion, spinach, nori, and a choice of thick or thin noodles, plus it has a whole grilled chicken leg in it.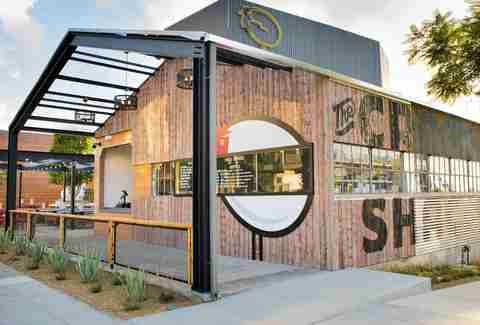 Best bang for your buck
Crack Shack
Address and Info
Little Italy
Between skyrocketing rental rates and inflated prices at the pump, living in America's Finest City can definitely put the pinch on your fun budget. Luckily, there are places like The Crack Shack, a fast-casual, all-outdoor eatery from the team behind Juniper & Ivy that takes chicken and eggs to a whole new level. Better yet, because the majority of menu items -- including chicken sandwiches, salads, and sides -- top off around $12, you can enjoy a quality meal without having to immediately lock your debit card in a safe until payday rolls around.
Best new BBQ
Grand Ole BBQ y Asado
Address and Info
South Park
Good BBQ was hard to find in San Diego until this casual, Austin-style outdoor eatery debuted in South Park in November. Wednesday through Saturday, you'll find an assortment of Central Texas-style BBQ fare like melt-in-your-mouth brisket (smoked for 14 hours), pulled pork, Texas turkey, spare ribs, and beef short ribs unlike anything you've ever seen (or tasted), complemented by an array of tasty sides and four house-made sauces. On Sundays, the menu switches to Argentine-style grilled meats, like whole grilled chicken, skirt steak, and chorizo (all topped with homemade chimichurri). Check the full run-down of the menu here (offerings differ at lunch and dinner). A word of warning: dinner starts at 5:30pm and ends when they run out of meat, so if you're eyeing a particular protein, it's best to arrive early.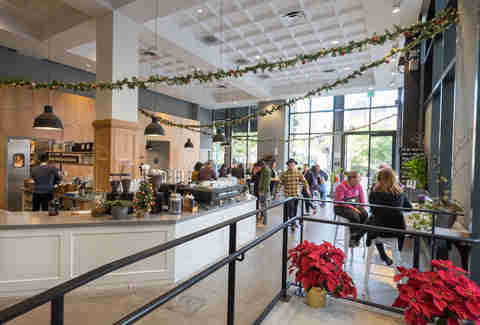 Best new coffee shop
Copa Vida
Address and Info
East Village
2015 is the year San Diego officially got very serious about coffee. With so many new openings and expansions (each with their own unique character), it's hard to pick a favorite, but Copa Vida rises to the top for their obsessive dedication to the craft (including cutting-edge coffee and tea brewing equipment manned by well-trained baristas), quality beans (that produce a robust brew with a sweet finish), and a compact but satisfying menu of healthy salads and tasty sandwiches (made with bread that's baked fresh, in-house). With its mix of communal tables, cozy two-tops, and a sidewalk patio, the airy, modern space works for everything from socializing with a small group to functioning as a satellite office for local freelancers. The menu has everything from the expected espresso-based beverages to tons of tea (plus cold brew and iced tea on tap). When in doubt, the mocha made with dark chocolate ganache is always a wise decision.
Best new NorCal import
Ike's Place
Address and Info
Hillcrest
This year, several national or regional chains opened their first SD location (including Cafe Gratitude, Lemonade, and Nishiki Ramen to name a few) but we're much more excited about Ike's Place, a San Francisco-based sandwich shop famous for flavor-loaded sandwiches served on Dutch Crunch bread with plenty of Dirty Sauce. The first location touched down at The Hub shopping center in Hillcrest this month, but Ike says he's already looking to open two or three additional locations.
Best rebirth
Water Grill
Address and Info
East Village
Remember The Palm? Of course you don't. The day after this stunning seafood spot debuted on the edge of the East Village in the steakhouse chain's former digs, any memory of the butter yellow structure was scrubbed away forever. The multi-million dollar transformation resulted in improvements to every inch of the building, from the installation of huge, open windows to a sophisticated paint job. Inside, details like an expansive, copper-topped bar flanked by super-comfy leather swivel seats and a separate oyster bar with custom fish scale tiles earned it a spot on our roundup of most beautiful bars. To properly experience the full effect of the transformation, you really need to see it for yourself.
Sign up here for our daily San Diego email and be the first to get all the food/drink/fun in town.
Erin Jackson is San Diego-based food writer and photographer who loves sharing her latest finds. Follow her on Twitter if you enjoy food content, random thoughts, and cat photos.

Sara Norris is a writer and photographer who knows where to find all the good stuff around town.