'Tis the season for tourists to take over our fair city, making it virtually impossible for locals to enjoy anything -- from our beaches to our favorite hangouts. Stay one step ahead of them and eat in these places that are too new for the tourists to have caught on yet!
Common Theory Public House (address and info)
Clairemont
Located amongst the typical Korean BBQ and ramen joints that you'd expect to find on Convoy St is Common Theory Public House. Despite the ever-growing beer scene in SD, craft beer bars are pretty uncommon in these parts. Even though their menu features mostly bar food creations like bourbon bacon-wrapped garlic corn dogs (wow...) and truffle mac and cheese, the Asian influences of the neighborhood aren't totally foreign to their menu -- thanks to Korean-style seafood pancakes, "Galbi" short ribs, salt & pepper chicken wings, and a whole lot of that aforementioned beer on tap.
Recommended Video
This Pizza Dip Lets You Throw a New Kind of Pizza Party
Wow Wow Waffle (address and info)
North Park
San Diego residents no longer have to wait for the weekly farmers market to get their hands on a scrumptious Nutella and banana Wow Wow Waffle. Everyone's favorite mobile wafflers have opened up shop in a more permanent location that is open Tuesday-Saturday. While there's no official sign out front yet, look for their chalkboard menu, then follow the driveway and the intoxicating smell of fresh made waffles behind 30th Street Laundry to find them around back. They are serving all of your sweet and savory favorites like chocolate infused with strawberries or candied bacon, goat cheese, and avocado, all atop a Liege waffle.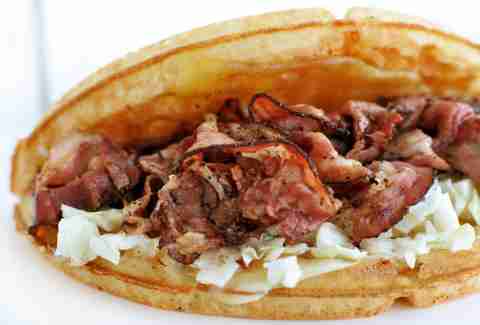 Bruxie (address and info)
SDSU
San Diego is officially waffle crazy! Originally slated to open up in the Headquarters at Seaport Village, you can now find Bruxie making their waffle taco-esque sandwiches over at SDSU. The light, not-so-sweet Belgian waffles come made to order, wrapped around a variety of fixings, including buttermilk fried chicken, angus beef patties, and hot pastrami. Although the waffles themselves aren't sweet, Bruxie has a selection of pure cane sugar sodas, sundaes, and Wisconsin custard shakes to wash them down with.
Stone Tap Room (address and info)
Petco Park/East Village
Stone Brewing Co. has expanded their craft beer empire yet again, this time with the addition of the Petco Park-adjacent Stone Brewing Tap Room. Decked out with gargoyles and their signature rustic design, the bar is pouring 16 frosty Stone drafts with tasters, flights, pints, bottles, and growlers available. They've utilized the pizza oven that was already in the space to make an entirely new menu built around a selection of flatbreads topped with stuff like duck confit, Arrogant Bastard-smoked pork, and cheddar bratwurst.
Rare Form (address and info)
Petco Park/East Village
The masterminds from Consortium Holdings are at it again. As if opening Ironside Oyster earlier this year wasn't already enough to blow San Diego's collective taste buds, they've just opened the doors at Rare Form, a deli/bar hybrid in the East Village. The menu is a list of flavor-packed savory sandos stuffed with pork belly, grilled swordfish, chicken schnitzel, and other delicious proteins. There's also... waitforit... a selection of waffle sandwiches! Wrap your lips around a fried egg, bacon, and American cheese waffle sandwich or ditch the breakfast vibe and get your waffles with house-made knockwurst, caramelized onions, and roasted peppers. Along with the sandwiches, they are, of course, working magic behind the bar with a refreshing beverage program featuring several brews on tap and a selection of boilermakers that pair various beers with a shot of schnapps. While the downstairs is open for business, look out later this Summer for the location to expand with the addition of a rooftop bar.
Draft (address and info)
Mission Beach
Belmont Park has added a new watering hole to their waterfront property. Sitting right on Mission Beach boardwalk with views of the ocean, Draft is an ideal spot for a post-beach drink, although you probably won't be checking out the ocean view when there's a game on their wall-sized 31.5ft television screen. There is a full bar but the place certainly lives up to its name with a selection of over 60 beers on tap and more than 50 bottles that will rotate seasonally. If you plan on keeping your beach body, you should probably bring a buddy and order from their shared plate menu which offers pork belly corn dogs with truffled mustard, Belgian cheese fries, and more.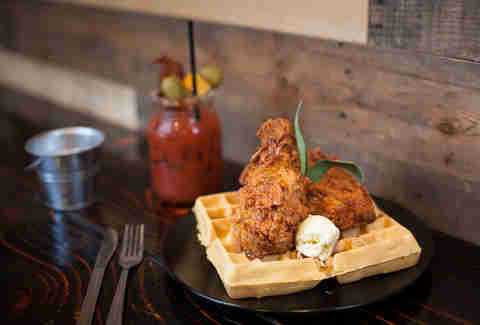 Truckstop (address and info)
Pacific Beach
Truckstop has you covered for breakfast, BBQ, and beer by the beach. They start at 7am, serving hearty country-style breakfast plates of biscuits and gravy, coconut-crusted American toast (like French toast, but better), and breakfast skillets. Lunch consists of pulled pork sandwiches, 1/2lb burgers, steak salads, and more, lasting from 11am until they close at 4pm. They also have a strong selection of craft beers, specialty Bloody Marys, and mimosas.
This list -- and all the rest -- look even sexier in our iPhone app. Get it now!