2016 was a year of exciting openings, with talented cooks flexing their culinary muscle to shape some of San Diego's most innovative and introspective dishes in years. Of the many, many new plates we've eaten this year, these six bites and dishes were the very best. Do your tastebuds a solid and add them to your must-eat list for 2017.
Recommended Video
Proof That Iceland's Ring Road Is the World's Most Beautiful Road Trip
Wood-fired croissants
BIGA
Address and Info
Gaslamp
There's a ton of delicious new baked goods at BIGA, but the one thing you must try is the wood-fired croissant. Golden brown and crisp on the outside and chewy and soft on the inside, they're a bulkier, more substantial variation on a classic that wholly satisfies. It takes a full 72 hours to prepare them from start to finish, so only about two dozen are available each day. The croissants typically come out of the oven at 8am and can sell out in less than an hour. Time your visit accordingly.
Fruit bowl
Bracero
Address and Info
Little Italy
Through some miracle of science, the segments of pineapple, melon, and strawberry in this shockingly delicious brunch dish from Bracero are doubly sweet and delicious. The accoutrements (Greek yogurt, honey, and a salty housemade granola that's heavy on crunchy nuts and seeds) completes the experience.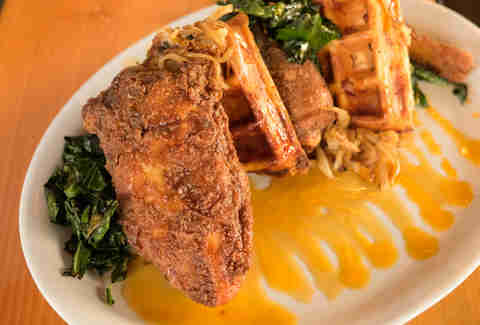 Mary's fried chicken and waffles
Encontro
Address and Info
North Park
This elevated presentation of an American classic is one of a handful of "chef's plates" available on Encontro's dinner menu. Well priced at $16, it features top quality, expertly fried chicken and crunchy Belgian waffles studded with diced Black Forest ham and cheddar cheese. A generous drizzle of Vermont maple syrup and Tabasco butter forms a sweet and smoky sauce that brings the elements together. And, thanks to the addition of braised collard greens and melted onions, you can say you ate your veggies!
Green curry chicken pot pie
Pop Pie C
Address and Info
University Heights
Considering the fact that the chef at Pop Pie Co. is A) from Thailand, and B) trained in pastry, odds are good that if there's a green curry pot pie on the menu, it's going to be delicious. That's true in the case of this University Heights pie shop and then some. The curry isn't just delicious, it's ambrosial… and then there's the crust to take into account. That flaky, buttery crust! Co-partner Steven Torres says it'll stick around until the end of January. You know what to do. Run, don't walk.
Bolognese al forno
Barbusa
Address and Info
Little Italy
Like any good bowl of bolognese, Barbusa's rendition hugs you from the inside out. Baked in a rich tomato sauce with veal, sausage, and short rib, it's comforting but not too heavy. Traditionally, the sauce is served atop tagliatelle, but here, it's baked with cheese, English peas, and anelletti -- a ring-shaped pasta that looks like Spaghetti-O's. This modern update puts the sauce front and center, ups the comfort food score, and makes the dish easier to eat, with no fear of sauce splashage.
Ice cream sandwich
Herb & Eatery
Address and Info
Little Italy
This outstanding ice cream sandwich is scientific proof that sometimes when you join two tasty elements, the result is exponentially more delicious than the sum of its parts. In this case, it's a scoop of banana chip gelato sandwiched between two peanut butter and fennel cookies. Each are perfectly excellent on their own, but together, the texture and flavor payoff is huge. Best of all, it's priced so reasonably that you have no choice but to get one.
Sign up here for our daily San Diego email and be the first to get all the food/drink/fun in town.