San Diego's Best New Restaurants of 2017
2017 was a banner year for the San Diego food scene. With developments like local concepts vying for domination (we're looking at you, Breakfast Republic), popular concepts from Los Angeles, NYC, and Portland moving into the market (Mendocino Farms, Shake Shack, and Salt & Straw later this winter), a surge of exciting new spots in Kearny Mesa (including trendy dessert spots and Korean fried chicken), and a new crop of promising options in Oceanside, you could easily try a different place multiple times a week and still not catch up. To make your dining decisions easier, we've assembled a shortlist of the five new places that stood out the most.
Hundred Proof
University Heights
Elevated bar food and boozy milkshakes from a pedigreed team
This hip option by the folks behind TRUST delivers a winning mix of cocktails and shareable bar bites like chicken wings, roasted beet hummus, and short rib bao buns with sweet and sticky Korean sauce. When in doubt, opt for the HP burger, a double-patty affair with English Cheddar and Dijonnaise on a house-made challah bun that made our list of San Diego's best burgers. Like TRUST, the restaurant puts out a killer brunch, complete with life-affirming dishes like Belgian waffles, Green Eggs N' Ham (served with a sizable portion of crispy porchetta), and gorilla bread topped with horchata anglaise and ice cream.
Liberty Station
Busy spot with Peruvian-influenced dishes and a spacious patio
Peruvian chef Emmanuel Piqueras heads this bustling spot in Liberty Station with parasols dangling from the ceiling and a chic outdoor patio. The menu is focused on three main pursuits with wide appeal: rotisserie chicken, ceviche served in martini glasses, and an assortment of pisco-based cocktails that are alarmingly easy to drink (despite packing a noticeable punch). Standout dishes include the Southern California-inspired bay scallop and shrimp ceviche with toasted corn, avocado-jalapeño emulsion and sweet potato, crispy carne empanadas, and arroz con pollo with cilantro rice and a drizzle of Huancaina sauce (a lightly spiced and instantly addictive cheese sauce similar to queso). The approachable menu, reasonable price-points, and cozy interior make it a great choice for a variety of dining occasions, including a date, family dinner, or special occasion outing.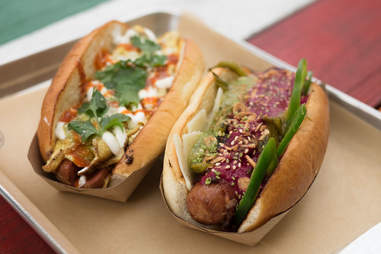 Erin Jackson/Thrillist
Barrio Logan
Casual counter-service spot with inventive hot dogs
Tacos will always be San Diego's one true love, but this ultra-casual counter service outfit in the Barrio makes a strong argument for specialty hot dogs suited up with inspired toppings like pickled jicama and wasabi sesame seeds. If you love heat, opt for the El Bombero: an Angus beef dog topped with seven different chili pepper preparations, including smoked poblanos, sautéed serranos, fresh jalapeños, hot chili oil, and three different salsas. Tamer tongues will appreciate the Chicago-style El Capone or the El Gallo, the shop's take on a breakfast dog, topped with an omelette-style egg. If you're a chili fan, it's worth timing your trip for the weekend so you can nab a bowl of fully loaded chili con carne on the side.
Gaslamp
Homestyle eats and unpretentious drinks in a retro '70s space with games
Executive chef Kevin Templeton (also of Barleymash) turns out a crowd-pleasing menu of Southern-inspired plates at this dual-concept spot with a retro '70s vibe that also houses Spill the Beans, a coffee and California-style bagel shop. Templeton says his inspiration for the menu was classic eats you'd get at your grandma's house, and that influence shines through with mains like cornmeal-fried catfish and beef brisket, and stick-to-your-ribs sides like homemade stuffing, mini buttermilk biscuits, and gooey baked mac & cheese. To drink, there's a menu of fruity and refreshing cocktails (presented on a View-Master), as well as boilermakers, craft beer, and unpretentious brews in cans. Opening up the front windows, re-thinking the floor plan, and adding foosball and shuffleboard tables has transformed the space, making it more welcoming, fun, and in-step with other venues in the Gaslamp Quarter.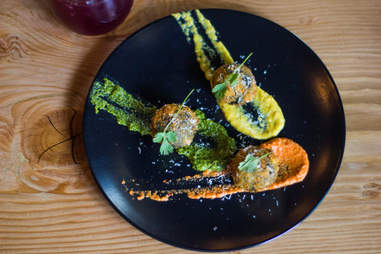 Bar Bodega
Little Italy
Cozy wine bar with top-notch tapas
Wall-to-wall dining options makes it tough for a small spot to stand out in Little Italy, but Bar Bodega manages to do just that. Developed by chef David Lopez Gutierrez (an alum of Tijuana's Culinary Art School who seasons and plates food with an uncommon attention to detail), the menu features an enticing selection of tapas like chorizo deviled eggs, brûlée beet salad, and ahi tuna tostadas, alongside cheese and charcuterie plates and a thoughtful selection of wine by the glass or bottle. Evenings are the best time to visit, but the restaurant also serves lunch and recently added a brunch menu with can't-miss items like stuffed French toast and chilaquiles.
Sign up here for our daily San Diego email and be the first to get all the food/drink/fun in town.
Erin Jackson is a San Diego-based food writer and photographer who loves sharing her latest delicious discoveries. If you enjoy food and cat photos, by all means, follow her on Instagram.