Everyone loves pizza -- from little brats at birthday parties, to old folks with no teeth, to humanoid turtle martial arts enthusiasts -- but what they all love even more than pizza is really great pizza. With that in mind, we've taken the liberty of directing you to the very best of SD's leaders in the pizza-making arts so you can impress everyone at your next party, dude.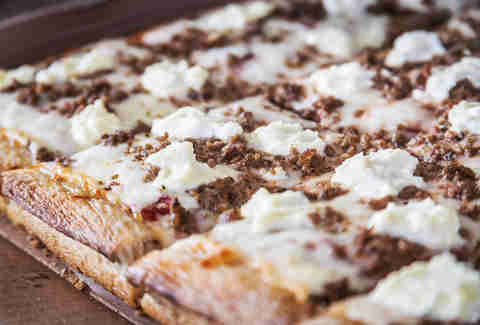 8. Sicilian Thing
North Park
What you're getting: Almost Lasagna
They do pizza two ways: round and thin or square and thick. You won't want to miss Almost Lasagna with ricotta and meatballs, which, as the name suggests, pretty much tastes like someone piled lasagna on top of pizza crust, ensuring that soon enough no one will be able to miss you.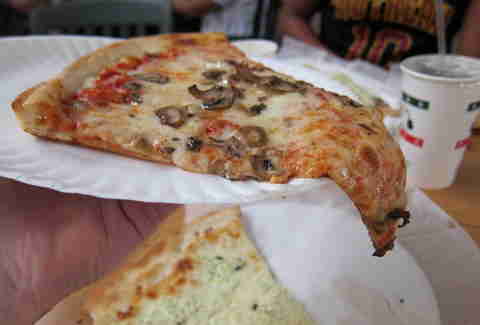 7. Bronx Pizza
Hillcrest
What you're getting: 2 slices and a drink for $6
There's a reason Bronx Pizza usually has a line out the door: if you love authentic NY-style pizza, this is the place to get it. The pies are on display, so just tell them which slice you want, they'll throw it in their brick oven to warm it to perfection, and then you listen for the guy to yell out your number. Be sure to bring some dough -- the green kind -- because this is a cash-only joint.
6. Zia Gourmet Pizza
Normal Heights
What you're getting: Banana Split Pizza
Zia may be known for doing a healthier version of 'za, but you can't miss the Banana Split Pizza. It starts with a thick layer of chocolate topped with bananas, light cream cheese, chocolate chips, and then a drizzle of chocolate syrup over the top, because you needed some dessert pizza in your life.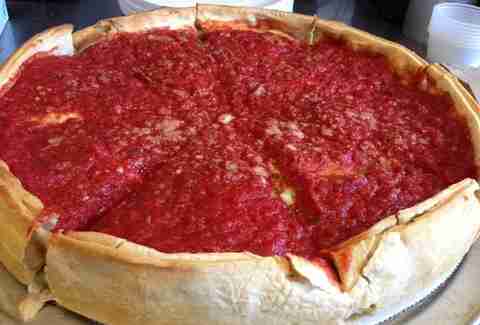 5. Lefty's Chicago Pizzeria
Multiple locations
What you're getting: The Great Sausage Pie
The stuffed pizza at Lefty's is 14in of mozzarella cheese-filled Chicago-style pie; it takes an hour to make and weighs several pounds. Order the Great Sausage Pie stuffed or deep-dish-style, and you'll find a layer of their delicious homemade Italian sausage baked right in.
4. Urbn
North Park
What you're getting: The Mashed Potato
NY- and Chicago-style pizzas are everywhere, but Urbn is doing theirs New Haven-style, with coal-fired pies like the Mashed Potato: a white pie with a perfectly crisp paper-thin crust, a layer of buttery mashed potatoes, mozzarella, bacon, and Parmesan.
3. Blind Lady Ale House
Normal Heights
What you're getting: House Chorizo
They have a killer rotating craft brew list, so have a beer while you get up close and personal sitting with the other pizza fiends at the long communal tables. Despite the acronym, the pizza is anything but BLAH. You have to order the House Chorizo pizza -- it's got a spicy kick with poblano chiles, Fontina, epazote, tomato sauce, and Cotija cheese, and it's covered in their own chorizo made in-house from local meats.
2. Buona Forchetta
South Park
What you're getting: The Nicola
Their pies are fired up in a giant gold-tiled wood-burning oven named Sophia (spoiler alert: she's hot!), and have Italian names like the Nicola: topped with mozzarella, mushrooms, a layer of thinly sliced prosciutto di Parma, truffle oil, and their house San Marzano sauce.
1. Project Pie
Hillcrest
What you're getting: Anything you want!
At Project Pie, you can create a custom personal-sized pizza made on a perfectly crisped, secret-recipe crust made with the help of a modified tortilla press, choose any combination of the 26 toppings that you want (from pepperoni and sausage to rosemary and sea salt), or go with one of the nine pre-designed pies from their menu if you have no imagination.