W
hile
New York
and
Chicago
continue to have their childish shouting matches over who makes the best pizza, we'll just be down here enjoying some of the finest cheese and crust creations in the country -- and we'll probably head to the beach afterward because, well, we can. San Diego has no shortage of pizza places serving up varied takes on the classic childhood foodstuff, from no-frills slice shops to tavern-style restaurants with perfect pie/pint pairings, and it's time everyone else realized it. Here are the best damn places to eat pizza in San Diego.
South Park
Local favorite serving Neapolitan-style pies
This neighborhood favorite with a snug outpost in South Park and a huge new location in Liberty Station offers three dozen different pies ready to crush your carb and cheese cravings (all of which can be made gluten-free). You really can't make a bad call, whether you go for something simple like the margherita or try something more unusual, like the Agenese, which is loaded with porcini mushrooms, shrimp, scallop, ricotta, and mozzarella. Pro tip: Hold onto the olive oil and balsamic from bread service, as you'll want a puddle of it to drag your crusts through.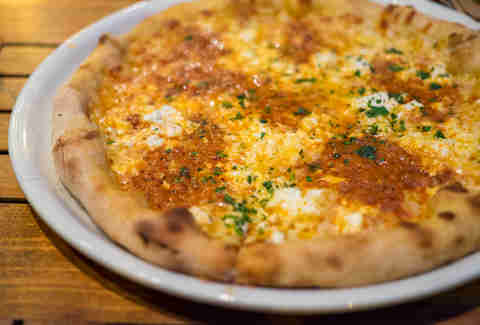 Little Italy
Well-rounded Italian spot using specialty pizza dough
The pizza makers at this hopping Italian restaurant owned by the same team behind Bencotto invested some serious dedication into crafting the perfect pizza dough. Made with yeast and flour imported from Italy, it slowly ferments for four days before it's stretched, topped, and baked in a brick-lined gas oven. The Bencotto pizza -- with ricotta, mozzarella, and the same pink pancetta sauce that tops noodles next door -- deserves a spot on your must-eat list.
Hillcrest
Classic & reliable NY-style slices
This beloved slice shop is known for classic, NY-style pies that clobber your hunger with the strength of a heavyweight. The Whitestone (a white pie with mozzarella, garlic, and dollops of creamy herbed ricotta cheese) is a must, but so are the calzones and house specialties like the triple-threat Porko (pepperoni, sausage, and meatballs), so it'll probably take a few visits to find your favorite. The no-frills seating area is fine for a quick bite, but if you want a full pie, it's better to call ahead for a fresh one to-go. There's no delivery, and the parking situation is a permanent pain in the butt, but pies this good are worth the trouble.
La Jolla
Go-to near UCSD for deep dish (or NY-style)
Regents deserves props for doing many things very well. There's an excellent draft list, along with worthy appetizers like scorching hot wings and a bacon plate, plus all manner of salads and sandwiches... but the pizza is where it really shines, of course. You can get a whole pie if you're willing to wait, or head directly to the slice case for instant gratification. There are many different varieties of NY-style and Chicago deep-dish pies here (a rarity!), so the only responsible thing is to get one of each.
Cucina Urbana and Cucina Enoteca
Bankers Hill and Del Mar
Elegant sister restaurants with elevated pizza and robust wine lists
When you want a nice night out but aren't prepared to ignore your pizza craving, this duo of restaurants is the perfect compromise. The thin-crust pies baked in a 600-degree oven tend to lean slightly cheffy, but familiar flavors ensure they're never too precious. The pancetta and Brussels sprouts (a béchamel sauce pie with fontina, red onion, roasted garlic, and chili) is an excellent choice. Want something more traditional? The spicy coppa (a red sauce pie with spicy salami, house-made mozzarella, pepperoncini, Calabrian chili, and basil) is like a grown-up pepperoni pizza.
Little Italy, Hillcrest, and 4S Ranch
Casual mini-chain for Roman-style pizza by the square
High standards and a commitment to perfection in the details secure this Roman-style pizza shop's reputation as one of the top destinations for pizza in San Diego. The rectangular slices are crafted from a dough that takes three days to develop, resulting in a crisp and airy crust that is easier to digest than your standard NYC-style pie. Premium toppings like homemade basil pesto, truffle pate, and organic chicken seal the deal. The best plan of attack is to pair up with a partner and sample several varieties, like the Bapo, truffle porcini, and pollo e pesto.
Normal Heights
Cozy craft beer bar with wood-fired pies
Thin-crust pies with crisp, blistered edges and an excellent selection of brews keep this Normal Heights pizzeria busy. It should come as no surprise to hear we wish there was another location (or locations) in the works. For now, we're more than happy with the cheese-heaped quattro formaggi and meat lovers' pies topped with house-made sausage and chorizo.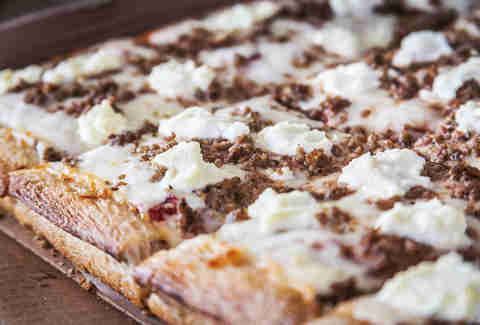 North Park
Slice shop for Sicilian and NY-style pizza
Sicilian-style pizza is difficult to find in San Diego, but nobody does it better than this longstanding shop in North Park. Don't be fooled by the modest digs: Aside from perfecting the namesake style, it also does a bang-up job on New York-style pies. Not sure what to order? The Sicilian-style Almost Lasagna, named one of the eight best pizzas in the city, is a great pick. Daily specials like the $6 slice-and-a-beer deal on Tuesdays encourage mid-week pizza consumption, while everyday prices are so reasonable that it makes sense to order one pie of each style and plan on lots of leftovers.
Gaslamp
Neapolitan-style pies in a classy, airy atmosphere
BIGA gets top marks for offering quality pizza in a light-filled space you'll want to linger in. You really can't go wrong here, but the Napoli pizza with sopressata, house-made Italian sausage, guanciale, rosemary, and house-made fior di latte is pretty much perfection. If you want to dazzle a date, try the Truffle Decadence pizza, with truffle porcini cream, truffle cheese, and 24 karat gold leaf.
North Park
New takes on famous pizzas, and a thoughtful wine list
Launched in 2016 by a bonafide pizza nerd, this cozy neighborhood spot situated in a former post office pays homage to beloved pies from pizzerias across the nation, like Roberta's in Brooklyn, Pizzeria Bianco in Phoenix, and the food court in Costco (no joke!). Owner Matt Lyons finely tuned every detail of the operation to turn out the best possible pizza, including sourcing a specific brand of flour, splurging on a 1,500-pound wood-fired Renato oven, and installing a reverse osmosis system to make the water just right.
Little Italy
Stylish restaurant with surprising pizza and must-have desserts
Pizza might not be the first thing you gravitate towards at a place like Herb & Wood, but it's a solid choice for a square (OK, technically round) meal with the same gourmet ingredients and inspired flavor profiles you'll find in the pasta and meat dishes. When in doubt, opt for the speck and coal-roasted pineapple pizza with taleggio cheese, habanero peppers, and red onion. We're not sure what kind of kitchen magic the team conjures to transform the pineapple into sweet, sweet candy, but it sure makes for a knockout pie.
Sign up here for our daily San Diego email and be the first to get all the food/drink/fun in town.