Sara Norris
Sara Norris
In honor of football, drinking, America, and YOU, we proclaim the Monday after the Super Bowl shall henceforth be known as National Hangover Day. It's a day for hangovers to be celebrated, embraced, and combated in the most enjoyable of ways -- namely, eating delicious food, and possibly drinking more. The ultimate goal? Getting the entire country a day off work, a beautiful dream you can help make happen by signing this petition to our sports-loving President right here and tweeting it.
The immediate goal? Fixing that hangover. Here are San Diego's best cures...
Kitchen Sink Biscuits and Gravy
Urban Solace, North Park
Nurse your hangover like they do in the South: with a big plate of biscuits and gravy. Urban Solace knows comfort food and they've put just about everything into their aptly named Kitchen Sink Biscuits and Gravy, made with cheddar and chive biscuits smothered in sausage gravy and topped with two fried eggs, sausage, brown sugar slab bacon, and a little fruit on the side, which totally cancels out the unhealthiness of the rest of the plate.
Yikes
bBar, Del Mar
Chances are you forgot to hydrate with actual water before you called it a night, but you don't need any hindsight right now, okay? You just need something to make the pain go away. The guys at Beaming know exactly how you feel, and the name of their hangover cure is proof. Do your body a favor and drink this mix of sparkling mineral water, apple cider vinegar, fresh ginger, local raw honey, B vitamins, and Beaming's own secret ingredient.
Pho
OB Noodle House, Ocean Beach
No matter how you (mis)pronounce "pho", the Vietnamese soup is on target when it comes to curing hangovers, and OB Noodle House does it as well as anyone. There's nothing like that broth, meat, and rice noodle combo topped with onions and cilantro to calm a queasy stomach. As long as you aren't too self-conscious about your poor pronunciation.
Johnny's Hangover Mary
Great Maple, University Heights
Nothing completes a rough night of drinking like… more drinking. A little hair of the dog is exactly what you need and Great Maple has a Bloody Mary equipped to deal with the worst of predicaments. Their combination of house Bloody Mary mix, atomic horseradish, Worcester sauce, Tabasco, and vodka is served in a salt and pepper rimmed glass and topped with a piece of grilled ciabatta with torched Manchego cheese and chorizo to help soak up all that extra booze.
Andy's Sage Fried Chicken & Bacon Waffle Tower
Hash House A Go Go, Hillcrest
If chicken and waffles won't get the job done, you might as well give up. Luckily, this is no ordinary chicken and waffles. Its a hulking tower piled high with two sage fried chicken breasts, hardwood smoked bacon, and waffles drizzled with a hot maple reduction and topped with fried leeks. Bless you, Andy. Bless you.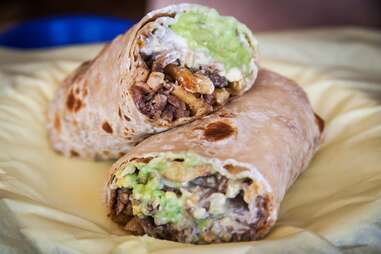 California Burrito
Ortiz's Taco Shop, Multiple Locations
A regular bean and cheese burrito is not going to cut it given your performance last night. Thankfully you live in California, the land of the… California Burrito. Ortiz does them right: a flour tortilla filled to absolute capacity with carne asada, french fries, cheese, sour cream, and guacamole.
Big Breakfast #2
Kono's Cafe, Pacific Beach
You are not going to find a better deal for a huge plate of breakfast anywhere in town. For just six bucks, the Kono's Big Breakfast #2 comes with two eggs, two pieces of bacon, English muffins, a pile of potatoes cooked with onions and peppers, and two thick slices of butter-soaked French toast. Your hangover doesn't stand a chance.