Bundling up may be foreign to San Diegans but when thick layers won't do, consider some tasty ways to beat the chilly weather. Like ramen. We aren't talking about dropping a brick of dehydrated noodles and the contents of a seasoning packet into hot water and calling it a day. We're talking about chef-centric shops filling bowls of piping hot ramen tailored to your palate. Think chewy noodles, umami-rich broth and toppings ranging from vegan-friendly options to thick slices of tonkotsu. What are you waiting for? Check out these 10 spots that'll warm you up from the inside out.
East Village and Carlsbad
BESHOCK comes from the Japanese word bi-shoku, or gastronomy, defined as "the practice or art of choosing, cooking and eating good food." Executive chef Yoshiaki Tsuji simmers a ten-hour tonkotsu stock of pork and chicken bones, local vegetables, and traditional seasonings as a base for most bowls, but there's also chicken, miso, or soy-based ramen, and a creamy, veggie-laden vegan broth rich with sesame and spicy oil. Enhance your ramen experience by registering for their virtual sake events you can experience in the comfort of your own home.
How to order: Pickup and delivery through Toast.
Mission Hills
You won't find a better deal than at Izakaya Masa, where their basic ramen bowls come in at a measly $10. Broth choices are minimal: just tonkotsu, shio, or shoyu, so there's nothing to hide the simple, clean flavors of the noodles and traditional add-ins. There's also a superb selection of hot and cold small plates, sushi, cut rolls, sashimi, rice bowls, and donburi to round out your meal.
How to order: Call 619 542-1354 for takeout.
Kearny Mesa
Hokkaido Ramen Santouka is located inside the Mitsuwa Market, but don't let the food court atmosphere stop you. The original restaurant was founded by Hitoshi Hatanaka in Asahikawa, Japan, a city famous for recording the coldest temperature in Japanese history (-41 degrees Celsius, in 1902), so one can assume it knows its way around a bowl of piping hot broth. If you're new to ramen, a good start is the Tokusen Toroniku Ramen: plain broth and noodles served in a signature blue bowl, with garnishes and succulent slices of pork cheeks on the side, ready to be dipped and devoured.
How to order: Pickup and delivery through DoorDash.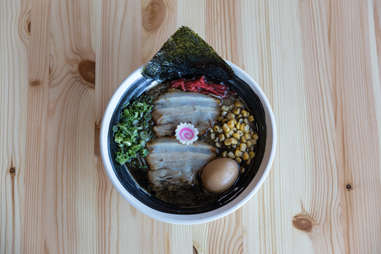 Kearny Mesa and Hillcrest
Noodles made in-house daily are what make the difference at Nishiki Ramen, the wildly popular Japanese chain's first foray into the US market. You can't go wrong with Smoke Bomb Black Ramen: smoky roasted black garlic sauce, melting tender pork belly chashu, and a perfect, velvety "slow egg." Vegetarians and vegans will appreciate the hearty, warmth-inducing mushroom broth option, and vegan noodles are available for a slight upcharge. For an at-home ramen experience that you can enjoy literally at any time, consider one of four ramen kits starting at $13.95 that includes broth, pork belly chashu (or Impossible chicken karaage), and Nishiki's housemade noodles.
How to order:Takeout and delivery via their website.
Kearny Mesa, Liberty Public Market
The secret to RakiRaki Ramen and Tsukemen's award-winning ramen, according to Executive chef and owner Junya Watanabe, is putting passion into every detail of the dish, from the alkalized water, which is used to make both their tender/chewy noodles and exceptionally delicious broths, to the flame-blistered aburi-style toppings. Cozy up to the Rikimaru Oxtail Ramen—double-thick noodles in rich chicken broth with a bowl of fall-off-the-bone oxtail and ponzu dipping sauce served on the side—or Setagaya 27 premium curry broth topped with cabbage, corn, and garlic chips. San Diegans are in luck: this popular shop will soon be adding another location in Mira Mesa.
How to order: Varies based on location, check website for takeout and delivery options.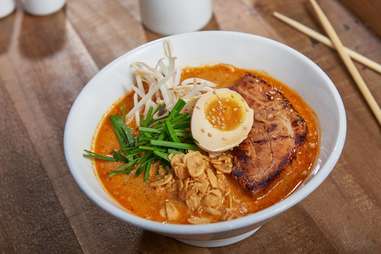 Various locations
Chef/Owner Sam Morikizono continues to expand his Tajima empire throughout San Diego and into Tijuana, proving that Japanese comfort food has universal appeal. Build your bowl from a base of tonkotsu, miso, chicken, or curry broth and thin, fat, gluten-free, or vegan spinach noodles. Mix your usual order with the carnitas ramen. Shredded carnitas swim in a spicy chicken-and-pork broth with egg noodles, cilantro, diced onion and lime.
How to order: Call specific location for takeout; delivery via Postmates, Doordash, Grubhub, and UberEats.
Kearny Mesa and Mira Mesa
Chewy, springy noodles are the star of master ramen chef and owner Takashi Endo's luscious tonkotsu, miso, and tantanmen bowls. While a central factory in Japan provides over 100,000 servings of noodles each month to his Japanese locations, here at his US shops the noodles are handmade in-house daily using only flour imported from Hokkaido, Japan, lye water and salt, with no artificial colors or preservatives. Their distinctly wheaty aroma and flavor are perfectly paired with your choice of broths and toppings from the blessedly short menu. Since the pandemic, the ramen shop has launched a tantanmen meal kit that's available to-go and for delivery, is offering one free butter or corn topping with any miso ramen order, plus one free soft drink or edamame for first-responders and military workers who flash their IDs.
How to order: Takeout and delivery options are linked on their website.
Kearny Mesa
Ajisen Ramen brings the fast-casual concept to its 700+ international locations. The huge menu includes gyoza, baby octopus, fried oysters, chicken karaage, and more, as well as udon and rice bowls, sushi, salads, and desserts like mochi and green tea tiramisu. The thin Kumamoto-style ramen is made in-house daily—it's meant to be eaten right after it's served, to best enjoy the traditional chewiness of the noodles. Ward off a cold with spicy sesame Tantanmen ramen, a new, stylistic interpretation of Sichuan Dan Dan noodles, or go for the gold standard Ajisen Best Combo topped with premium pork slices, barbecued pork, and tender pork ribs.
How to order: Takeout and delivery via DoorDash.
Kearny Mesa
Simple and straightforward, the broths at Yakyudori coat the well-cooked noodles with a mild, savory/sweet richness that lingers on your tongue. Several versions are available, including shio, shoyu, Nagoya, regular, or spicy miso; tonkotsu; and a light, fresh veggie style. Bonus reason to visit: in the frustratingly parking-challenged Convoy Street area, Yakyudori's expansive lot almost always has enough spots to accommodate its clientele.
How to order: Call 858-268-2888 for pickup.
Hillcrest
This popular SoCal chain of craft ramen shops started their original shop in Irvine, but Hillcrest is lucky to have its own. Their limited menu specializes in tonkotsu, shoyu, and vegan ramen with handmade noodles made from imported flour gracing each bowl. While the traditionally prepared 24-hour pork bone broth makes their tonkotsu a standout on the menu, omnivores should give HiroNori's vegan version a try. The broth incorporates five different types of miso, creating a creamy full spectrum of flavor highlighted with sesame and chili oil. All bowls come with an option to go the thick or thin route when it comes to the noodles.
How to order: Pickup via ChowNow and delivery via Postmates, Doordash, and UberEats.
Sign up here for our daily San Diego email and be the first to get all the food/drink/fun in town.
Mary Beth Abate is a San Diego-based freelance writer by way of Chicago, Cleveland, and Baltimore. Her hobbies include yoga, pickling and fermenting various vegetables and beverages, reading cookbooks and traveling through Mexico. Keep up with her experiments @MaryBeth_Abate.