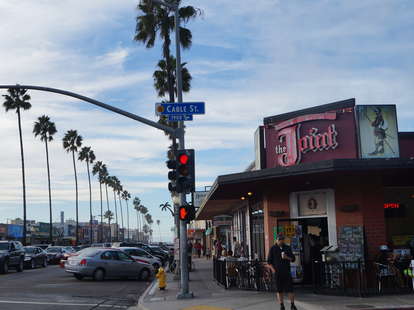 Mike O'Malley and Lauren South/Thrillist
The day I moved into Ocean Beach in 2009 was the day I found home. There's something special about the neighborhood and the people who live here: I was immediately welcomed with open arms. A fierce sense of loyalty, pride, and neighborly love reigns supreme.
Over the last few years, OB has gone through its fair share of change. Old places have closed their doors while new outside businesses, restaurants, and tasting rooms have opened theirs.
What's interesting is that these changes haven't changed OB. This runs contrary to other neighborhoods like Pacific Beach, which didn't retain the same sense of charm often associated with California surf towns.
But what explains the noteworthy feeling that's alive in OB? Is it something that lasts forever? Or is it a unique moment in time we're lucky enough to witness?
My official stance is that OB will never die. The culture of the neighborhood is too strong. But I wanted to see what the people keeping it alive and well -- those running the bars, cooking the food, and serving the public -- thought.
I visited seven locations in the neighborhood that each has a distinctive definition of OB's culture. At the same time, they're united by two common threads. First, the food and drinks they serve are an extension of their cultural definition. Second, the intersection of food, drinks, and culture in OB creates what's called the "third space."
Think of the third space an extension of your living room. It's a term I had never heard before investigating OB. You have your home, the "first space," work, the "second space," and these locations in OB: the third space.
Most locals -- myself included -- would tell you that OB feels like a real neighborhood. It's a place where you can walk down the street and people know your name. It's founded and sustained on human connection.
That feeling thrives at a place like Mike's Taco Club, where the team builds relationships with each person who walks through the door. Yassi Mesbahzadeh, the general manager, is genuinely interested in learning about your life.
Alongside Manager Stacey Gemberling and Chef Vincent Acosta, Mesbahzadeh builds a community that permeates every level of the restaurant. They love OB, and they do everything in their power to spread that care.
"One morning we came in, and there was a guy eating dry ramen outside," says Acosta. "One of our chefs went and cooked the ramen for him. He gave him a hot meal. OB people look out for each other."
Always count on Mike's to go the extra mile for you with its food and drinks also. Do you want vodka, rum, or tequila in your aguas frescas? No problem. Do you want your taco made into a burrito instead? It's a sure thing.
"The caliber of food is high. Our chefs wouldn't make anything that they wouldn't eat and enjoy themselves," says Mesbahzadeh.

This open mindedness demarcates Mike's Taco Club as more than just a restaurant. People moving in for college bring their families there. It's a first date spot. It's where life happens.
"We represent what OB is: low frills, real chill. You can come in here with no shoes on, fresh from the ocean, and we won't mind. We're real OBecians," says Gemberling.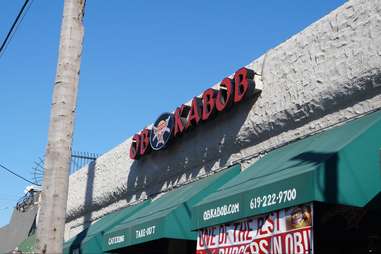 Sahir Sinawi and his wife, who run OB Kabob just up the street, mirror this sentiment. They're committed to bringing more than great food to the neighborhood by accentuating OB's cultural vibe.
"We help our neighbors, and we treat everybody like family," says Sinawi.
When they first opened the shop's doors, they brought an entirely new flavor to the area: it's the only Middle Eastern cuisine available in the entire neighborhood. And the locals -- vegans, vegetarians, and carnivores alike -- love it.
"We want every person happy, so we put the time in to make sure it stays that way," says Sinawi. "If you have a bad meal, I'll make sure you get a good one. My customers leave happy."
That love, sense of community, and extension of culture via food is an attractive quality for outside businesses looking in. Belching Beaver knew that its own company culture, and the beers they brew, would line up near perfectly with OB. It officially opened its new tasting room in early September 2016.
"We're nothing but a fun-loving, laid-back brewery," says manager Jared Robson. "These beers are for everybody, and everybody can drink them. The inclusiveness of OB fits our model very well: beers for everybody!"
All of the beer at Belching Beaver is made simply, but there's still complexity that delights. And that's how it chooses to define OB: simple on the surface with a rich complexity of life beneath the surface. It brews everything from aged sour batch beers all the way to milk stouts and classic IPAs.
"We don't make a bad beer, and I can say that with no gamesmanship. I stand behind every beer we make," says Robson. "If you want to come in to talk about top notes, hop profiles, styles, and history, we can nerd out. But if you want to just drink a beer and shoot the shit we can do that, too."

It's a similar story for Culture Brewing, which also opened an auxiliary tasting room in OB. What's fascinating is that Culture's main brewery is in Solana Beach: Newport Ave -- the main strip in OB -- drew its gaze from over 20 miles away.
"We were one of the first craft breweries down in OB," says Zach Smith, marketing manager at Culture. "We didn't bring anything new to OB, but rather accepted OB. Our tasting room takes on the character of the city. We let the community make us what they want."
To that end, Culture has weekly skate nights where people literally "shred the bar." They also host magazine releases for Thrasher, skate footage premiers, pop-up shops, and feature local artist's work on the walls.
Quite literally, OBecians use Culture Brewing like they would their own home. For example, locals Ben and Laura Williams decided it would be the perfect spot for their one-year marriage anniversary.
"Culture is an appendage of our own living room. Our first wedding anniversary, we came here with Mexican food, watched a surf movie, and drank beer," says the Williams couple. "Any other day of the week it's where we come with other parents after surf camp."
Culture Brewing also optimizes for simplicity in its beer, just the way OB likes things. However, it doesn't distribute its beer at any level. When you drink Culture beer, you drink it in the brewery.
"Everything about our brand is straight to the point. That's why it works so well in OB. What you see is what you get," says Smith. "If you like amber beers, pick the amber. The beer speaks for itself."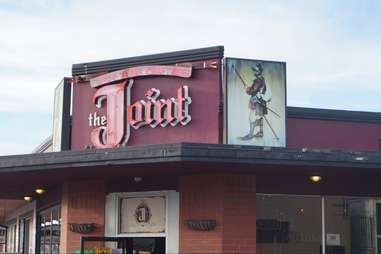 This sense of support from the entire OB community is best showcased in Michael Lowe's restaurant, The Joint. When he initially opened in summer 2011, friends he made over the course of his 20-year tenure in the neighborhood all turned out for opening day.
"Everybody actually cares about their neighbors and friends," says Tina Sabouri, assistant manager at The Joint. "The sense of community is real in OB, and it stands out."
Indeed OB's community does stand out, just as much as the flavor The Joint fuses together. Japanese, Spanish, French, and American Southern are all welcome in their menu. In a lot of ways, its culinary angle is a metaphor for OB's diversity of life and people.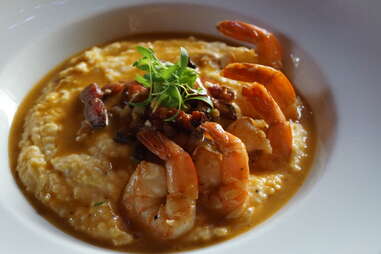 "The name 'The Joint' comes from joining the different sides of the cuisine -- it's our way of saying 'fusion,'" says Sabouri. "This sense of collaboration has made our menu, and our restaurant, what it is today."
Lowe has also left the doors open for his chefs to get creative with different menu items and use it as a way to show their love for OB. It's constantly cranking out off-the-wall specials, imaginative sushi rolls, and artistic tapas. The ingredients will always be the same, but each dish will always look like a new piece of art.
The combination of food, culture, and art also fuels Yami Bryan and Tim Eylens, general manager and head Chef, respectively, at OB Warehouse. They mesh fine dining with a curated, laid-back atmosphere to exemplify OB's desire for great food, drink, and ambiance.
"We give the same service here you'd get at a high-end restaurant, but we also focus on keeping the environment very laid-back," says Eylens. "If OB Warehouse was in North Park, or another neighborhood, it'd be a very different restaurant," adds Bryan.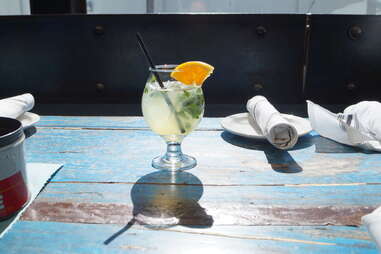 This isn't to say that North Park is objectively better or worse than OB. However, North Park caters to a different demographic of San Diegan, and it's a much more physically open and accessible neighborhood.
Most pointedly, the biggest difference is that North Park tends to be high up on the list for people who want to open a new restaurant or tasting room. It was a big deal, then, when the Cohn Restaurant Group decided to open OB Warehouse.
Every item in the restaurant has been previously recycled and repurposed in the restaurant -- there's an old Airstream trailer embedded into the wall of the kitchen.
"There's still a door on the Airstream that works, and sometimes people open it, and it's right on the line. We say 'Hey, come in and have fun,'" says Eylens while laughing.
Just as much as the design aesthetic, OB Warehouse prides itself on Chef Eylens' food and Bryan's mixology skills. The food and drinks they've created together scream the truth about OB: it's a colorful, beautiful, collaborative, and exciting place.
At the end of the day, there's one place I go that epitomizes everything OB stands for. The Olive Tree Tasting Room is one of OB's best-kept secrets, a true hidden gem, where you can relax in a hyper-local setting.
Owner Mike Blanchfield and bartender Bernadette Ramirez weave a sense of belonging through the room while people enjoy rotating beer and wine flights. They'll come by to share a drink with you, bring tasters of exclusive items, and introduce you to the locals who regularly come through.
The best story I ever heard about the Olive Tree Tasting Room was about a young couple who first met over some wine. They fell in love, and they're now engaged. The most "OB" part of it all is that they invited the Olive Tree team to come to the wedding, and they're going.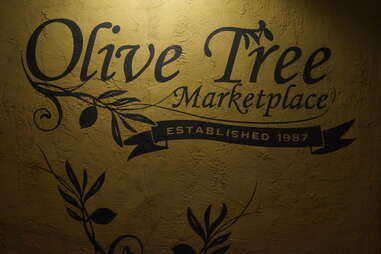 While there's some overlap on the cultural definitions of OB, each location I visited expresses their views independently of one another through food. You can find great beer and food all over San Diego, but you won't find it with a side dish of OB's hallmark hospitality.
In OB, you have experiences.
You see Sahir and his wife prepare beautiful food at OB Kabob.
You shoot the shit with Jared at Belching Beaver.
You build Culture Brewing to be your own with Zach Smith.
You dine and drink like royalty with Tim Eylens and Yami Bryan.
You take a surf break for tacos with Yassi Mesbahzadeh, Stacey Gemberling, and Vincent Acosta.
You experience the fusion of art and culinary expertise with Tina Sabouri at The Joint.
You forge a sense of belonging with Mike Blanchfield at the Olive Tree Tasting Room.
You become part of OB.
Every person I spoke with wanted me to reiterate that they wouldn't be who they are without the people. From the bottom of their hearts, Ocean Beach, they say thank you, they love you, and they can't wait to see you soon.
Will Schmidt is a writer in San Diego. If you're interested in learning more about Ocean Beach or seeing more awesome food photos, be sure to check out his Twitter. He live tweeted his tour around the neighborhood for everybody who couldn't be there with him. Follow his adventure next time.