Home to gorgeous beaches, luxury shopping, and Mitt Romney's infamous five-car garage elevator, La Jolla is a playground for the rich and shameless -- its name even translates to English as "The Jewel." That said, this seaside neighborhood's real jewels might just be its restaurants.
While big-name spots tend to get all the publicity, La Jolla's dining scene is about more than just the high end. It's also about affordable pizza, taco stands, and wave after wave of fresh fish... and yes, lots of high-end spots as well.
Since the biggest problem in picking a place to eat in La Jolla is the fact that you're spoiled for choice, we're here to help: Here are your must-visit restaurants in this tiny neighborhood by the water.
You may have heard San Diego's a great place for Mexican food, but that's not quite accurate. Instead, what you're getting is Cali-Mex: an Americanized version of what you'd find south of the border. La Jolla's Galaxy Taco gets a lot of ink for its high-end tacos (like Baja fried fish and Grilled Avocado), each of which will set you back $5.50 to $6.00 a pop. Puesto offers slightly less expensive alternatives, although you can get Maine lobster and filet mignon tacos for a couple dollars more, and The Taco Stand serves up full-on Californicated tacos alongside extras like carne asada fries.
Pro tip: If you want great Mexican food, go to Tijuana. It's only 30 miles from La Jolla, and as long as you have a Passport (or are good with tunnels) you should have no problem getting there and back.
Part fish market, part seafood restaurant, it's no surprise that the freshness of El Pescador's marine fare is its calling card. The clam chowder here is legendary, and the sea bass sandwich only slightly less so, but El Pescador's cioppino -- California's classic, vaguely Italian, catch-of-the-day fisherman's stew -- is reason enough to try the place all on its own.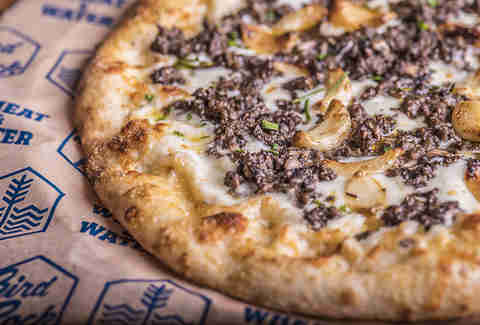 San Diego became a great artisanal beer town long ago, but it's only recently turned into a great artisanal pizza town. Wheat & Water is La Jolla's go at jumping on that bandwagon, and it's not a bad go at that -- the charcuterie and cheese plates are good choices, but you're definitely here for the pizza and beer. There's no better choice than the signature Wild Mushroom Duxelle pizza, (paired with a local IPA): Between its impeccably thin crust and deep, rich, mushroom umami flavors, it's no wonder this is the first pie on the menu.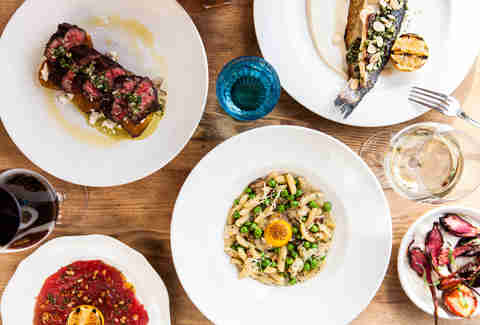 Brian Malarkey spends more time at his Little Italy spot, Herb & Wood, than here at Herringbone, but his "fish meets fork" concept is still what drives this seafood restaurant housed in a renovated warehouse. The best choices might just be the raw ones: oysters, ceviches, stone crab, and tuna carpaccio. The whole roasted branzino is a show-stopper.
When Alex Emery took the job as La Valencia Hotel's executive chef, he became the latest in a long line of A-list chefs helming the Pink Lady and its signature restaurant, The Med. The view is spectacular, and the décor and atmosphere are opulent, but the food may actually be the main attraction. Emery brings a contemporary eye and approach to the Mediterranean cuisine that gives this place its name: Try the octopus with white bean stew, or the La Valencia paella with scallops, prawns, chorizo, chicken, clams, and squid ink aioli.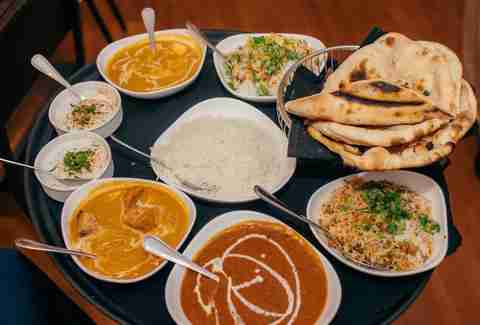 Eyebrows were raised when Hemant Oberoi (former Executive Chef at the Taj Mahal Palace in Mumbai) and his son Saransh (formerly at the two-Michelin-starred Campton Place in San Francisco) opened Masala Street in 2016. Was La Jolla ready for upscale Indian cuisine? Well, it certainly ought to be. All the dishes here are prepared to order and feature extraordinary spices. The kursi chaat is remarkable for its presentation alone: potato, tamarind chutney, and yogurt over flatbread crisps sitting on miniature chairs with mango leather diamonds as their backs -- and somehow, it all tastes even better than it looks.
Best Latin seafood: The Hake
When The Hake temporarily shuttered after a successful two-year run and move across Prospect St, the new ocean view was the main focus. It should've been on the new chef though, Aarti Sanghavi, whose food shows the synergy and parallels between the Indian cuisine of her heritage and the Latin stylings of The Hake's menu. Take her superlative opah chorizo. Using smoke and a creative spice technique, Sanghavi reimagines the typical chorizo with a fish base.
Executive Chef Bernard Guillas and Chef de Cuisine Ron Oliver ought to be the headline of any story about the Marine Room, but somehow it always ends up being about the view. Since the restaurant is located right on the ocean, at high tide, the sea does more than lap up against the bullet-proof glass windows -- it crashes into them at full force. What you're eating is equally exciting, though, with the head chefs' remarkably omnivorous palates resulting in entrees like absinthe butter-basted lobster tail, kalbi shiso lacquered tofu, and sea salt crispy skin branzino. That said, no matter how good the food is, and no matter how touristy it sounds, the drama and spectacle of High Tide  Dinner (and Breakfast) just can't be upstaged.
Executive Chef Jeff Jackson and his remarkable team were advocates of farm-to-table and nose-to-tail before either of those sensibilities were cool. The menu at A.R. Valentien presents classic and refined French cuisine with a modern edge, from the remarkable chicken liver pâté plate to the duck confit, all followed by desserts like rhubarb meringue tart and salted caramel bavaroise.
George's at the Cove is actually three restaurants: California Modern is the flagship fine-dining offering, Ocean Terrace offers an incredible rooftop view, and Level 2 is a craft cocktail bar-cum-casual restaurant. The California Modern menu changes frequently, with a la carte and tasting menu options ranging from four to eight courses up to TBL3: a 12-14 course menu served once per night midweek at the best seat in the house. The cornerstones of Executive Chef Trey Foshee's cooking are both his passion for foraging along the coast and the superlative vegetables from Chino Farms in Rancho Santa Fe.
No dish says more about Nine-Ten Restaurant than its Jamaican jerk pork belly appetizer. This centerpiece pays homage to Executive Chef Jason Knibb's Jamaican heritage, albeit in elevated form, and the pairing with baby carrots, swiss chard, plantains, and black-eyed peas with sweet potato purée gives it a California feel. It's a variation on a theme repeated throughout the menu: flavor combinations that make sense, offered in surprising and refined ways.
Sign up here for our daily San Diego email and be the first to get all the food/drink/fun in town.