Hungry travelers rejoice: The dining options at San Diego International Airport have continued to improve since its last major upgrade in 2016. These days, you can find an assortment of local favorites (like The Prado, Stone Brewing, and Pannikin Coffee and Tea), upscale wine bars like Bubbles Seafood and Wine and Beaudevin Wine and Tapas, as well as the usual fast-casual, fast food, and coffee shop chains. With more than 80 concessions, narrowing down your options can be time-consuming, so follow our handy guide to the airport's best bars, kiosks, coffee stands, and sit-down restaurants.
If you've already settled into a seat at your gate and don't feel like lugging your carry-on across the terminal, there's still hope. Simply download At Your Gate, a mobile ordering and delivery service app that allows you to order food and retail items via your mobile devices and have them delivered to you at your gate (or other locations inside the airport). Problem solved!
TERMINAL ONE, PRE-SECURITY
Emerald Express
This mini version of the popular Convoy Street Emerald Chinese Seafood Restaurant serves the most popular items from their Kearny Mesa outpost including dim sum, honey walnut shrimp, and Cantonese fried rice.
Ciao Gourmet Market
Terminal One has three Ciao Gourmet Market kiosks, where you'll find grab-and-go wraps, ciabatta sandwiches, salads, yogurt parfaits, energy bars, and fruit cups, along with plenty of snacks and bottled drinks.
Also in Terminal One, Level 1; Terminal One, Level 2
Jack-in-the-Box
Until In-N-Out opens an airport location, this other San Diego-based chain is your best bet for nabbing a quick burger and fries before the security checkpoint.
Also in Terminal Two East, Level 2
Pacifica Breeze Cafe
Like the Del Mar location, Pacifica Breeze Cafe serves up acai bowls, French toast and breakfast burritos (before 10:30am) as well as fish tacos, sugar-spiced salmon sandwiches, avocado toast, soups, salads, and wraps, but without the killer ocean views.
Ryan Brothers Coffee and Tea
Like its popular Barrio Logan location, Ryan Brothers is the go-to for coffee drinks, tea and assorted muffins, bagel sandwiches, and breakfast burritos. It's also open 24 hours, for all your red-eye flight needs.
Also in Terminal Two West
Craft Brews on 30th Street
Closest gate: 1
Relax with tasters or full pours of some of San Diego's most popular craft beers, on tap or in large and small format bottles, and a full menu of appetizers, flatbreads, burgers, dogs, and hefty sandwiches.
Einstein Brothers Bagels
Closest gate: 3
This popular bagel chain serves breakfast all day, along with deli sandwiches, panini and hot bagel melts, espresso and frozen drinks, and a special menu of breakfast and lunch selections that come in under 350 calories and 15 grams of fat.
Also in Terminal Two West, pre-security (24 hours)
Bankers Hill Bar + Restaurant
Closest gate: 7
Expect to find an abbreviated menu of the same American comfort food as the beloved Fourth Street venue. Highlights include buttermilk blueberry pancakes (before 10am), grilled chicken and forest mushrooms with brie, and marinated steak street tacos. Wash it down with one (or two) of their excellent craft cocktails.
The Counter: Custom Built Burgers
Closest gate: 4
Build your own burger from an extensive list of meat and vegetarian options and dozens of different cheeses, toppings, and sauces, or make it into a bowl with organic mixed greens, spinach, or lettuce blend.
Urban Crave
Closest gate: 13
Dive into a range of cuisine from breakfast burritos to burgers, bánh mì, and barbecue sliders with excellent house-made chips, or upgrade to house-cut fries at this street food-inspired stop. Don't pass up the salted caramel cheesecake with a fresh berry compote -- if you're short on time, they'll happily box it to go.
Also in Terminal Two West, Level 2
Artisan Market
Closest gate: 23
The best of local fare at this grab-and-go market includes Pannikin coffee and breakfast sandwiches, (non-grab-and-go) Stone beer on tap, fresh cocktails, and made-to-order salads and panini.
The Prado at the Airport
Closest gate: 26
It may not have the romance of San Diego's beloved Balboa Park iteration, but you can expect all your Prado favorites, including their popular spicy calamari fries, lobster and shrimp potstickers, grilled fish tacos, and balsamic marinated portobello sandwich. You'll also find an opportunity for much-needed preflight cocktails, beer, and wine.
California Pizza Kitchen
Closest gate: 26
The chain that brought the world California-style pizza also serves pasta, salads, soup, and sandwiches, as well as a substantial children's menu.
Panda Express
Closest gate: 26
Fast-casual chain that serves American Chinese food, the most popular meals combine entrees like Kung Pao Chicken and Beijing Beef with fried or steamed rice, chow mein, or mixed vegetables. Check out our Panda Express menu ranking to make your decision simpler.
PGA Tour Grill
Closest gate: 36
Following the adage "Eat smarter, play harder," the expansive PGA Tour Grill features upscale, healthy fare such as egg white omelets, hickory planked salmon, shrimp and mahi mahi ceviche, and vegan pasta marinara. Splurge on a crisp specialty cocktail to balance it out.
Stone Brewing Company
Closest gate: 36
San Diego's hometown brewpub features flights, regular and specialty drafts, freshly made craft cocktails. Assuming you want food to go with your drinks, you'll find favorites including duck confit tacos, spicy lamb rigatoni, grilled chimichurri steak sandwiches, and chipotle glazed salmon.
Camden Food Company
Closest gate: 47
Craft your own tasty hot sandwiches, bagels, and paninis on artisanal bread. Vegetarian options include a roasted veggie sandwich and caprese panini. There's also a salad bar, daily soups, oatmeal, and the usual grab-and-go snacks and beverages.
Elegant Desserts
Closest gate: 38
This is a great grab-and-go stop for all kinds of candies and sweets, but especially for their daily delivery of fresh donuts from local obsession Donut Bar.
Beaudevin Wine and Tapas Bar
Closest gate: 42
Sip wines from around the world while you nibble small plates of charcuterie, artisan cheeses, pates and pickles, smoked salmon and savory tartines.
Pannikin Coffee and Tea
Closest gate: 38
Family-owned and -operated Pannikin roasts their single origin and proprietary blends of coffee in small batches every day, to bring San Diegans the the freshest possible espressos, specialty drinks, and hot and iced teas.
Phil's BBQ
Closest gate: 46
Choose from Phil's wildly popular, award-winning baby back ribs, mesquite grilled chicken, and classic sandwiches like the El Toro (featuring barbecue-sauced tri-tip) or the BBQ Broham with pulled pork. If variety's what you're after, grab one of Phil's "ticklers": a sampler featuring ribs or chicken with onion rings, fresh cut fries, coleslaw, and cornbread.
Tommy V's Pizzeria
Closest gate: 36 (Sunset Cove)
Tomaso Maggiore brings the magic of his Del Mar and Carlsbad restaurants to the San Diego Airport. Early birds will enjoy Tomaso's creative signature breakfast pizza and breakfast sandwiches; wood fired pizzas feature San Marzano tomato sauce, fresh mozzarella, and locally raised vegetables.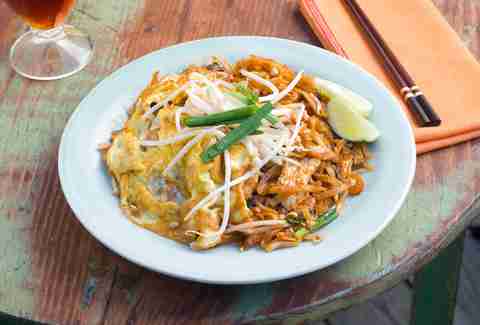 Saffron Thai
Closest gate: 36 (Sunset Cove)
Chef Su-Mei Yu of San Diego favorite Saffron Thai specializes in marinated rotisserie chicken, healthy stir fries, noodles, and curries prepared using traditional Thai methods and healthy cooking techniques showcasing the fresh flavors of each dish's natural ingredients.
Bubbles Seafood and Wine Bar
Closest gate: 47 (Sunset Cove)
Bubbles features a color-coded menu to help you pair a distinct wine with any of the unique small plates on the menu, such as Paloma Ceviche with Matanzas Creek Sauvignon Blanc or Fennel Shrimp and Dungeness Crab Farfalle with Stag's Leap Wine Cellars "Hands of Time," Red Blend.
Red Mango
Closest gate: 48 (Sunset Cove)
Red Mango features their low fat, low calorie yogurt, with or without protein, antioxidant or energy boosts in their 25 varieties of delicious fruit smoothies. Other options include all-fruit smoothies, parfaits and boba.
Qdoba Mexican Eats
Closest gate: 48 (Sunset Cove)
One of the newest competitors in the Mexican fast-casual arena, Qdoba Mexican Eats brings handcrafted meals with fresh, premium ingredients, from their signature three queso sauce and hand-smashed guacamole to grilled flat-iron steak and slow-roasted pulled pork.
Sign up here for our daily San Diego email and be the first to get all the food/drink/fun in town.