Restaurants these days like to change their menus up in the name of things like "seasonality" or "keeping you from getting bored" or "changes in an ingredient's legal status." Generally speaking, this is a wonderful thing, until a dish you loved with the depths of your soul and tastebuds disappears. Some dishes are too good to mess with, so San Diego chefs: please add these 15 items to your Do Not Disturb list.
Cinnamon rolls
100 Wines (address and info)
Hillcrest
If there's ever going to be a strong argument for eating salad for dinner (and saving your calories for dessert), it's the cinnamon rolls from 100 Wines. Served in a mini cast-iron pan, they're frosted with vanilla icing and sprinkled with candied pecans. You can get them to-go (and try to save them for later), but that's completely impossible. You will make it three blocks before you need to pull over to eat them in your car, which will only result in you getting icing all over your hands (and face). Just eat them in the restaurant, ok?
Recommended Video
Embrace the Elements With Fire & Smoke Burgers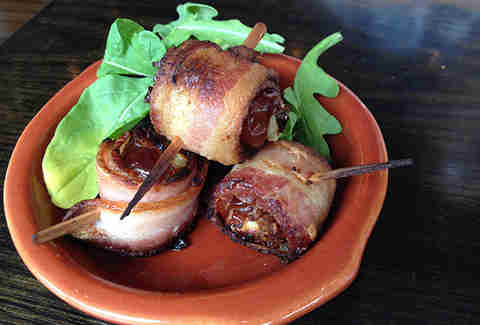 Bacon-wrapped dates
Prepkitchen (address and info)
Little Italy
Careful: biting into these sweet dates stuffed with savory blue cheese wrapped in salty bacon blankets is like pulling the pin on a flavor grenade. Want to kick it up a notch? Wrap 'em in arugula before you pop them in your mouth for a burst of peppery flavor.
Half-baked chocolate cake
Nine-Ten (address and info)
La Jolla
It's ooey. It's gooey. It's chocolatey. It's warm. It's served with house-made vanilla ice cream and caramel sauce. You want this. No, you require this.
Crispy Brussels sprouts
BO-beau kitchen + bar (address and info)
Ocean Beach
Any list of signature dishes that are never, ever allowed to exit the menu wouldn't be complete without Katherine Humphus' magnificent Brussels sprouts. By now, chances are good you've tried them, but for the uninitiated: they're incredible for three main reasons: 1) they're fried; 2) they're drizzled with a sweet balsamic reduction; 3) they're served with pancetta. P.S. they're also available at 100 Wines.
French toast
The Mission (address and info)
Multiple locations
Swirls of cinnamon and wild berry coulis speed these thick slices of sweet and tender French toast directly to Tasty Town (population: you, and whomever you deem worthy of sharing it with).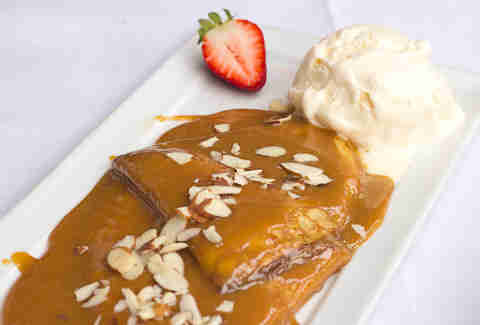 Crepas de Cajetas
Romesco (address and info)
Chula Vista
Warm, house-made dulche de leche blankets paper-thin crepes sprinkled with toasted almond slivers on this show-stopping dessert served with a scoop of vanilla bean ice cream (for a tasty temperature contrast). The only other place to get cajeta crepes anywhere near this good is at Caesar's in TJ (one of Javier Plasencia's many other restaurants), but the Bonita location will save you a trip across the border.
Fried pizza knots
Soda & Swine (address and info)
Normal Heights
These insanely addictive cheese-stuffed fried dough balls served with tangy marinara sauce are proof that everything you eat at this Normal Heights meatball shop should be round. Bonus: a second location is planned for Liberty Station.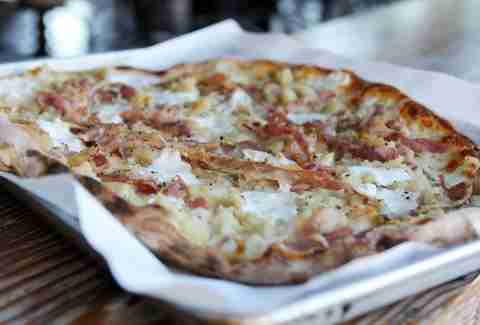 Mashed potato pizza
Urbn Coal Fired Pizza (address and info) & BASIC (address and info)
North Park/East Village
If you think adding mashed potatoes on top of pizza would result in a starch-overload, you are sadly mistaken. The fluffy mashed potatoes on top of this signature pie meld effortlessly with the thin, charred crust, uniting to form one unforgettable (and awesome) pie. There's also gooey fresh mozzarella cheese and crispy bacon. Add a dash of pepper flakes and you're good to go.
Grilled four cheese sandwich
Urban Solace (address and info) and Solace & the Moonlight Lounge (address and info)
North Park/Encinitas
A melty mix of mozzarella, white cheddar, fontina, and Cambozola cheeses co-mingle with fresh basil and tomato between thick slices of griddled egg bread on this grown-up grilled cheese sandwich. On the side, you get a heap Kennebec fries and a cup of creamy tomato-fennel soup. It just might be the perfect meal. Bonus: you can order it any time of day (brunch, lunch, or dinner).
Guava cheese pastry
Azúcar (address and info)
Point Loma
These pastries might not look as enticing as the other items in the case at this Cuban-inspired bakery, but don't pass them up. Between layers of light and flaky puff pastry brushed with cinnamon syrup, there's just enough sweet and tart guava paste and cream cheese filling to satisfy any craving. If you're lucky, you can land one fresh from the oven, but if not, it's worth waiting a few minutes to get yours warmed up.
Macaroni and pancetta gratin
Cafe Chloe (address and info)
East Village
Yes, mac and cheese is pretty much always delicious (even the stuff that comes in a box) but this baked version from Cafe Chloe is about 1000x better, due to the creamy Béchamel, made with a blend of mild blue cheese, Gruyère, fontina, and white cheddar cheese. It's crisp on the top, melty in the middle, and sprinkled with cubes of salty pancetta. Enough said.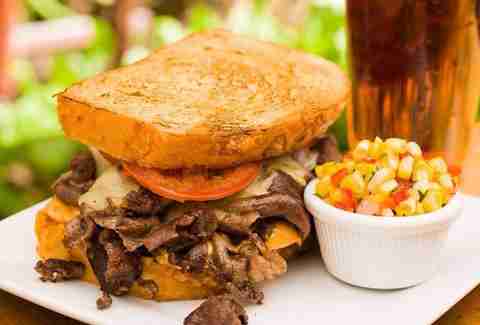 Steak sandwich
Carnitas' Snack Shack (address and info)
North Park
Porcine cuisine may be the main order of business here, but this spicy 'wich -- made with sliced ribeye, tomato, pickled serranos, jalapeño-Jack cheese, and a squeeze of aioli between two slices of toasted jalapeño-cheddar bread -- gives everything else on the menu a run for its money.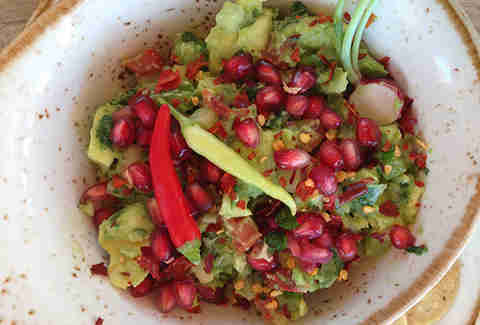 Guacamole Nogada
Puesto (address and info)
La Jolla
Guacamole is delicious. Guacamole with pomegranate, green mango, chile de árbol, tomato, and candied walnuts is WAY BETTER. Get some.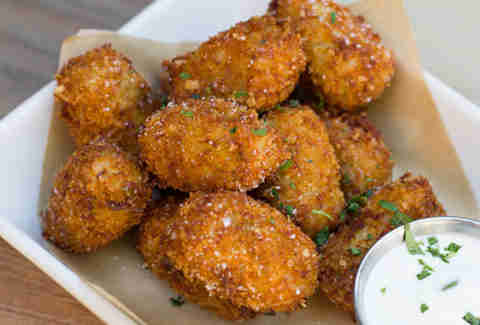 Popper Tots
R-Gang (address and info)
Hillcrest
Rich Sweeney's from-scratch tater tots should be considered a local treasure, right up there with fish tacos and California burritos. The cheddar and chive tots with chipotle ranch are noted as the signature offering on the menu, but we think the Popper Tots -- perked up with jalapeño, cheddar, and cream cheese (and served with cilantro-chive crème fraiche for your dunking pleasure) -- have the edge. Score an order for $4 during happy hour (Wednesday to Friday, 3-7pm) or "Tot Tuesday" which starts at 3pm and runs all night long.
Nutella and banana pizza
Project Pie (address and info)
Hillcrest
It's only right to give props to a fast-casual DIY pizza shop that understands that sometimes we want to skip directly to dessert and eat a thin-crust "pizza" topped with sliced bananas. Thanks to the super-hot oven, they emerge caramelized on top and warm and gooey in the middle. Things get even better when you factor in the generous drizzle of Nutella. YES PLEASE.
Sign up here for our daily San Diego email and be the first to get all the food/drink/fun in town.