Meet Thrillist San Diego's Best Chefs of 2016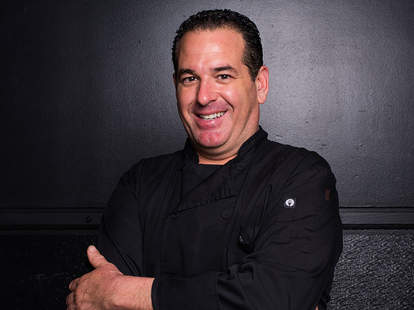 Editor's Note: This article is part two of Thrillist San Diego's year-end look at the best of our city's local food and drink scene in 2016. In addition to our annual Best New Restaurants award, this year, we're spotlighting the men and women behind the dishes we love to tell you to eat. Whether they bucked the national trends, revived classic local flavors, or otherwise drove the city's culinary scene, these are the chefs that stood out this year. Check out our picks for the rest of America's 2016 Best Chefs, and then catch up on Best New Restaurants.
This was a strong year for the San Diego dining scene, especially as far as talent goes. Everyone from established veterans to emerging upstarts were on their A-game, which made narrowing down the entire field from a longlist, to a shortlist, to just three outstanding chefs particularly challenging. Difficult it may be, but we did it anyway. These are the three local chefs who impressed us most with their cooking skills in 2016, earning themselves the title of Thrillist San Diego's Chefs of the Year.
Nino Zizzo
Nino Zizzo is a veteran chef who got his first taste of the restaurant biz as a mere bambino while tossing dough with his uncle Joe Busalacchi. After growing up and launching a few restaurants of his own, he returned to the family fold in 2007 to take over as Executive Chef for the Busalacchi restaurant empire (including Busalacchi's A Modo Mio in Hillcrest and Po Pazzo, which formerly occupied the Barbusa space). This year, his mission was to do the unthinkable: satisfy longtime guests of Po Pazzo and lure in a new crowd with Barbusa. It worked. Zizzo reports business has literally quadrupled.

If you've dined at Barubsa, you already know why: the food is excellent, generously portioned, and reasonably priced. Standouts include the selection of fresh pasta, which features unusual noodles and old-school Sicilian sauces with modern twists, like pasta al forno (wild boar, veal, ground beef bolognese with annelini, a ring-shaped variety that resembles SpaghettiOs).

Going forward, Zizzo will become better attuned to what's fresh and most in season for his menu. "You can go to any restaurant and see mozzarella caprese throughout the year. It shouldn't be that way. We're going to go really seasonal. When it's summertime, we'll have beautiful heirloom tomatoes and we'll do mozzarella caprese. Certain times of the year, you'll see fava beans, artichokes, and corn," says Zizzo. "I only want to serve what's fresh, what's good, and what's in season."
JOLEE PINK
William Eick
All year long, Oceanside's food scene has been slowly heating up, thanks in no small part to a new generation of talented cooks like William Eick who have been fanning the flame and shaking up long-held expectations. Before landing at 608, Eick worked in a variety of restaurant kitchens, including Tomiko, George's California Modern, and Bistro West, where he was encouraged to grow and develop his own style. He's found a great home in Oceanside, which he describes as "one of the best chef communities," adding that "everyone helps each other; nobody is fighting. Everyone is just extremely helpful and supportive of each other."

At 608, Eick fuses Asian flavors and French techniques into an imaginative (and affordable!) selection of small plates. If you're stuck on what to order, try the white wine and soy sauce-braised short rib with seasonal vegetables and panang curry -- one of Eick's signature dishes. The soft egg is also a great choice. "It's a little bit more out there, but the flavor profiles are just crazy," says Eick. "It's a lot of umami, a lot of rich, fatty deliciousness. It's pretty much just a bunch of seaweed and potato, but it's done in different techniques so you still have an acidic component, a bitter component, a sweet and spicy and salty. You hit the whole range of flavor."

Coming soon, 608 is launching a seven-course tasting menu that will be available Wednesday through Sunday for $65 per person. "We don't want it to be overly pretentious," says Eick. "We want it to be very relaxed, but still have that fine dining food experience."
ERIN JACKSON/THRILLIST
Adrian Mendoza
Adrian Mendoza is a powerhouse pastry chef who approaches his craft with the right balance of finely-tuned technique and ingenuity. His first foray into pastry making was in 2004, when he created desserts in the morning at Red Pearl Kitchen before his evening shift at The Oceanaire Seafood Room, a Gaslamp staple where he first crossed paths with Brian Malarkey (who went on to open Searsucker, Herringbone, and most recently, Herb & Wood/Herb & Eatery).

Mendoza left to hone his skills at CUT Steakhouse and Spago in LA, but eventually returned to San Diego to work as the corporate pastry chef of Malarkey's burgeoning restaurant empire. Now, he heads what is probably the most ambitious pastry and baking program in the city, spanning inventive plated desserts, pizza dough, and rolls at Herb & Wood, and a staggering amount of sweets for Herb & Eatery -- including everything from scratch-made cookies, croissants, hand pies and turnovers, cake pops, and tiramisu. He also crafts less conventional items for the casual eatery's gourmet market, like various jams, dog biscuits, and ice cream sandwiches. Did we mention bread? He does that too, with aplomb.

Mendoza says his current position is the most challenging of his career, but he's excited to work with a dedicated team that is inspired to learn new techniques. "I love watching them grow," he says. The six-person crew is "having a blast."
Sign up here for our daily San Diego email and be the first to get all the food/drink/fun in town.
Erin Jackson is a San Diego-based food writer and photographer who loves sharing her latest finds. If you enjoy food and cat photos, by all means, follow her on Instagram.