Beginning January 21 and continuing for eight glorious days, more than 180 restaurants all over the county will participate in San Diego Restaurant Week. There are so many tempting options, from casual eateries to special occasion destinations, each offering discounted prices compared to what you'd find there normally, that narrowing down your choices can be intimidating. That's why we're here, though, and we've chosen a dozen of our favorites to help you take the guesswork out. Pro tip: Tables at popular venues fill up quickly, so be sure to make reservations at your favorite participating restaurants.
Recommended Video
This Mojito Hot Toddy Is the Destroyer of Colds
The Headquarters (La Jolla)
The deal: Three-course lunch for $15, three-course dinner for $30
San Diegans love their tacos, and for many, making a visit to Puesto for Restaurant Week is a must. Chef Katy Smith and pastry chef Jessica Scott have created menus for lunch (at $15) and dinner (at $30), both of which will have you considering more than one visit. The lunch menu has appetizers like Puesto Perfect Guacamole; a signature taco stuffed with filet mignon, carnitas, mushroom, and Maine lobster, served on freshly made blue corn tortillas; and for dessert, a pequeño frozen horchata, regularly priced at $20-$25. The dinner menu, usually $35+, includes an appetizer, two signature tacos, a side dish, and one of two featured desserts: the piña colada carrot cake, and Aztec Gold made with chocolate almond mousse and churro caramel corn.
East Village
The deal: Two-course lunch for $15, three-course dinner for $20
The Blind Burro is the go-to spot downtown for Baja coastal cuisine and spirits, serving authentic south of the border street food. The lunch menu, regularly $20-$25, focuses on signature tacos like lengua (grilled beef tongue with salsa macha, picked vegetables, and spiced candied peanuts), al pastor, mahi-mahi, and veggie, along with first course options of guacamole tradicional and queso especial. The dinner menu has a wider variety of first course options such as Baja ceviche, guacamole especial, and salmon poke, entrees include Mexican staples chicken tinga and seafood enchiladas, and for dessert, churros with cinnamon-sugar and crème anglaise sauce, a meal that typically runs you $35-$45.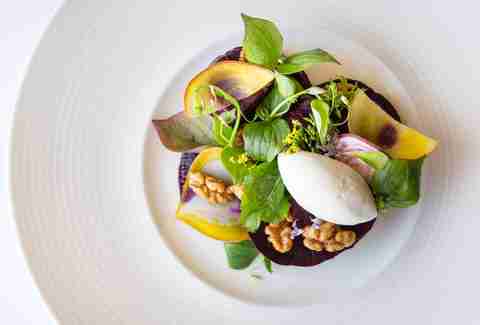 Banker's Hill
The deal: Two-course lunch for $25, three-course brunch for $30, three-course dinner for $50
Enjoy a fine dining experience with one of the best views in San Diego on the cheap at Bertrand at Mister A's, where the chefs have created special menus exclusively for SDRW. Monday through Friday, enjoy a two-course lunch (or three-course for an additional $5) showcasing butter lettuce salad or butternut squash raviolo, house-ground Kobe burger, Jjidori chicken fricassée grand mère, or sauteed local swordfish. At Sunday brunch, guests can choose from decadent dishes like eggs Benedict prime beef short rib, house milk ricotta blintzes, and buttermilk fried chicken and waffles. The special dinner menu features three courses beginning with delicacies such as seafood boudin with leek mousseline or mussels gratinée, and main courses such as duck Alsatian choucroute and Cedar River Farm Angus beef duo. Dessert options include passion fruit pavlova, banana bread pudding, and marble Cheesecake. Sure, it's a little pricey, but this dinner's only slightly higher than an entree alone costs here normally.
Gaslamp Quarter
The deal: Three-course dinner for $20
Located in the new Pendry Hotel, Nason's Beer Hall celebrates Restaurant Week with an exclusive dinner that'd normally cost around $30. Menu highlights include Nason's classic housemade, buttery soft pretzel paired with honey chipotle glaze, a savory Belgian waffle with maple-roasted cauliflower, the Nason's Burger topped with bacon and mustard jam (served on a pretzel roll), and for dessert, a warm chocolate chip cookie topped with Mariposa vanilla or Mexican chocolate ice cream. Pair the brew-friendly entrees with a Hofbrau Munchen Original, San Diego Brewing Company IPA, or Alesmith Speedway stout for just $10 extra.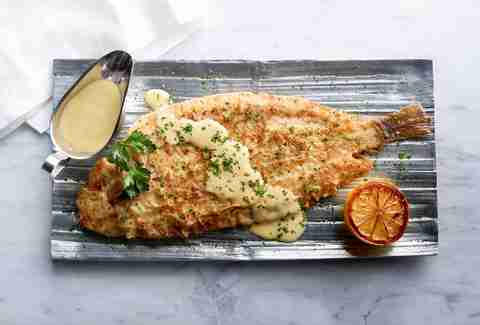 Gaslamp Quarter
The deal: Three-course dinner for $40
The Oceanaire Seafood Room is offering a dinner menu that'd easily run you $60+ outside of SDRW. The menu highlights Kumiai oysters on the half shell and Ahi tuna poke to start, pan-seared jumbo scallops, sirloin Black & Bleu, miso-glazed Iceland cod, and chicken-fried lobster tail for main courses, and decadent finales such as dark chocolate espresso mousse or blackberry Champagne sorbet.
La Jolla
The deal: three-course lunch for $20, three-course dinner for $39
New to the La Jolla area, Red O lets you indulge in sophisticated, classic Mexican cuisine from an exclusive menu for its first-ever SDRW. Chef Marc Johnson has curated a lunch menu that'd normally cost you more than $35, as well as a dinner menu that'd more typically cost more than $50. Expect a choice of Mary's duck tacos, fresh corn & goat cheese tamales, or Red O Caesar salad as appetizers, entrees such as short rib barbacoa torta (lunch only), enchiladas suizas, 6-ounce filet mignon (dinner only) or pescado del dia, and tres leches cake for dessert.
Liberty Station
The deal: three-course dinner for $30
Chef Piqueras' indoor-outdoor restaurant boasts a menu influenced by Peru's indigenous agriculture, ingredients, and cooking techniques, along with an extensive selection of Pisco cocktails and infusions. The SDRW menu features ahi Nikei or chicken causitas for starters, along with entrees of lomo saltado (a beef tenderloin stir fry), one-half rotisserie chicken with two sides, or plancha marina. Finish off the meal with your choice of chocolate hazelnut cake or delectable alfajores, shortbread cookie sandwiches filled with dulce de leche.
Middletown
The deal: Three-course dinner for $30
The Wine Vault & Bistro's wine pairing dinners are one of San Diego's best, most reasonably priced nights out for wine and food lovers. The exclusive SDRW prix fixe menu spotlights specialties from the Valle de Guadalupe, with starters like barbacoa beef tamale, Bloody Mary mariscos, or achiote-rubbed pork belly, followed by a choice of thyme and sage-rubbed quail, pan-roasted sea bass, or carne asada steak. Dessert options include churro bread pudding with cinnamon ice cream, tres leches cake, or Mexican chocolate pots de crème -- pair them with wines, also from the Valle de Guadalupe, for an additional $15.
Mission Bay
The deal: Three-course dinner for $40
Let Tidal's executive chef Andrew Reyes spoil you with a celebratory dinner on beautiful Mission Bay that'd normally run you anywhere from $50-$60. Appetizers include cream of smoked garlic soup, confit of Spanish octopus, or hibiscus beet salad, which are followed by entrees like palm cider-glazed Jjidori chicken, wood roasted golden grouper, or yuzu glazed lamb riblets. Finally, finish it all off with either caramelized pineapple carrot cake or ube s'mores.
University City, Carlsbad
The deal: Two-course lunch for $15, three-course dinner for $20
Featuring slightly different SDRW menus at the La Jolla/UTC hotspot or the Carlsbad venue, you'll get a lunch for nearly half price, or a dinner that'd usually cost $33-$40, including favorites such as tuna tataki, Buffalo buttermilk chicken lollipops, the famous Draft Republic Burger, and the herb grilled chicken sandwich. Dinner also includes sweet finishes like s'mores cheesecake, or housemade espresso buttercream doughnuts.
Hillcrest
The deal: Two-course lunch for $20, three-course dinner for $30
Great Maple uses seasonal and sustainably sourced ingredients in its elevated comfort food, and for the exclusive SDRW menu, you can score a lunch of Humboldt Fog cheese, poached pear and grilled bread, followed by main dishes like mini burrata caprese salad, fennel fired ahi bruschetta, or forest mushroom and leek soup. Dinner options feature the lunchtime main dishes as appetizers, along with entrees like West Coast cioppino, pappardelle with lamb ragù, or curry roasted chicken pot pie, followed by sour cream chocolate pound cake or blood orange cream pie to complete the feast.
College Grove
The deal: two-course lunch for $15, three-course dinner for $30
Terra American Bistro's farm-to-table, organic fare has been a local favorite since 1998. Treat yourself to a two-course lunch that'd regularly run you $25, with appetizers like Gorgonzola and Brie Bites, Fried Brussels sprouts, or salty peppery calamari, as well as main dishes like rigatoni bolognese, a house-smoked salmon BLT, or a farmer's chicken salad -- and if that's not enough, you can add a dessert for $5. The dinner menu, a $35-$45 value, adds starters like the bacon and egg and chopped salad, plus entree selections such as pan-roasted local fish and Karl Strauss amber lager braised pot roast. Save room for sweet treats, though: you won't want to pass up on the cast iron baked banana bread puddin', flourless chocolate cake with espresso glaze and crystallized basil, or a boozy espresso martini.
Sign up here for our daily San Diego email and be the first to get all the food/drink/fun in town.