More than 180 restaurants all over the county will participate in San Diego Restaurant Week, beginning September 23 and continuing for eight wonderful days. There are so many tempting options -- from casual eateries to special occasion destinations, each offering discounted prices compared to what you'd find there normally -- that narrowing down your choices can be intimidating. That's why we're here, though; we've chosen the absolute best deals to help you take the guesswork out of Restaurant Week. Pro tip: Tables at popular venues fill up quickly, so be sure to make reservations at your favorite participating restaurants. And remember, tax, tips, and drinks are not included.
Recommended Video
Hooters Is Opening a New Restaurant Chain That's Hiring Guys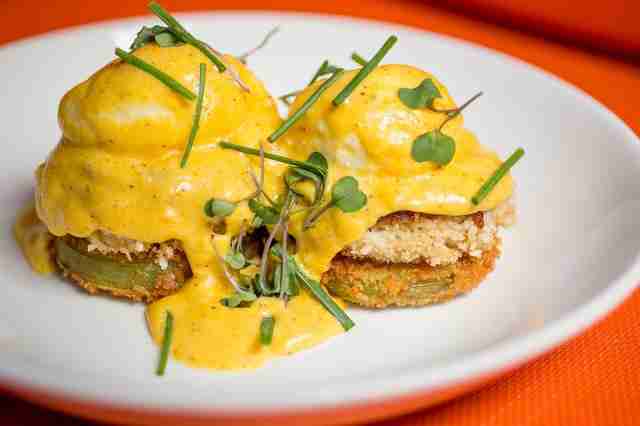 Gaslamp Quarter
Head down to the Gaslamp Quarter for Rustic Root's contemporary American fare, featuring inventive takes on both traditional and modern homestyle dishes. Après dinner, head upstairs to the gorgeous rooftop bar for a nightcap while you peep the nonstop action on Fifth Avenue.
Order: Rabbit pithivier, pan seared salmon, and kiwi cream puffs
Cost: $40 for a three-course dinner
Pacific Beach
Located at the celebrated intersection of Garnet Avenue and Mission Boulevrard in Pacific Beach, Backyard Kitchen & Tap delivers a from-scratch menu along with an award-winning beer list and craft cocktails made with house-made infusions. The PB-mandatory dog-friendly patio, comfy fire pits, outdoor cabanas, and indoor/outdoor bar provide a welcoming venue for both delightful dining and spirited late-night entertainment.
Order: Buffalo cauliflower and BKYD burger at lunch with Guinness chocolate cake (+$5); skillet cornbread, ribeye steak frites, and lemon ginger cheesecake at dinner
Cost: $15 for a two-course lunch, +$5 for dessert, $30 for a three-course dinner
Mission Beach
Set in the beautifully renovated mid-century beach house of Hollywood producer Jack Skirball, Tidal's romantic views of Paradise Point will leave you breathless. The eclectic menu is largely seafood-based, given its location, using a dynamic fusion of traditional California cuisine and Pacific Rim influences. Visit at sunset and sit at the patio's communal dining tables or around the fire pits for the biggest visual bang for your buck.
Order: Beef cheek and baby taro skewers, wood-roasted scallops, coconut lime budino
Cost: $40 for a three-course dinner
Rancho Bernardo
Sophisticated but without a hint of stuffiness, AVANT evokes the best of California wine country lifestyle with fresh flavors from the sea, garden, and farm. At $50 ($75 with wine pairings) it hits the upper limits of restaurant week pricing, but the stunning indoor/outdoor dining space and refined menu are well worth the special occasion cost.
Order: Sweet corn velouté soup with popcorn shrimp, smoked beef rib, and cherry clafoutis
Cost: $50 for a three-course dinner, $75 for optional wine pairings with each course
East Village
This go-to spot for Baja coastal cuisine and spirits serves authentic south-of-the-border street food with a modern flair, and the SDRW menu plays to its strengths: tacos inspired by Baja's signature flavors. At a paltry $15 for lunch and $20 for dinner, it's tempting to make a return visit before the week is out; since the price is right, check out their extensive collection of tequilas, mezcals, bacanoras, and raicillas.
Order: Queso especial and lengua tacos at lunch; baja ceviche, mahi mahi, or al Pastor tacos and cinnamon sugar churros with crème anglaise at dinner
Cost: $15 for a two-course lunch, $20 for a three-course dinner
Carmel Valley
Amici's Ristobar, one of the area's newest restaurants, serves up authentic Italian fare that combines the bright flavors of Southern Italy with fresh, seasonal California produce. Although Amici's is not an official SDRW partner, they will be offering a special menu during restaurant week, highlighting a few of their favorite menu selections.
Order: Octopus with cannellini beans, Jidori chicken piccata, and ricotta cannoli
Cost: $35 for a three-course dinner
Gaslamp Quarter
Situated in the ultra-modern Pendry Hotel, Provisional Kitchen Café is a combination restaurant and marketplace with seasonal fare, gourmet takeout, a Vittoria Coffee espresso bar, and retail space, all set within a greenhouse. In addition to your dining experience, you can peruse a curated collection of apothecary items, pantry staples, homewares, and jewelry. The restaurant week dinner menu includes premium selections such as grass-fed New York steak and dry-aged, bone-in ribeye at an additional cost.
Order: Grilled peach salad and pork cubano at lunch; grass-fed New York carpaccio, pan-seared sea bass, and Basque cake at dinner; bone-in dry aged ribeye is the premium option (+$30)
Cost: $20 for a two-course lunch, $40 for a three-course dinner, add $10-$30 for premium dinner options
Banker's Hill
A perennial favorite on almost everyone's "most romantic" and "best view" guide, SDRW is the perfect time to sample Mr. A's elegant digs and upscale cuisine at bargain-ish prices. Their bill of fare has several more choices in each category than the typical prix fixe menu, including gluten-free, vegetarian, and vegan options. Note: While we're all used to our Southern California casual attitude towards attire, they do have a dress code, so don't show up in your yoga pants and flip-flops.
Order: Morro Bay Rockfish "Tiradito," Cedar River Farm Angus Beef Wellington, and Whiskey Caramel Bread Pudding
Cost: $50 for a three-course dinner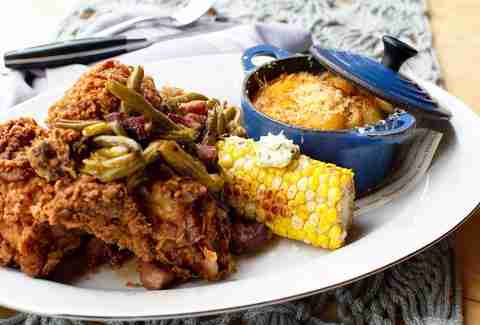 La Jolla
Want to try a new restaurant but don't want to be restricted to a prix fixe menu? Whisknladle has you covered -- their SDRW includes any starter, entree, and dessert on their regular dinner menu, giving you a chance to satisfy your taste buds with the widest possible variety of the restaurant's specialty items. The rules: Everyone at the table must participate in the SDRW pricing, no splitting, and a 20% tip is automatically added to the check during Restaurant Week.
Order: Charred bone marrow or lamb barbacoa for starters, squash blossom and ricotta ravioli or prime ribeye and frites for entrees, and peach crostata or butterscotch budino for dessert
Cost: $50 for a three-course dinner
Gaslamp Quarter
It wouldn't be fitting for San Diego Restaurant Week to ignore our dominant beer culture, so it goes without saying that Nason's Beer Hall includes an optional beer pairing with its all-American menu. At a measly $20 for three courses and just $10 more for three beers, it's one of the week's best values. Don't miss the Ballpark Pudding dessert: a kitchen sink combo of chocolate pudding, cake crumble, salted caramel, pretzels, peanuts, and whipped cream.
Order: House-made soft pretzel, Nason's double cheeseburger, and ballpark pudding
Cost: $20 for a three-course dinner, add $10 for optional beer pairings with each course
La Mesa
Situated in La Mesa, Farmer's Table is a worthy addition to East County's burgeoning culinary scene. Focusing on their Sicilian roots, they specialize in contemporary takes on time-tested recipes. For SDRW, they will be touting what they do best with a four-course, farm-fresh dinner and optional wine pairing. Outstanding daily pasta choices are an additional $5, and the fish of the day is an additional $10.
Order: Burnt carrot salad, grilled artichoke, Maine lobster ravioli, and limoncello cake
Cost: $40 for a four-course dinner, add $15 for optional wine pairing with each course, daily pasta is +$5, fish of the day is +$10
Encinitas, Gaslamp Quarter
Hungry San Diegans can either make their way north to Encinitas or downtown to the Gaslamp Quarter to indulge in Union Kitchen & Tap's restaurant week selections -- each location will have a different prix fixe menu. Both venues are stylish, rustic neighborhood haunts, but have their own distinctive personalities. The Encinitas location adds a beverage option to its dinner menu: $20 extra will get you 4-ounce wine pours or 6-ounce beer pours with your courses, and both have optional desserts at lunch for an additional $5-6.
Order: At Encinitas: Union dry-rubbed wings, smoked pastrami sandwich and s'mores pie 3.0 (+$5) at lunch; Hoppin' John fritters, shrimp and grits, and peach and berry cobbler at dinner; at Gaslamp Quarter: big-eye tuna poké, meatloaf sandwich, and strawberry rhubarb pie (+$6) at lunch; roasted squash salad, duck confit and dumplings, and s'mores pie 3.0 for dinner
Cost: At Encinitas: $15 for a two-course lunch (+$5 for dessert); $40 for a three-course dinner dinner; +$20 optional drink pairing; at Gaslamp: $20 for a two-course lunch (+$6 for dessert); $40 for a three-course dinner
Pacific Beach
The newly remodeled Pacific Beach Alehouse will be getting in on San Diego Restaurant Week action with a specially curated menu for both lunch and dinner. Head up to the second story for unobstructed ocean views, refreshing ocean breezes, and spectacular sunsets to go with seasonal craft beer, cocktails, and locally sourced fare. The SDRW menu includes numerous upgrades to the standard prix fixe, ranging from $2-6, along with suggested optional adult beverage pairings from $3-10.
Order: Shrimp taquitos and three-cheese mac with bacon or chicken at lunch; lobster bisque, fish and chips, and Mexican chocolate creme brulee at dinner
Cost: $15 for a two-course lunch, or $20 for a three-course dinner
Middletown
The Wine Vault and Bistro's wine pairing dinners are one of San Diego's best, most reasonably priced nights out for wine and food lovers. Fun fact: They've hosted hundreds of different wine pairing dinners over the past decade, yet have never repeated a menu. Although this seems impossible, they manage to do it with a labor-intensive process they've dubbed "carnage." Their pain, our gain.
Order: San Francisco-style cioppino, pan-roasted hanger steak, and warm French blue cheese tart with caramelized pears
Cost: $30 for a three-course dinner, $15 for optional wine pairing with each course
The Headquarters, La Jolla
San Diegans love their tacos, and for many, making a visit to Puesto for Restaurant Week is a must. Chef Katy Smith and pastry chef Jessica Scott have created menus for lunch and dinner that will have you considering more than one visit. Lunch includes a starter, two tacos, and dessert, while dinner includes everything from lunch, plus a side dish. Specialty tacos have a slight upcharge ranging from $2-3.50.
Order: Esquite, grilled fish, and chicken tomatillo tacos and frozen horchata at lunch; nogada guacamole, verduras, and tamarindo shrimp (+$2) tacos, black beans, and tres leches de café at dinner
Cost: $15 for a two-course lunch, $30 for a three-course dinner
Sign up here for our daily San Diego email and be the first to get all the food/drink/fun in town.