Juniper & Ivy

| Cece Canton
Juniper & Ivy

| Cece Canton
San Diego's city fathers and mothers (not to mention planners) are keen on telling us that ours is a "City of Neighborhoods." They lied when they said it, and they lie now. San Diego is not a city of neighborhoods, never was, and cannot be for many reasons: Southern California sprawl, lack of walkability, housing prices. There's more, but we'll get on with it.
That's not to say San Diego -- both City and County -- doesn't have some great neighborhoods. La Jolla, Oceanside, Hillcrest, and La Mesa are examples of these. But to say the boring suburbanity of East Del Mar, the anonymity of Nestor, or the vast vanilla that is Clairemont make them "great neighborhoods" would require a wholesale redefinition of the word "neighborhood."
But there's one way San Diego neighborhoods -- whether or not "great" -- express their character: their dining scene. Here are the top 10 San Diego dining neighborhoods, plus some honorable mentions.
Honorable mentions:
Several neighborhoods, while not as exceptional overall as the top 10, deserve mention if only for one or two extraordinary restaurants: Escondido with Bellamy's Restaurant; Rancho Bernardo with The Cork & Craft; the Gaslamp (oh, how the mighty have fallen) with Searsucker; Chula Vista with Romesco Mexiterranean Bistro; and South Park with both Buona Forchetta and Kindred. University Heights and Encinitas deserve mention even though they don't have a restaurant hitting the top level -- instead, they have a broad swath of serviceable, enjoyable dining options. La Mesa deserves mention because it is getting a lot better really fast.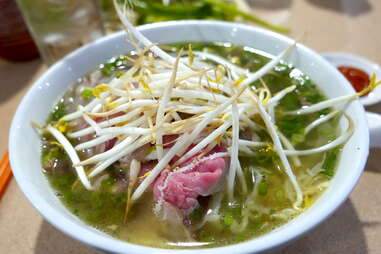 10. Little Saigon
Essential restaurants: Pho Hoa, Nhu Y, El Borrego Restaurant
If you know anything about the Little Saigon District (sometimes called City Heights), you know it's where to go to get a great bowl of pho. And, as I've documented in this space recently, there's no place better to do so than Pho Hoa. Pho is all it does, and it does so with passion and perfection. But Vietnamese food is about more than just the iconic beef noodle soup. Go to Nhu Y for spring rolls with pork skin, seafood noodle soup, and more. Or forget about Vietnamese food and get some of the best Mexican barbacoa in town at El Borrego Restaurant.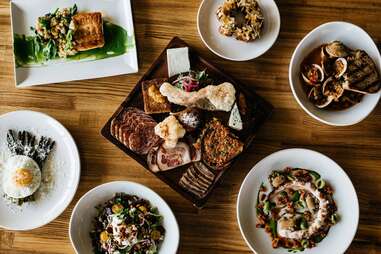 9. Hillcrest
Essential restaurants: TRUST, Bull & Grain, Bread & Cie
For years, Hillcrest's dining scene has been most notable for the remarkable rate at which new restaurants open and close. The day I review Clandestino is the day I'll have dined at my third restaurant located at 142 University Ave. But two new restaurants and one stalwart put it in the top 10. First came TRUST Restaurant with its technical, unpretentious, and passionate small-plates menu. More recently, chef Daniel Barron returned to town with Bull & Grain with big flavors and creative flourishes. Unlike the others, Bread & Cie, part restaurant and part bakery, has been a Hillcrest staple for years. Its bread alone makes the place worth a trip.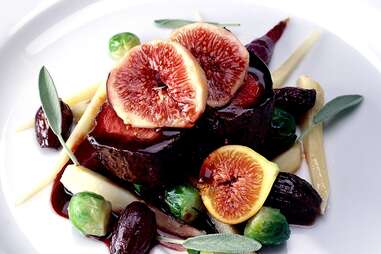 8. Rancho Santa Fe
Essential restaurants: Ponsaty's Fine Dining, Mille Fleurs, Market
When Ponsaty's Fine Dining opened in Rancho Santa Fe this summer, San Diego got a new competitor for the title of best modern French restaurant (indeed, best restaurant) in town. Ponsaty's joins Mille Fleurs and its lighter take on Franco-Californian fine dining at the top of the Ranch. Perhaps the most contemporary of Rancho Santa Fe's superb troika is Market Restaurant + Bar where chef Carl Schroeder offers elegant simplicity and an eclectic palate.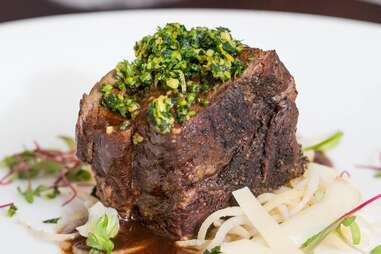 7. Mission Hills
Essential restaurants: The Red Door, Izakaya Masa, Shakespeare Pub & Grille
Chef Miguel Valdez's creative use of the produce from owner Trish Watlington's farm elevates The Red Door beyond the point of just being San Diego's best neighborhood restaurant. Izakaya Masa is a perfect San Diego incarnation of a Japanese izakaya, the original gastropubs. For a taste of what the Brits wanted to eat with their warm ales, go to Shakespeare Pub & Grille. It's San Diego's best fish & chips and the best place to watch an English Premier League match.
6. North Park
Essential restaurants: Grand Ole BBQ y Asado, Urban Solace, Carnitas' Snack Shack
Just a few years ago, North Park was the San Diego neighborhood climbing the dining charts the fastest. This might not be the case any longer, but if the bloom is off that rose, it's still doing very well for itself. Grand Ole BBQ y Asado offers the best barbecue in town with pitmaster Andy Harris' nearly unparalleled takes on low and slow beef. The sophisticated yet unpretentious food at Urban Solace still sets the bar for what put this neighborhood on the map. But there may be no single place that does an ingredient better than Hanis Cavin's Carnitas' Snack Shack does pork.
5. Convoy District
Essential restaurants: Sushi Dokoro Shirahama, Dae Jang Keum, Shan Xi Magic Kitchen
The Convoy District is Chinatown, Koreatown, Japantown, and more all rolled into two square miles in the heart of San Diego. There may be no more extraordinary meal in the Convoy than the omakase at Sushi Dokoro Shirahama where itamae Koji Kotani's strict interpretations of edomae sushi will teach you something you did not know. There is no better Korean barbecue in San Diego than that at Dae Jang Keum where the quality of the meats is superb, but the fact they're grilled over charcoal rather than electric heat makes the experience all the more valuable. Shan Xi Magic Kitchen is perhaps the best example of what San Diego does best with Chinese: regional cuisine, outside of the usual top 10. The next day I don't want to eat those biang biang noodles will be the day I start taking my nutrition intravenously.
4. Oceanside
Essential restaurants: Wrench & Rodent Seabasstropub, 608 Restaurant
Not so long ago, the idea of Oceanside being in the top 10 dining neighborhoods of San Diego would have been unthinkable. Not any longer. On one level, Wrench & Rodent Seabasstropub is to blame. What chef Davin Waite is doing there -- unbelievably creative sushi-based dishes -- is unlike what any other chef is doing on the rock. It is unique. It is excellent. It deserves recognition beyond -- far beyond -- what it has received to date. Chef Willy Eick takes some of that same spirit, creativity, and passion for local ingredients in a different direction at 608 Restaurant. But Oceanside is more than those two restaurants alone. There's Flying Pig Pub & Kitchen, Local Tap House, and Masters Kitchen & Cocktail. Oceanside is the hottest up-and-coming dining scene in San Diego County, and there's only more to come.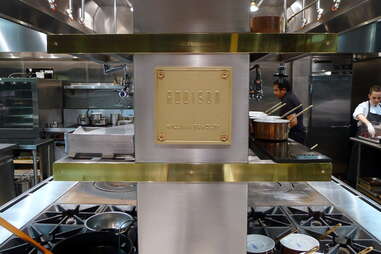 3. Del Mar
Essential restaurants: Addison, Pamplemousse Grill, Cucina Enoteca
Addison offers what is likely the most perfect high-end modern French cuisine you'll find in Southern California. If you know The French Laundry, you'll have an idea of what you'll see of the perfection at Addison. It is, hands down, the best restaurant in San Diego County. There is nothing particularly contemporary or trendy about Pamplemousse Grille, and it may not offer Addison's perfection, but it offers well-executed, indulgent food. Cucina Enoteca, the Del Mar outpost of Tracy Borkum's Urban Kitchen Group, offers creative, modern, and Italian-inflected food in an attractive, casual atmosphere.
2. La Jolla
Essential restaurants: Nine-Ten, A.R. Valentien, George's at the Cove
At Nine-Ten restaurant inside the Grande Colonial Hotel, chef Jason Knibb has found a sweet spot at the intersection of technique, ingredients, and creativity. It certainly doesn't hurt that he's surrounded himself with an incredibly talented team (as he always has) from bottom to top, including pastry chef. It's a similar story at A.R. Valentien where chef Jeff Jackson also has an all-star team and where farm-to-table isn't a marketing slogan but a beginning, an inspiration. Where Jackson's muse is the farmers market, George's at the Cove's chef Trey Foshee finds his muse foraging the coast. The view of that coast from George's "Table Three" may be the only thing as good as the food.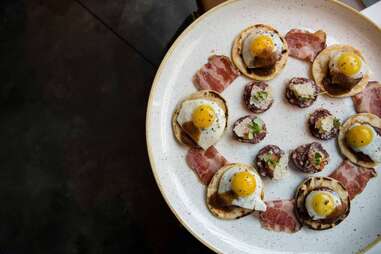 1. Little Italy
Essential restaurants: Juniper & Ivy, Bracero Cocina de Raiz, Herb & Wood
Little Italy offers its own trio of great chefs. But with names like Richard Blais, Javier Plascencia, and Brian Malarkey, the lights shine even brighter. Blais' arrival in town with Juniper & Ivy showed San Diego -- and Little Italy -- in a new light. It was, not to put too fine a point on it, the first time a well-known chef chose to come here to plant his flag. And there's nothing at the restaurant that disappoints. Blais' "left coast cookery" put a local spin on the technique-driven cuisine that brought him to notoriety in the first place, and never bores.
Plascencia's Bracero Cocina de Raiz gives a high-profile San Diego face to the New Cuisine of Baja that has transformed the dining scene south of the border. There may be no two dishes in town better than Plascencia's corn masa crispy perfect egg and the shrimp and bone marrow sopes.
And just when it seemed safe to write Brian Malarkey off as his "Fabric of Social Dining" unraveled, he planted a new flag with Herb & Wood. This time, the cooking that made him a Top Chef has come to the fore instead of the ambition. His roasted branzino with lemon herb stuffing, olives, and chili tapenade rolled in serrano ham is the best treatment of the fish I've tasted in this town, hands down.
Indeed, there really isn't much that separates Nos. 1 and 2 on the list. Both neighborhoods are led by a trio of marquee restaurants helmed by top chefs. In both Little Italy and La Jolla, it would have been easy to go another two or three restaurants deep without much, if any, dropoff in the level of excellence. In both neighborhoods, there is a vast array of additional eateries that, in another part of town, might have won notice here in their own right.
There are really only two things that separate Little Italy and La Jolla. First is the sheer star power of Blais, Plascencia, and Malarkey (and no, despite the proximity of Little Italy to Downtown, that is not a law firm). Second, though, is the walkability factor. A Little Italy resident can get from one side of the neighborhood to the other on foot, grazing, hitting a gastropub, brewery, or bar on the way.
It is, in short, a neighborhood.
Sign up here for our daily San Diego email and be the first to get all the food/drink/fun in town.