The 5 Must-Try Sandwiches From Ike's Place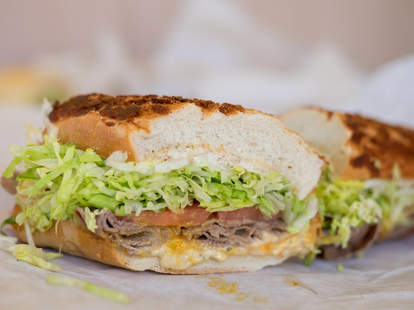 Good news spreads fast, which is probably why Ike's Place -- the legendary sandwich chain with 18 outposts spanning from San Francisco's Mission District to Mesa, AZ -- was mobbed from the moment it opened its first San Diego location. Ike says he's been thinking about expanding into San Diego for the past two years because it's one of his "favorite cities in the world," so when the owners of The Hub shopping center in Hillcrest approached him about opening a location in the property, he jumped at the chance. Now we're the ones jumping (for joy, and maybe to burn a few calories) before taking down one of Ike's delicious creations.
If you're not familiar with Ike's Place, the most important thing to know is that Ike's famous Dirty Sauce (essentially garlic aioli with a load of different spices) is a must. It's baked right into the bread and spread on every sandwich by default. According to Ike, skipping the signature sauce is the "only wrong decision" you can make at Ike's, adding "it's not an Ike's sandwich without Dirty Sauce." All sandwiches are served on your choice of bread, including French, sourdough, whole wheat, gluten-free Bread, or the signature option: Dutch Crunch -- a soft roll with a rice flour crust. (You can also get your sandwich in a lettuce wrap or as a salad if bread isn't your jam.)
To help you pan for gold amongst the menu's 36 different options, we asked owner Ike Shehadeh for some top picks. Without further ado, here are the five sandwiches you must try at Ike's Place:
Madison Bumgarner
The sandwich Ike eats the most has a lot going for it, like thinly sliced rib eye, pepper jack & American cheese, a dash of yellow BBQ sauce, and a splash of habanero hot sauce, which gives it a subtle heat. It's named after the tremendously talented San Francisco Giants pitcher better known as "MadBum."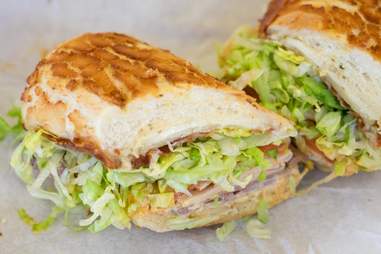 Erin Jackson/Thrillist
Junior Seau
When you can't decide between bacon, roast beef, or turkey, this triple-protein 'wich will fix you right up. Layered with all that meaty goodness, there's also Swiss cheese and Seau Sauce, which Ike describes as "a creamy, tangy Buffalo wing sauce that goes great with fried chicken and bacon and red meat." The sauce and signature sandwich (exclusive to the Hillcrest location) are named after the beloved, late linebacker who was part of the Chargers' starting lineup for 13 seasons.
Erin Jackson/Thrillist
The Murph
This Hillcrest exclusive is an excellent choice if you'd rather cuddle chickens than eat them. It's made with a moist and crispy soy and wheat-based meat substitute that's oven-baked (not fried, as the name might suggest!) and topped with artichoke hearts, provolone, and Seau Sauce. If you'd rather have the real thing, go for the Anchorman, a (real) fried chicken sandwich (that's also technically oven-baked) with American cheese and coleslaw or the Jaymee Sirewich with Ike's Yellow BBQ sauce, pepper jack, and ranch.
Erin Jackson/Thrillist
Meatless Mike
The fact that two out of our five must-eat sandwiches contain no meat should be enough to convince you that vegetarians (and vegans) can do just fine at Ike's. This satisfying sandwich that topped the list of PETA's best vegan meatballs in America stars tender vegan meatballs soaked in marinara and draped with pepper jack cheese. It goes nicely on the gluten-free bread, which is soft and slightly spongy in the best way possible. If you recently cut meat out of your diet (or are looking for a healthier alternative every once in awhile), the sandwich is a worthy stand-in for everything from meatball subs to sausage pizza.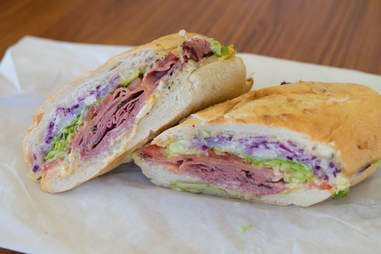 Erin Jackson/Thrillist
Paul Ruebens
This tasty variation of a time-honored sandwich swaps the standard corned beef for thinly sliced pastrami, sauerkraut for poppy seed coleslaw, and Russian dressing for French dressing. Without the funk from the kraut or the spice from the dressing, the West Coast-style Reuben is sweeter than the original, but still equally delicious. Or, if you'd rather have a meatless version, try the Pee Wee, which subs vegan turkey for pastrami.
Erin Jackson/Thrillist
Ike's entrance into the San Diego market is welcome news for anyone who appreciates a good sandwich, and the news just keeps getting better! We've learned that Ike is already looking to open two or three additional SD locations, possibly in Pacific Beach, Mission Beach, or the SDSU area.
Sign up here for our daily San Diego email and be the first to get all the food/drink/fun in town.
    
Erin Jackson is San Diego-based food writer and photographer who loves sharing her latest finds. Follow her on Twitter if you enjoy food content, random thoughts, and cat photos.