Courtesy of Hanna's Gourmet
Courtesy of Hanna's Gourmet
Truly great sandwiches -- where bread, meat, and toppings come together in perfect harmony -- are undeniably one of the greatest pleasures in eating, yet they're generally cheap (enough) to be accessible to the everyman. That said, not every man (or lady!) has the refined palate of a chef, so to help you track down some of the best sandwiches San Diego has to offer, we tapped 11 big time local kitchen runners to give us their go-to.
<em>University Heights</em><br />
"I just love Brie cheese. Anything with Brie sounds attractive to me," says Leyla. "Also the ingredients in this sandwich remind me of Thanksgiving, which brings to mind memories of family gatherings and happiness."
<em>College Area</em><br />
This enormous sandwich (see it up top?!) earns a special place in Brad's heart/stomach for two main reasons: "juicy and tender" corned beef and "toasted to perfection" rye bread that he says is "the perfect vessel to keep all the components together." While Brad goes for the classic construction (corned beef, swiss cheese, and sauerkraut), you can always swap in pastrami or turkey instead.
<em>North Park</em><br />
Matt is a "huge fan" of this "very simple but really delicious" panini with smoked turkey, pesto, Grana Padano cheese, tomato, artichoke hearts, onion, and crushed pistachios on focaccia. Since it would be wrong to not order a coffee here, you'll also need a Cafe Viennese (espresso, milk, honey, and cinnamon).
<em>Pacific Beach</em><br />
Giovanni says the "amazing combination of meat" in this surf and turf sandwich packed with smoked fish, spicy shrimp, and skirt steak is the "perfect lunch" when paired with a cold beer.
<em>North Park</em><br />
Kristianna loves this pork belly sandwich because it has "so many different flavors that are perfectly balanced." Tasty elements like Chinese BBQ seasoning, chili aioli, and pickled vegetables bring a lot to the table, but it's the crispy bits of char (achieved by cooking the fatty meat in a wood-fired oven) that make it totally addictive.
<em>Mission Beach and Mission Hills</em><br />
Meredith says Rubicon's Dapper Dipper (an "updated take on a French dip") takes her back to childhood, when she'd order a French dip sandwich whenever possible. "The Dapper Dipper is perfection, with the bread as important as the inside ingredients: garlicky cheese bread incases thinly sliced tri tip beef, melty swiss cheese, crispy onions, and creamy horseradish with a good kick," she says. She's especially fond of the au jus served on the side, because it "adds extra beefiness and salt to each bite."
<em>Point Loma</em><br />
"To make a nice sandwich, the most important thing is the bread," says Mario Cassineri of BiCE, so it's no big surprise that his favorite sandwich comes from a bakery that specializes in&nbsp;producing over 20 artisanal varieties. His go-to sandwich is the Almost Grilled Cheese, a triple cream French Brie and crumbled gorgonzola creation that also happens to be one of the must-try grilled cheese sandwiches in San Diego.
<em>Chula Vista</em><br />
"My family and I love this spot," says Kyle. "It's been family owned and operated for over 20 years, it feels great to support the small business scene in our neighborhood. The passion put into this shop is a direct reflection of their success so far, and the sandwiches are killer, too." Kyle's top pick, the Wild Turkey, combines sliced turkey with melted Swiss cheese, avocado, and two strips of bacon.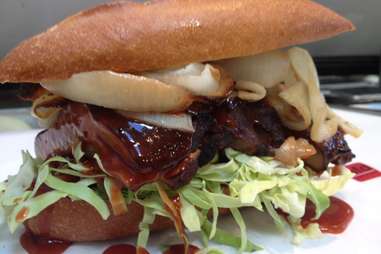 <em>North Park</em><br />
"Big Front Door keeps getting better and better. This hearty sandwich is full of flavor with tender meat and the house BBQ sauce," says Joe Magnanelli. Other accoutrements on the super-savory sandwich, served on a torpedo roll, include oven-roasted onion, shredded cabbage, and a dash of oil &amp; vinegar.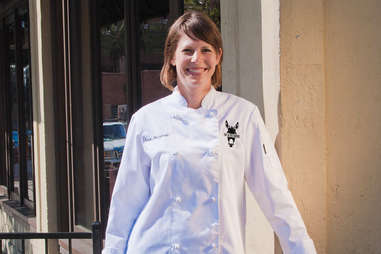 <em>Mid-City</em><br />
Sara is all about food with bold flavors and textures, and says this budget-friendly bánh mì&nbsp;sandwich "has it all." Bonus: the small, family-run Vietnamese bakery also bakes their baguettes on site, so you can count on good quality bread.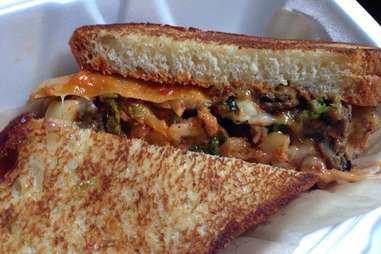 <em>Miramar</em><br />
Kurt deems this Korean steak and shrimp melt "the ultimate sandwich," noting the bread is "a great blend of crunchy and chewy," and the combination of steak, shrimp, molten cheese, and the perfect portion of kimchi amount to a "melt-in-your-mouth experience."<br />
<br />
<em><a class="vortex-open" data-campaign="2845" href="https://signup.thrillist.com/&quot; target="_blank">Sign up here</a> for our daily San Diego email and be the first to get all the food/drink/fun in town.</em><br />
<br />
<em><a href="https://www.thrillist.com/authors/erin-jackson&quot; target="_blank">Erin Jackson</a> is San Diego-based food writer and photographer who loves sharing her latest finds. <a href="https://twitter.com/erinjax&quot; target="_blank">Follow her on Twitter</a> if you enjoy food content, random thoughts, and cat photos.</em><br />
&nbsp;