Moto Deli Has Our Favorite New Sandwiches in San Diego. Feast on These 5 Immediately.
At long last, Moto Deli is open for business in Encinitas. The European-style delicatessen located on Highway 101 in a former no-frills sub shop serves up traditional sandwiches and open-faced tartines made with house-made charcuterie, pickles, and sauces (plus a selection of sides and sweets not found in your typical sandwich shop -- like blistered Padrón peppers and cinnamon rolls). To get a handle on the must-have items from this much-hyped eatery, we asked Executive Chef Andrew Halvorsen, formerly of Stone Brewing and A.R. Valentien, to name his top five picks. Feast your eyes on these sandwiches he singled out:
Turketta
Halvorsen says this "stepped up version of a turkey and avocado sandwich" is the shop's signature creation. Inspired by porchetta, it's made with turkey breasts that are brined for a couple of days, butterflied, seasoned, rolled up, and smoked. It's topped with arugula, bacon, aged white cheddar, and Italian mostarda de frutta, a popular Northern Italian condiment that's similar to chutney. The thick slices of squaw bread (sourced from O'Brien's Bakery in Escondido) lend a malty sweetness that plays nicely against the smokiness of the turkey.  
Erin Jackson/Thrillist
Cubano
This rich and melty creation was born when owner Mario Warman requested an amped-up grilled cheese sandwich. Instead of the traditional ham and roasted pork, Moto Deli's version is stacked with pork belly, the house-made turketta, mustard, aged cheddar and muenster cheese, and thick slices of housemade habanero pickles on toasted sourdough bread. Like the squaw bread, it's sourced from O'Brien's. "They make by far the best sourdough in town as far as I'm concerned, especially if you're doing sandwiches," says Halvorsen. "It's nice and dense and has that real sourdough flavor."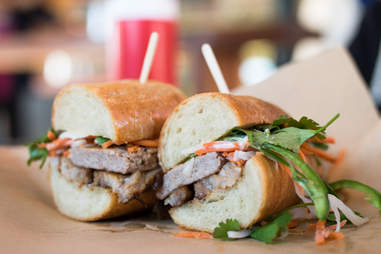 Erin Jackson/Thrillist
Banh mi
Moto Deli's tasty spin on the Vietnamese staple pairs juicy pork belly with cinnamon-spiked pork pate (which tastes like a lean pork sausage), the standard herbs and veggies, and a smear of Moto spread (spicy mayo spiked with a splash of pickle juice). While the construction is fairly traditional, the house-made baguette is denser and chewier than most varieties. If you like yours with a kick, squeeze some of the house-made hot sauce on top. Made with a balanced blend of pickled habanero, garlic, and agave, the sweet-and-spicy condiment improves practically everything it touches.
Erin Jackson/Thrillist
Rabbit
Halvorsen says this unusual creation with thin slices of rabbit confit, caramelized onion, and zesty lemon caper aioli on house-made rye bread has been an "instant hit." The shop currently sources rabbits from Durham Ranch but will start buying locally as soon as possible. There's also an open-faced version with similar components and a quail egg.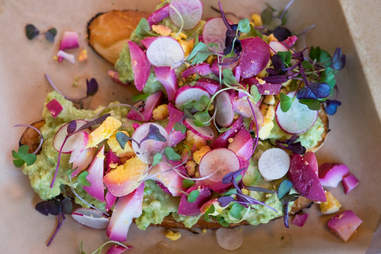 Erin Jackson/Thrillist
Avocado
"Avocado toast has become so ubiquitous, so when we started talking about open-faced sandwiches, it was a must-have," explains Halvorsen. To make it unique from the basic smashed avo you see everywhere else, Moto Deli's version incorporates housemade beet-pickled eggs, microgreens and a sprinkle of truffle salt on top. It's one of six open-faced options intended to appeal to the both the lunch and dinner crowds. Other varieties include beet-cured salmon with capers and cream cheese on toasted rye bread, and bacon with marinated cherry tomatoes on toasted white bread, which eats like a giant piece of bruschetta.
Sign up here for our daily San Diego email and be the first to get all the food/drink/fun in town.
Erin Jackson is a San Diego-based food writer and photographer who loves sharing her latest finds. If you enjoy food and cat photos, by all means, follow her on Instagram.