You can't throw a bag of bologna in San Diego without hitting a sandwich shop, but which of them are worth your hard-earned dough? To answer that, we've compiled a list (it's admittedly even less definitive than Hillary's victory in the California primaries) of our favorite San Diego sandwiches that won't leave you feeling like the butt of the loaf.
Recommended Video
This Restaurant Gives Brunch a Punjabi Twist
Tendurek
Krakatoa
Address and Info
Golden Hill
Depending on who you ask, the Reuben sandwich either originated in Omaha, Nebraska or New York City some time between 1914 and 1935. The Tendurek, a secret menu item named after a Turkish volcano, is a shining example of how far the art has come since. Starting with grill-pressed multigrain bread, the Tendurek takes a nod from the Rachel sandwich by trading out corned beef for pastrami. Melt on some Oaxaca and provolone cheese, top with steaming habanero sauerkraut, and bless it all with a hearty spread of Sriracha mayo. Grab this spicy saucy sandwich solo for $8.75 or toss in a beer for $11.50.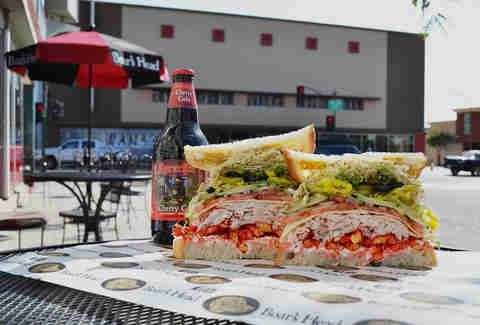 Hot Poppa
Fatboy's Deli & Spirits
Address and Info
North Park
Speaking of spicy sandwiches, Fatboy's holds claim to one of the best in town among its 25 gargantuan offerings. A pile of sliced Ovengold turkey, pepper jack, and cream cheeses, jalapeños, and -- get this -- a layer of Flamin' Hot Cheetos, this monument to indulgence looks like something your stoner dorm-mate dreamt up at 3 in the morning, and it tastes even better. For $8.99, you get sprouts, cukes, pepperoncini, tomato, red onion, olives, and bells upon request (do it).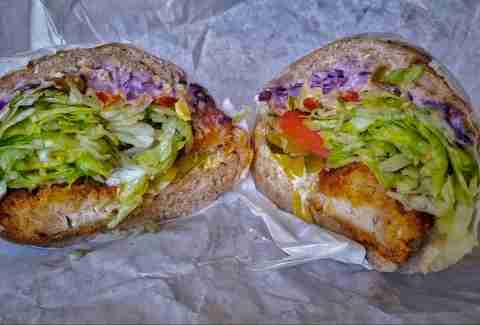 Anchor Man
Ike's Place
Address and Info
Hillcrest
Ike's has had sandwich lovers losing their minds ever since the San Francisco-based chain set up shop in San Diego last summer. At the center of this mania sits Ike's signature Dirty Secret Sauce, which, as the name implies, is partial to its veil of mystery. What we can deduce is that it's based on a garlic aioli, it's baked into all of Ike's bread, and it comes smeared over every sandwich. See what it's all about on the Anchor Man ($9.99) -- fried chicken, coleslaw, and American cheese on Dutch crunch. Be sure to add jalapeños (add everything, really) and a side of creamy buffalo Seau sauce, because -- and we think Ike himself would agree -- there's no such thing as too much sauce. Ever.
East Village
Messing with perfection is a risky venture, but Rare Form has taken this Floridian favorite to a whole new level, and it's done so with moxie. Sure, El Cubano ($11) has all the markings of the classic Cuban: smoked ham, tangy bread & butter pickles, and Swiss cheese. But then it churches everything up with succulent pulled pork, whole grain mustard, aioli, and a locally baked bolillo roll -- a Mexican take on French bread similar to Cuban bread but stubbier. Pop in for happy hour (Monday through Friday, 4pm to 7pm; 10pm to midnight weekends) and add a local beer for half-off. Basil G&Ts and the house Whiskey Cocktail go for a daring 5 bucks each.
Maye's Melt
The Marketplace
Address and Info
Bankers Hill
Just a block from Balboa Park, this takeout deli and liquor store is absolutely killing it in the sandwich game. With around 50 hot and cold specialties to choose from, The Market Place can accommodate just about any appetite or diet that walks through the door. But we're here to talk about Maye's Melt ($6.59). The grilled artisan multigrain is crunchy to the bite, yet buttery and delicate on the inside. Sliced turkey, melty provolone, roasted red pepper, fresh spinach, and a generous smear of pesto are nestled between it's glistening exterior. Should you add some complimentary onion and tomato to the mix? Oh, believe it.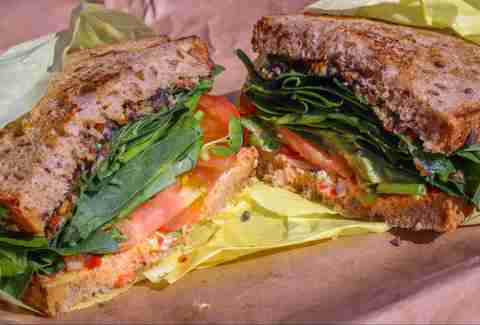 Golden Hill
26th Kitchen & Carry
Address and Info
Golden Hill
A few meat smokers appeared in front of the corner store on 26th and Broadway this past spring. The culprits were veteran chefs Christopher Kempka and Adam Sweetow (formerly of Magnolia Tap + Kitchen), who have converted the back of the house into a boutique flatbread and sandwich takeout joint. While the spot is quickly making a name for itself with homemade meatball grinders, smoked tri-tip and pork belly, and roasted chicken, it's also making one of the best locally sourced veggie sandwiches in the neighborhood. The Golden Hill ($7.75) starts with lightly toasted Bread & Cie multigrain. Add roasted pepper, avocado, spinach, tomato, tapenade, and fresh sprouts. Cover that bread with goat cheese. Now take it to the park and reflect on the finer things.
Bacado (plus turkey)
The Olive Tree Marketplace
Address and Info
Ocean Beach
It only makes sense that a gourmet grocery store should know how to make a mean sandwich; the Olive Tree proves that this is a reasonable assumption. Sourcing its carbs from Bread & Cie and using all high-quality Boar's Head meats and cheeses, this market is a requisite destination for any aspiring Earl of Sandwich. The Bacado ($6.99, +$2 for turkey) is built on a solid stack of crispy bacon, plenty of avocado, melted cheddar, and topped with sprouts and fresh tomato. Make it the envy of basic BLTs everywhere by asking for "the works," which will add mustard, mayo, lettuce, onion, oil & vinegar, Italian dressing, and spinach to the stack. The beach is just three blocks away.
Torta Ahogada
El Gallito Tortas Ahogadas
Address and Info
Chula Vista
What showdown of San Diego sandwiches would be complete without a Mexican torta? Time is of the essence with the Torta Ahogada ($7), literally "drowned sandwich," which is a staple of Guadalajara. From the moment you place your order at this food truck's window, the clock begins ticking. First, refried beans are applied to the chewy insides of a bolillo roll. Seasoned and shredded pork loin is then piled high as a hot tomato sauce containing a stern kick of chile de árbol is poured over the whole mess. The juice gets to work, softening the roll's crusty shell, while the meat and beans warm the inside. Dig in immediately with a fork and spoon; your torta will be soggy before you finish it, guaranteed. But say it with me again: there is no such thing as too much sauce.

Sign up here for our daily San Diego email and be the first to get all the food/drink/fun in town.