The Most Mouth-Watering San Diego Sandwiches You Can Order Right Now
Perfect for a park picnic.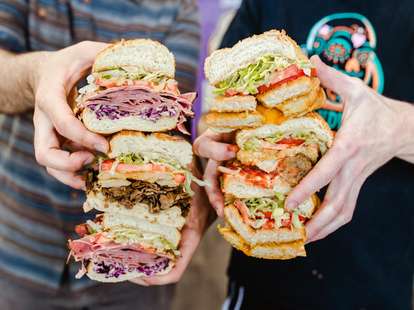 Ike's Sandwiches (San Diego Midway)

| Ike's Sandwiches (San Diego Midway)
Ike's Sandwiches (San Diego Midway)

| Ike's Sandwiches (San Diego Midway)
Summer in San Diego normally means beer and taco festivals, outdoor concerts and plenty of beach time, but the Summer of 2020 is a whole different beast. This is the season of picnicking in the park, hiking to a hidden alcove or finding a secluded bench along the waterfront for safely distant al fresco dining. Enter the lowly sandwich, now enjoying a brilliant comeback as the stackable, packable and easily toteable answer to "what's for lunch?". But with sandwich shops on nearly every block, how do you know the best place to spend your hard-earned dollars? We've done the legwork for you, and here's our list of the best sandwiches around town.
Little Italy
Skip the restaurant and head straight to the deli at Mona Lisa Italian Foods for the popular Deluxe Sub ($8.75), a house favorite made with mortadella, dry salami, ham, and provolone. All sandwiches come with lettuce, tomato, onions, Italian dressing, mustard, mayo, salt, and pepper. But we highly recommend adding roasted red peppers and/or giardiniera for $1.25 each.
Hot to order: Call 619-234-4893 to order or stop in the deli for takeout.
University Heights
It stands for "Big Front Door," of course, but the real BFD here is the house roasted and smoked meat and artisan cheese. The Cali Cubano ($11.25) puts a West Coast spin on the classic, featuring house-cured and smoked pork loin, jack cheese, pickles, red onion, avocado slices, mustard, and jalapeño aioli in a fat torpedo roll.
How to order: Call 619-255-4100 or order online for patio or curbside pickup from 10am-6pm.
Golden Hill
Oven roasted turkey and cranberry sauce give the Ubehebe a slightly Thanksgiving-ish vibe, while the bacon, a smear of cream cheese, crisp romaine, red onion and a swipe of mayo add tang and crunch -- all piled into a toasted ciabatta roll, with a scoop of addictive potato salad. Grab it and go for $10.75, or stop by on Turkey + Tecate Tuesday and pair it with a 12-oz. Tecate for $12. Gluten free bread is an option at no extra charge.
How to order: Krakatoa's open patio is available for safely distanced dining, or call 619-230-0272 for pickup, Monday through Sunday from 7am-3pm.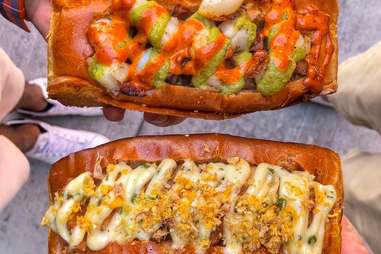 Miramar, Little Italy
A perennial choice on various "best of" lists around town, SuperNatural Sandwiches has a sea to sandwich approach using local, sustainable seafood. The signature 'wich, The Siren ($11.50), takes a buttered, split top brioche roll, grills golden brown and stuffs it with plump, garlicky shrimp, cheese, tomato, and relish -- and drizzles of garlic aioli and hot sauce.
How to order: Each location has slightly different hours and menu items, both offer pickup and takeout, and the Miramar location has online ordering.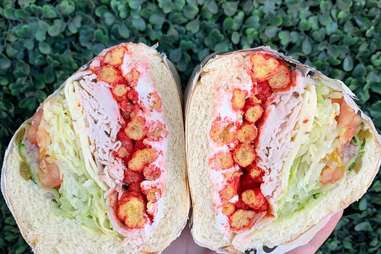 North Park
When you're craving a spicy sandwich, Fatboy's Hot Poppa scratches that itch with a mound of Ovengold turkey, pepper jack, and cream cheeses, sliced jalapeños, and (!) a layer of Flamin' Hot Cheetos. Customize yours with several bread or roll choices, up to five different sauces/spreads, and an array of veggie toppings like LTO, sprouts, cukes, pepperoncini, olives, and bell or banana peppers for $10.99.
How to order: There's a few tables outdoors, but your best (and fastest) bet is to call 619-202-8720 for takeout.
Hillcrest, Gaslamp Quarter, Midway District
Ike's made quite a splash when the San Francisco-based chain landed in Hillcrest five years ago, and has since opened locations in the Gaslamp Quarter and the Midway District. Check out what the fuss is all about with Anchor Man ($9.99): fried chicken, purple slaw, and American cheese on your choice of bread (try the Dutch crunch). All sandwiches get a big slather of Ike's super-secret garlicky Dirty Sauce, lettuce and tomato, and red onion, while jalapeños, pickles, and banana peppers come free upon request.
How to order: Each San Diego location has slightly different hours and menus -- call your favorite for takeout.
Ocean Beach
Ocean Beach's popular gourmet grocery store kills with its sandwiches, using Bread & Cie baked goods and Boar's Head meats and cheeses. The Bacado ($8.99) stacks crisp bacon, melty cheddar, sprouts, and tomato on whole grain bread. Turn it into a modern take on the classic club by adding an extra helping of turkey for $2, and "the works" -- mustard, mayo, lettuce onion, Italian dressing, spinach, and oil & vinegar. The deli is open from 8:30am-5pm daily.
How to order: Call 619-224-0443 or order online for takeout, then head to the beach, just a few blocks away, for an impromptu picnic.
Bankers Hill
This absolute gem of a deli/liquor store sits just a block from Balboa Park and boasts more than 50 hot and cold sandwiches, plus breakfast burritos, pizza, soups, salads and sides, so it can accommodate almost anyone's tastes. Maye's Melt ($7.49) takes buttery grilled artisan bread and piles it with sliced turkey, roasted red pepper, fresh spinach, gooey melted provolone, and pesto -- and you definitely want to add the complimentary onions and tomato.
How to order: Call 619-239-8361 or order online for takeout.
Sign up here for our daily San Diego email and be the first to get all the food/drink/fun in town.
Mary Beth Abate is a San Diego-based freelance writer by way of Chicago and Los Angeles. Her hobbies include yoga, pickling and fermenting stuff, reading cookbooks, and drinking fabulous gin. Keep up with her experiments @MaryBeth_Abate.