San Diego's Legitimately Great Vegetarian- and Vegan-Friendly Restaurants
As befits the stereotype of a Southern California city, San Diego has no shortage of plant-based dining options. It doesn't matter if you're living the eco-friendly lifestyle, are just health-conscious, or are an animal rights activist -- from the hole-in--the-wall taco joint to the gourmet food truck pulled up outside the brewery, our city has a surplus of options to meet your herbivorous needs. Here are nine of our city's standouts:
Kearney Mesa & North Park
For casual vegan and vegetarian dining, Sipz simply can't be beat. The extensive menu is a comprehensive collection of various Asian cuisines, all 100% vegetarian and mostly vegan. Grab yourself one of the Noodle Bowlz to go, or sit down and enjoy an order of sushi rolls before digging into a spicy Thai curry. And with plenty of faux-meat substitute dishes available, Sipz is the perfect place to bring that friend or family member who is dubious about trying a meal without a protein that bleeds.
University Heights
Upscale in decor but modest in price, Plumeria sits just at the very north end of Park Blvd. Featuring a menu based around South Asian cuisine, with an emphasis on Thai food, it's the perfect place for a savory, spicy meal with menu items that eschew fish sauce and other animal products, save for an optional egg in a few instances. As with most South Asian food, Plumeria leans heavily on the spices, though these are adjustable to your taste. The pumpkin curry is especially exquisite. Plus, as a bonus to the environmentally minded, it offers a dollar discount for to-go customers who bring their own containers.
South Park
While the menu of this South Park burger & beer joint boasts both a very good house veggie burger and a spicy black bean burger, neither sandwich is what makes this place worthy of must-visit status. Rather, it's the spicy sweet potato fries, which are simply the best in town. Tossed in a closely guarded blend of spices and fried until just crisp, these fries are great either as a side item or as an order by themselves, especially when paired with Station's smoky paprika sauce.
Park West
Evolution is the vegetarian's answer to the ubiquitous fast food burger joint, right down to the drive-thru window. Catering mostly to take-out, though with some modest patio seating, Evolution breaks from the standard black bean burger patty by crafting one from house-made tempeh. Either patty is available as a gluten-free Evo Burger, a heaping belly-filler topped with lettuce, tomato, cheddar cheese, grilled onions, pickles, and Thousand Island dressing. If you have the stomach space left, pair it with a side of chili cheese fries or wash it down with an organic shake or smoothie.
University Heights
If you're feeling tired of veggie burgers and Asian food options, take a seat at the Kenyan cuisine-inspired Flavors of East Africa. Though the menu does feature heavily meat-based dishes -- including ox! -- there are a number of exotic salads and vegetable dishes available for vegetarians. Try the Biriganya (chopped eggplant) with a side of Wali (spicy rice and vegetable stew). The restaurant's food stall is also a mainstay of local farmers markets and street fairs, where you can pick up a bag of six vegetarian-friendly lentil, potato, spinach, and coconut cream cheese sambusas for only $5.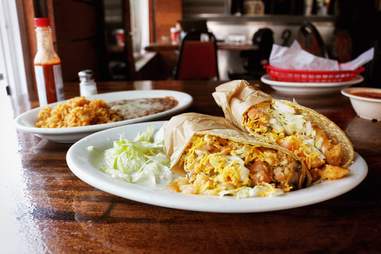 Matt Baldwin/Thrillist
Downtown
It wouldn't be Southern California without at least one taco shop, and while there are plenty in town with vegetarian-friendly menus, Pokéz can't be beat for both variety and quality. The menu lists over 28 (!) different vegetarian and vegan selections, down to the Green Taco, which substitutes a large lettuce leaf in place of a tortilla. If that's too far on the healthy food spectrum, don't worry -- there's plenty of standard Mexican fare to order, from the chile relleno to heaping tacos, burritos, and tortas filled with options like potatoes, mushrooms, and tofu. Fair warning: Pokéz does have a bit of a reputation for slow service, so if time is a concern, consider phoning ahead for pickup.
South Park
You'll never see a more heavy-metal, exclusively vegan restaurant, and that's not just because of the Black Sabbath and Misfits playing over the sound system. The decor blends the aesthetic of a 1920s Parisian cocktail bar with that of European comic magazines like Heavy Metal and 2000 AD right down to a custom cocktail menu where the drinks sport names derived from mythology, horror, and science fiction. It also has some of the most unique and delicious food you'll ever eat. The tempeh on rye is a particular favorite: strips of cornmeal-crusted tempeh laid in a rye pita with smoked beets, kale fennel kraut, and Sriracha Thousand Island sauce, served with a side of crispy house-made potato chips. Order one and wash it down with a La Fin Du Monde-based Doom Gazer beertail.
Balboa Park
While the seasonal menu of this open-air beer bar is not expressly vegetarian, Panama 66 deserves inclusion on this list solely for its panko-crusted mushroom lentil patty sandwich. The house-made patty has a delicious crumbly texture unlike any other vegetarian sandwich in town, and is topped with a selection of vegetables and chipotle tahini sauce on a focaccia roll. This alone is worth making the trip into Balboa Park, but Panama 66 also maintains an impressive selection of beers on tap, and regularly hosts live music. It's the perfect place to enjoy a good meal and a cold drink after a day exploring arts and culture or the zoo.
North Park
Need a bit of dessert? In the mood for a sweet breakfast treat? Head on over to Nomad Donuts on 30th St, where the pastry chefs create confections such as Ube Taro Coconut or Passionfruit Jalapeño. While the eclectic menu of this small craft bakery changes daily, it always has a specialty selection of vegan-friendly donuts available. Be sure to get there early, though, as Nomad frequently sells out before closing time. Don't worry, early risers -- it keeps plenty of coffee freshly brewed.
Sign up here for our daily San Diego email and be the first to get all the food/drink/fun in town.
Matt Baldwin is a San Diego-based freelance writer & photographer who gave up meat six years ago and has never looked back. Follow him on Twitter/Instagram/Flickr/Ello: @thisbrokenwheel.