Brian Malarkey's picks for San Diego brunch and late-night eats
Celebrity Chef Brian Malarkey is keeping himself pretty busy these days. Between opening award winning restaurants, writing a book, and making TV appearances, it's hard to believe he even has time to eat. But he DOES! When he finally hangs up his apron at the end of the day, Brian has a few favorite late-night spots, and his Sundays are always reserved for quality time with the fam, so he picks brunch places that are sure to please even the youngest of food critics.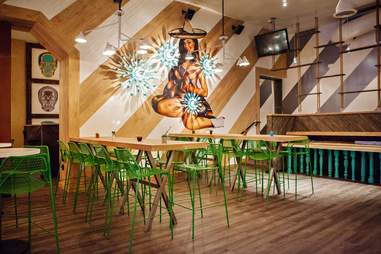 Don Chido
Late-Night Eats
Don Chido (address and info)
Gaslamp
Don Chido is a recent addition to the Gaslamp, but has already become one of Brian's favorites. Plus it's only a two minute jaunt down 5th from his own Downtown hot spot, Searsucker. "Antonio [Friscia] is one of the city's top chefs and a great friend. Some of my favorite dishes are the shrimp crudo, ceviche, and the mole."
Starlite
Starlite Lounge (address and info)
Mission Hills
It might be a little out of his way, but Starlite's late-night menu is worth the detour. "I live in Point Loma, so some nights I take a short detour to hit up Starlite Lounge. They have a great selection of late-night bites, and their cheese plates and house-made sausage boards are some of the best in town."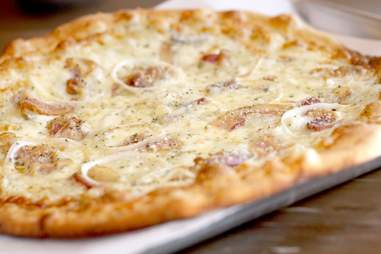 BASIC
​BASIC Urban Kitchen + Bar (address and info)
East Village
Everyone loves pizza. It's a fact. Even the most accomplished of chefs can't resist the gooey cheese and list of unique toppings at BASIC. "With three kids under six, our nights out are limited, but on those occasions when we can stay out till last call, sometimes late-night pizza hits the spot."
Brunch
Cafe Chloe (address and info)
East Village
For Malarkey and his wife, Cafe Chloe is the East Village equivalent of a romantic French getaway... even if it's just for a quick Sunday brunch. "I spend Sundays at home with my family. My wife, Chantelle, and I love our brunch dates, and Cafe Chloe is one of our all-time favorites. This cute French bistro in East Village serves a variety of mimosas (rose, lemon-lavender, and pomegranate) and the best poached eggs. I also love their mussels & fries."
Sara Norris
Point Loma Seafoods (address and info)
Point Loma
When he's not sneaking away for a brunch date with his better half at Cafe Chloe, Brian is sticking to his local 'hood for some no-nonsense, uber-fresh seafood in Point Loma. "Brunch or lunch with the kids usually includes a trip down to Point Loma Seafoods, which has an amazing location right on the harbor. It's an unpretentious local spot (order at the counter and listen for them to yell out your number over their speakers), that serves the best fish tacos in San Diego by far, and is also a local fish market. After our meal, the kiddos are in charge of choosing what's for dinner (our six-year-old and four-year-old twins love shellfish and seafood)."
Sign up here for our daily San Diego email and be the first to get all the food/drink/fun in town.