Carlos SanMartano's entry in the Search for the Most America-est Hot Dog needs your vote!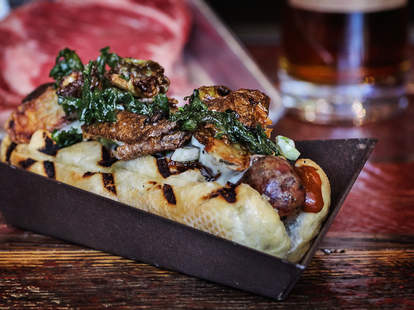 In honor of the most patriotic of encased meats (FDR once served hot dogs to the King & Queen of England -- LOOK IT UP!), Thrillist tasked chefs from around the country with creating dogs worthy of being named the Most America-est Hot Dog EVER. In San Diego, we've employed the talents of chef Carlos SanMartano (formerly of Searsucker and Gabardine), who is now heading up the kitchen at Hillcrest's sausage mecca Salt & Cleaver, to use his master link-making skills to build us the most badass hot dog to ever grace a bun. You'll definitely want to show some local pride and vote for Carlos's creation against other chefs from around the country, especially after you realize this dog's made out of an ENTIRE RIBEYE STEAK!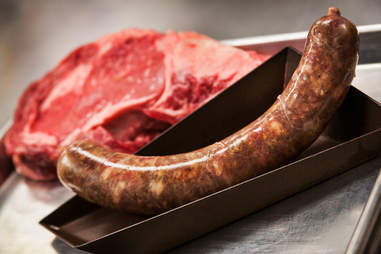 First thing's first: meat. An entire ribeye is freshly ground to perfection and pumped into a casing to make this footlong beauty that will be the heart of the dish, and the heart of your heart attack.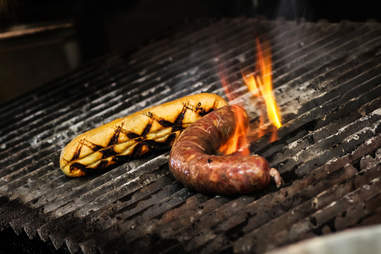 Next, Carlos lathers a fresh-baked bun in butter and chars it on the grill alongside the ribeye sausage. Grill marks are inherently American.
Making the sauce requires sauce -- specifically bourbon -- which is infused into a deep beef stock cooked with tomatoes and whole ancho chilis.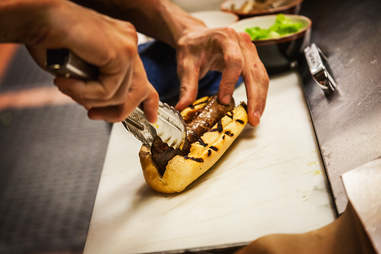 Once fully grilled up, the sausage gets put in the bun (!), then drenched in that spicy bourbon demi-glace.
For the obligatory vegetation, shallots get caramelized and layered on top along with a fresh Brussels slaw.
More obligatory than vegetation: cheese. Goat cheese gets slowly melted with freshly grated horseradish to make a spicy fondue that is drizzled over the top, incidentally also putting this dog over the top.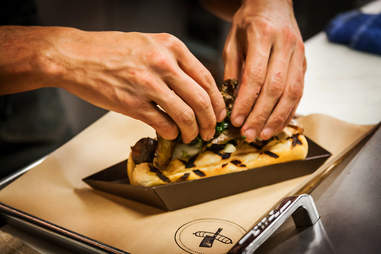 Wait, there's more?! Finishing touches include fried potato skins (of course) and Brussels leaves (use every part of the sprout!) sprinkled with flaky sea salt.
The end result is a savory, cheesy, spicy, bourbon-y, meat-and-potato flavor explosion in your mouth that rivals fireworks on a certain most-America-est holiday, so support the local boy and give it your vote!