You're going out on the town, and at some point, you'll need to eat dinner, so we've rounded up San Diego's best spots for a party-filled meal that won't put a dent in your momentum.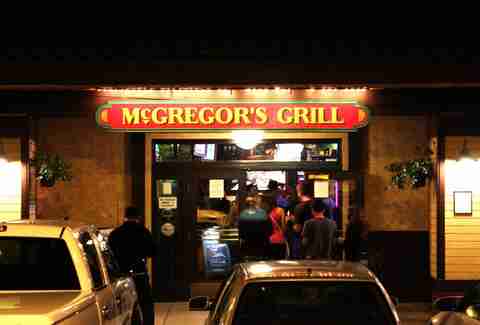 McGregor's Grill and Ale House
Mission Valley
Just up the road from Qualcomm Stadium, McGregor's Grill and Ale House has an exhaustive selection of beers that'll make you feel less like a derelict and more like an aficionado, pairing well with the laid-back vibe and the baskets of fish tacos you're about to power through. The elevated party area overlooking the main floor is the best spot to inflate your sense of self worth.

Pizza Port
Carlsbad
A North County institution, Pizza Port has been serving "grub and grog" for more than a quarter century. The exhaustive list of beers that exceed 8% ABV will achieve the necessary numbing effect to help you consume more BBQ bacon cheeseburger pizza.
En Fuego
Del Mar
Camped in the heart of Del Mar, En Fuego draws a crowd whether or not the racetrack is in season with elevated cantina fare (filet mignon rancheros, honey habanero chicken) and plenty of margaritas. Upstairs, there's a second bar area available for parties, and the wood railing overlooking the courtyard below will have you channeling your inner Wyatt Earp.
Samurai
Solana Beach
Between its arsenal of throwing knives, flames that reach the ceiling, and warm sake supplying a similarly pleasant burn, there's a lot to like about Samurai. And while Benihana has reduced Teppanyaki Cuisine to a formulaic experience, the chefs at this Solana Beach hideaway engage with you on a more personal level, flipping scallions across the table into open mouths and tossing back sake bombs with energetic patrons.