San Diego's proximity to the ocean and general excellence in all things translates into a higher cost of living when it comes to things like rent and gas, but if you know where to look, you don't have to shell out much for great food. Need proof? Here it is, in the form of San Diego's best cheap eats under $5.

Pacific Beach/Downtown
What you're getting: Empanada de choclo ($3.95)
All of the empanadas here are under $5 a pop, but we have a special place in our heart for the choclo (sweet corn, cotija cheese, and fire-roasted pepper). Hit it hard and often with chimichurri.
Gaslamp Quarter
What you're getting: Coconut waffle ($4)
You'll know your waffle is just about ready when the sweet, vanilla-scented air wafts through the window to the kitchen at this casual grab-and-go spot. The combination of light and crispy waffle, creamy peanut butter, condensed milk, and shredded coconut is insanely good.
Little Italy/4S Ranch/Hillcrest
What you're getting: Pollo e pesto ($4.75)
Some people have very strong opinions about chicken on pizza. This slice, topped with juicy strips of organic chicken, cherry tomatoes, tangy goat cheese, and homemade basil pesto, might just be what converts them forever.

Hillcrest
What you're getting: Whitestone pepperoni slice ($2.50)
If you haven't tried this pepperoni and herbed ricotta white pie, may we ask what you have against unbridled joy?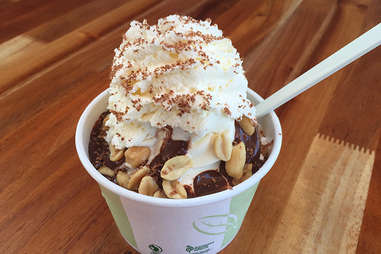 SDSU
What you're getting: Frozen custard sundae
If you have a soft spot for McDonald's sundaes, this treat from Bruxie with frozen Wisconsin custard topped with roasted peanuts, Belgian chocolate (or caramel) sauce, fresh whipped cream, and chocolate shavings might temporarily make regular speech impossible. They have cones too, but the crunchy texture and salty flavor of the nuts is what edges this treat over the top.
Mission Hills
What you're getting: Fish tacos ($4.25 and up)
The vast majority of fish/seafood taco options at this always-busy shop ring in under $5, and unlike most places, you also get to choose your preparation (lemon butter, lemon-garlic butter, bourbon butter, teriyaki, chipotle, blackened, or bronzed). Multiple visits may be required to find your favorite, but that's not really a bad thing.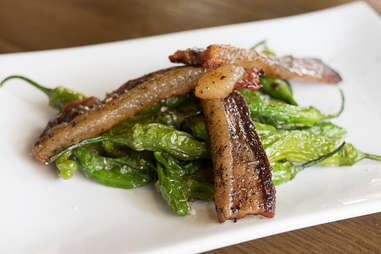 La Jolla
What you're getting: Bacon plate ($4.50)
If you're visiting this UTC-area pizza restaurant, it's likely you're planning on ordering a pie, but consider this plate of thick-cut bacon rubbed with a house-made blend of spices, served with blistered shishito peppers. The salty/smoky/spicy flavors pair great with a beer, just watch out: some peppers are much hotter than others.

Mission Hills
What you're getting: Rolled tacos (three for $3.25 or five for $4.25)
A threesome (or fivesome) of beef or potato rolled tacos smothered with a pile of lettuce, guac, pico, and shredded cheese (plus whatever salsa you like) makes a tasty lunch, and, unlike the enormous burritos sold here, after you polish them off, you might actually be able to contemplate eating dinner.
Various farmers' markets
What you're getting: Walk & Guac ($5)
A grab-and-go container of tortilla chips and chunky guac is just what you need when you're cruising through the farmers' market. Luckily, it exists!
Chula Vista
What you're getting: Sweet corn tamale ($3.50)
It's listed as a side dish, but there's definitely enough butter in the creamy, corn pudding-like filling for this dish to squarely qualify as a dessert. You should probably get one with your entree and another one to end the meal (just scooch the onions to the side).

Ocean Beach/Downtown
What you're getting: Mini cheeseburger ($4.50)
Most people gravitate towards the big-as-your-head burgers at Hodad's, but for a mere $4.50, you can score a mini cheeseburger. The smaller stature delivers what some might call a better meat-to-bread (and toppings) ratio, anyway.

University Heights
What you're getting: Fresh spring rolls ($4.95)
Pleasantly chewy rice paper wrappers can barely contain the generous portion of fresh veggies, tofu, and rice noodles inside these seriously healthy yet totally delicious rolls. Two house-made sauces (peanut dip and pineapple sauce) sweeten the deal.
Hillcrest
What you're getting: MTL Toasty ($3.50)
The toasted, buttery bun goes a long way towards making this hot dog topped with mustard, relish, onions, and Royale slaw truly delicious.
Pacific Beach/Carlsbad/Petco Park
What you're getting: Custom ice cream sandwich ($3.25-$4.25)
Whether you build your own ice cream sandwich with cookies, brownies, or a donut, it'll still ring in well under $5. Our pick is the cookie and brownie combo ($3.70), a delicious treat big enough to satisfy the sweet tooth of a bear under the influence of appetite-increasing herbs.

Leucadia
What you're getting: White clam chowder ($3.50 for a cup)
Rich and creamy chowder with sweet Manila clams, salty bacon, and oyster crackers makes a great lunch on a gloomy afternoon... but it's equally delicious on one of San Diego's many ridiculously beautiful days.
Sign up here for our daily San Diego email and be the first to get all the food/drink/fun in town.