Cow by Bear, San Diego's Strangest Pop-Up, Has Its Own Short Doc Series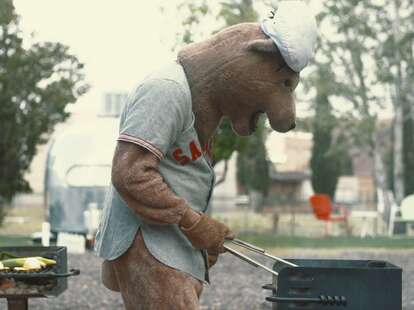 MARQ EVANS
MARQ EVANS
Marq Evans met Bear at a matinee showing of the Disney nature film Bears. They were the only people in the theater.
"Literally every other seat was open," said Evans, a San Diego filmmaker, "and he sat right next to me. The film was super-emotional for him; he was openly weeping from the first frame until the closing credits."
Bear, if his mythos hasn't yet reached you yet, is the head chef of Cow by Bear -- a pop-up restaurant with 50-day dry-aged rib-eye as its pièce de résistance -- that started in 2014. His 10-seat, five-course dinner (with expert wine pairings) runs Thursday through Saturday every week, with each location announced via an email the day before your reservation. The pop-up has grown so popular that there is now a months-long wait for a seat at the table.
After they met, Bear ended up inviting Evans to a dinner and became quick friends. It was unusual that Bear, who is totally a bear and totally not a human who cooks in a bear costume, became so friendly with Evans -- typically, he evades the spotlight, going to great lengths to conceal himself, and is not one to reveal his inner self to most (his background has been a well-kept secret). But he admitted to Evans that he was in a dark place when he first started Cow by Bear and began cooking for strangers mostly to fill a void in his own life. It all started more as a social experiment than anything -- something that an Anthony Bourdain or known celebrity foodie/pasta lover Aziz Ansari would dig, and simply a way to keep his cooking skills sharp while deciding what he wanted to do next.
"When I started Cow by Bear," Bear says in Evans' premiere short documentary, "all I knew was that I didn't want it to be a restaurant. I wanted to recreate how dinner goes down in the wild."
"Bear started this whole thing with zero dollars and pretty much no idea what he was doing or why," Evans told me as we sipped piña coladas at the closing night ceremonies for the Aruba International Film Festival.
I had met Evans last October, when I was covering AIFF and he was screening his first feature, The Glamour & The Squalor -- a great piece about a Seattle DJ who broke practically all of the '90s grunge bands. The fact that Aruba had an entire film festival was intriguing enough to get me to the Dutch Caribbean island, and it was pure serendipity that I found out about Cow by Bear. Of course, I didn't believe a word Evans was saying when he told me such a concept existed. A bear cooking steaks... I figured he was just a funny, sarcastic guy possibly working out a new stand-up bit on me. Or maybe we both had one too many fruity drinks. But once I realized he wasn't messing with me, it was pure intrigue.
Once Evans gained the trust of Bear, documenting his new friend -- and the dinners that go down in what has become one of the hottest restaurant experiences in San Diego -- was an organic endeavor.
The video -- the first in what is to be a series by Evans -- touches on Bear's origins, with clips from his biographer's interview. "Bears are the gourmands of the world," he says. "The pretentiousness of dining is out the window," adds a friend.
Watch the first installment, and stay tuned for more in Evans' series of Cow by Bear's first dinners, popularity growth, and the future of the pop-up:
Sign up here for our daily San Diego email and be the first to get all the food/drink/fun in town.
Valentina Valentini is a freelance journalist based in Los Angeles, and traveling the world in search of her next meal. Follow her for a little #foodporn and lots of sunsets: @tiniv.