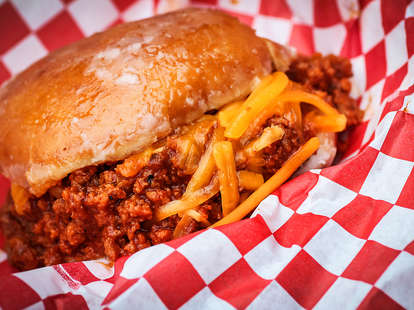 The San Diego County Fair is where you'll find a ménage à trois of sexually adventurous carnies bright flashing lights, blaring carnival music, and the intoxicating smell of artery-clogging culinary creations. Whether you're after an old-school funnel cake or this Krispy Kreme Sloppy Joe from Chicken Charlie's, it's clear that if the rides don't give you a heart attack, the food is more than up to the task.
The people at Bacon Affair know that while bacon may be delicious, dipping it in chocolate makes it even more delicious.
Speaking of bacon, these Caveman Turkey Legs are wrapped in a whole bunch of it and then cooked on a rotisserie. And then dipped in chocolate. Kidding. They're saving that for next year.
These grilled bacon-wrapped jalapenos stuffed with cream cheese will set your mouth ablaze, and then other body parts that decorum prevents us from identifying in detail.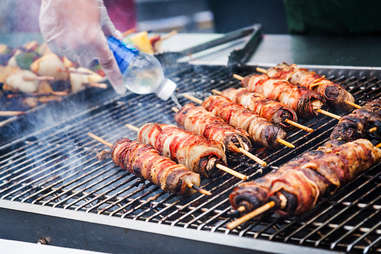 There're even these cleverly named Porkabello Kabobs made with skewered portabello mushrooms that're... wait for it... wrapped in bacon before hanging out over an open flame.
Continuing with the foods on a stick theme, The Texas Tater Twister: a spiral cut potato, fried (of course), sprinkled with a choice of toppings like lemon pepper, garlic Parmesan, or seasoned salt, and then curled around a footlong sausage along with your choice of dipping sauce: either ranch, nacho cheese, or barbecue sauce. The correct answer? All of them.
The Waffle Dog is another favorite from the evil geniuses at Chicken Charlie's. Its like a corn dog, but the wiener is encased in a golden waffle and drizzled with syrup. So, basically, it's better than a corn dog.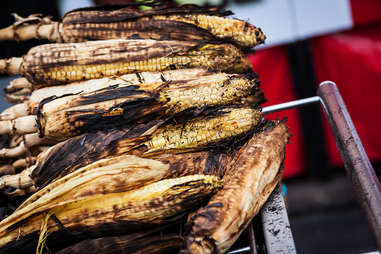 If your body absolutely HAS to have a vegetable, at least this roasted corn is dipped in melted butter...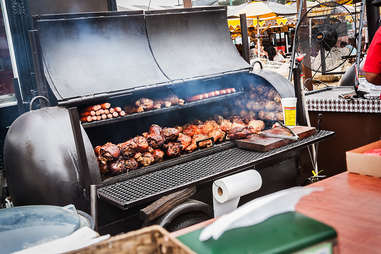 Then you can get back to consuming just about any kind of pit BBQ meat that you could ever want.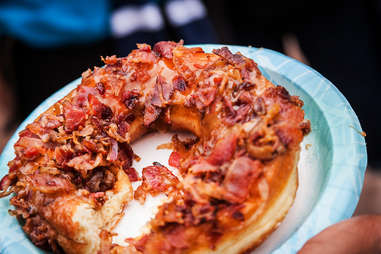 Just when you thought there couldn't be any more things involving bacon, this Texas-sized maple-bacon donut is all, "Hey, what about me," and you realize there's little chance you can leave the fair alive.