If you've had Chef Matt Gordon's warm, gooey cinnamon rolls at Urban Solace, then you know that they are a breakfast pastry achievement of the highest order that could not possibly be improved upon… until now. At Gordon's newest spot in Del Mar, Sea & Smoke, he has turned those very same rolls into a sweet, savory, meat-filled breakfast sandwich. If you haven't already left to go get one, you should find out what all goes into it.
Recommended Video
Tackle 7 Pounds of Seafood in One Sandwich
You don't make a cinnamon roll sandwich without one of those glorious, made-from-scratch cinnamon rolls, which means combining all of this stuff (eggs, buttermilk, sugar, yeast, etc.) with flour in a giant mixer.
Once the dough is mixed, it's set aside in a bowl and covered with plastic wrap to rise until it starts looking like some sort of bubbly science experiment. Yeah, that's weird.
When it has doubled in size, the dough is rolled out on a floured table and smeared with butter... SO much butter.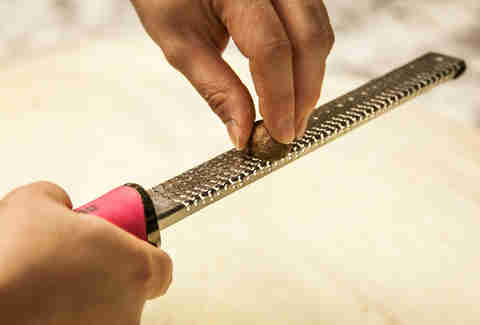 Next they sprinkle on a little freshly grated nutmeg…
… and handfuls of cinnamon.
Then they roll it all up into what would be the most delicious cinnamon roll burrito of all time.
But alas, it is sliced, laid out on a tray, and sent to the oven to bake.
This is the part where you have to stop yourself from smearing these with cream cheese frosting and devouring the entire tray.
Once baked to perfection, they're split in half and toasted on the grill along with three slices of ham (covered in cheese) and two pieces of crisp bacon.
All of that meat is finished off with a fried egg. Otherwise this would be borderline health food.
You can get your hands on this amazing cinnamon roll sandwich during brunch any day of the week at Sea & Smoke.