From the dude behind Moonlight Lounge and Urban Solace (oh, those cinnamon rolls...) Del Mar's Sea and Smoke is living up to its name with more smoke than Snoop's tour bus and more sea creatures than... well, sea creatures don't really ride buses, but that's just fine, because you'll want to stay right there and go crazy on this wood-roasted Lobster Thermidor with Tijuana togarashi.
Recommended Video
Mexico City's Ultimate Churro Spot
Start off with the shockingly named Sea & Smoke appetizer, in which you'll be snagging squid-inked cornmeal crackers and dipping them them in creme fraiche studded with house-smoked oysters and clams sided with lemon chutney.
If you aren't feeling seafood, sink your teeth into this Paso Prime grass-fed burger with smoked onion jam (so it's got at least half the name!), Gruyere cheese, and black olive aioli, sided with some house-pickled veggies.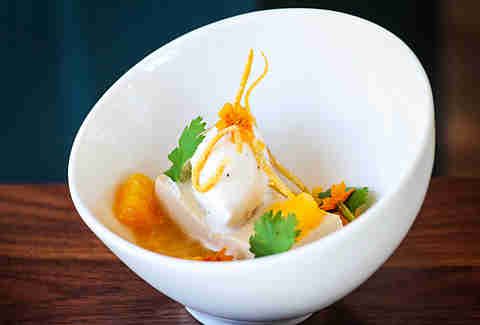 Then order the Sea & Smoke again! Just make it clear you want the dessert this time: a tobacco-smoked goat cheese cremulato (mmm... tobacco) in cognac-citrus soup, topped with a dollop of black pepper whipped cream, candied orange peel, sea salt, and micro marigolds.
If you think having an appetizer and a dessert with the same name is confusing, Mr. Cash is there to address your concerns.