The delicious Monte Cristo isn't just an obsession for famous literary Counts (that's what the book's about, right?). The folks at downtown's Donut Bar are adding to their ever-changing lineup of gourmet donuts (not to mention the infamous Cro-bar) with a donut version of the sweet & savory sandwich.
They tend to sell out by early afternoon, so, in order to make enough of these suckers to satisfy the hungry masses, they start off with a mountain of their tasty dough.
After it's beat to hell during the kneading process, it's then divided up and rolled out thin. Later, you'll be rolled out as well, but not thin.
The insides consist of a slice of Black Forest ham around a piece of Emmentaler (which is fancy-pants talk for Swiss cheese). The meaty roll-up is then topped with a piece of American cheese, which gives it that extra melty gooeyness, before it's wrapped in yet another slice of ham.
Fresh cranberries combined with raspberry jam add a fruity tanginess.
The ham and cheese roll-ups are placed in a row and then smeared with the cran-raspberry compote. Is that an ice cream scoop? Is there going to be ice cream? No? Aww...
Next, the dough is folded over and pinched closed on one side...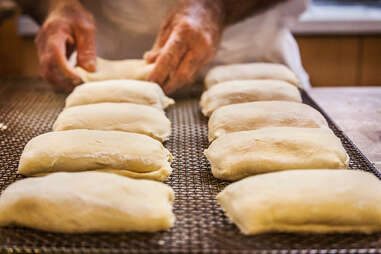 ... then cut into ham- and cheese-filled pockets, sealed tight, and left to proof for a few minutes before heading to the fryer. Hot Pockets are officially obsolete.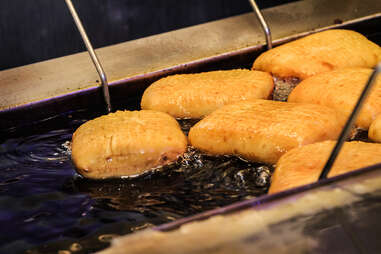 After they've had time to rise, they're lowered into the deep fryer to melt the cheese inside and cook to a crispy golden brown.
When they come out of the fryer, they're ready to be coated with a dusting of powdered sugar. Otherwise, they'd practically be salads.
You can either bite right in, or slice it in half to make it a little more sando-like.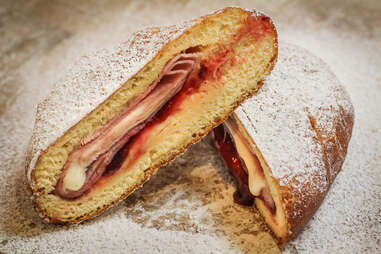 Appearance is everything. Just don't tell that to the people who are going to be looking at you.