Southern indulgence, SoCal-style
Southern cuisine has a reputation for spectacular unhealthiness, so it's not surprising to see downtown's Magnolia Tap and Kitchen give its take on comfort food the occasional slightly healthier SoCal twist, like the slather of guac on this pork carnitas sandwich with mustard BBQ. But, hey, fundamentally it remains a BBQ pork sandwich -- you still won't have trouble giving Paula Deen a run for her money. Or insulin.
Or take this mac & cheese souffle, which is big enough to share and packed with longhorn Colby, Monterey Jack & sharp cheddar, and topped off with some fried onion. For veggies.
In case you want more cheese with your cheese, there's the grilled cheese with bacon, tomato, and fried onion, melted between Texas toast by even more of that aforementioned cheese trio.
Sink your teeth into this BBQ-sauced braised short rib sandwich that, like the grilled cheese, comes with fresh-made potato chips, which'll make it harder and harder for you to get lays.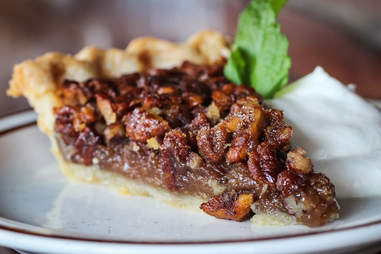 Finish off your meal with sweetness like a slice of homemade pecan (pronounced pee-can) pie sided with some bourbon whipped cream.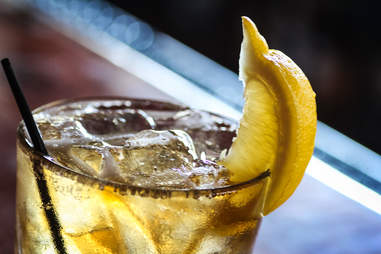 This isn't like the tea granny brewed, unless your grandmother is Lucille Bluth: the Grandma's Porch is iced tea spiked with whiskey, sweet vermouth, and Grand Marnier.
Vieux Carre means "old square", not to be confused with the people boozing it up on grandma's porch. It's made with rye, cognac, Benedictine, bitters, and sweet vermouth.
About as dangerous as a pink drink can get, The Outlaw is a blend of gin, Creme Yvette, liqueur d'orange, lemon juice, and mint.
The centerpiece of the restaurant is an installation of lit steel magnolias -- the literal metal kind, not the inebriated Olympia Dukakis kind.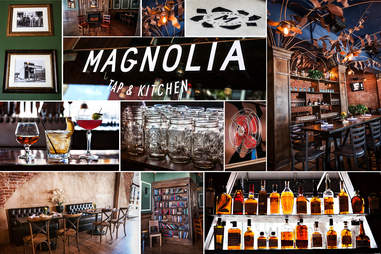 The place takes its name from an 1887 saloon that sat right on the corner of 6th and E Sts, and goes for a cozy-Southern-plantation-with-hardwood-floors-and-bookshelves vibe, with a bar stocked full of whiskey and a faux fireplace … after all, this is still SoCal.