Poised to amply satisfy you with more than just clever wordplay, Betty's Pie Whole Saloon in Encinitas isn't messing around with mere slices. Instead, they're only slinging whole, scratch-made pies stuffed with Betty's house-made fillings both sweet and savory, so get ready to devour an entire pie (or, ugh, share), or you could attack a single-serving number like this hand-held (and branded!) Field Hand...
… a warm pie-yeasted dough pocket branded with BPW and stuffed with broccoli, chicken, and gooey, melted cheddar cheese. Basically it's the classiest hot pocket you've ever seen. 
On the sweeter side of the spectrum, the Mississippi Mud Pie's chocolate shortbread shell is brimming with Belgian chocolate pudding and butterscotch swirls, loaded with chunks of brownie and house-made marshmallows. Oh, and it's drizzled with two more kinds of chocolate, because you weren't fat enough yet just from reading that.
Yes, there's even pie for breakfast. Boyd's Break-The-Fast Pie has eggs, potato, turkey bacon, and smoked poultry sausage topped with melted cheese in a biscuit crust. Order the whole thing…
… or the individual size. Also known as the coward size.
They've got the basics covered with traditional selections like Coconut Cream, Key Lime, and this luscious-looking Pe-can Pie. Emphasis on the second syllable or it won't be nearly as delicious.
The flaky Parmesan herb crust on Grandma Lucy's Chicken Pie is bursting with free-range chicken, baby carrots, peas, and zucchini. Make sure you wash it all down with a glass of Southern Sweet Peach Tea. And maybe a Lipitor.
If pot pies are your jam, try their Italian cousin. Mama Jo's Meatball Pot Pie is made with turkey meatballs and Betty's house-made marinara -- plus mozzarella, Fontina, and Parmesan cheeses baked in a yeasted pastry.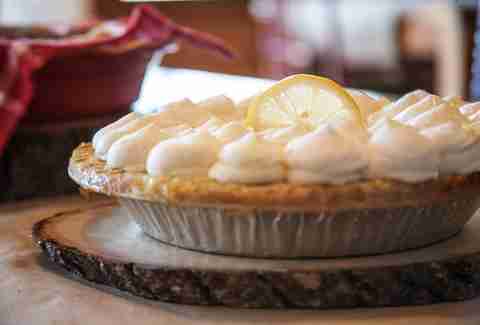 Not to be confused with the ubiquitous meringue variety, this is a tangy Lemon Pie covered with dollops of sweetened whipped cream. Suck it, stiff-peaked egg whites!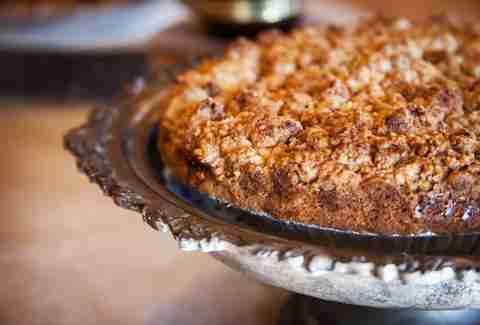 Don't tell grandma you found a new favorite apple pie after you take a bite of this Apple Crumbly topped with a delicious thick crumbly crunch. There they go again with the wordplay!