Everything You Need to Know About KINDRED, SD's Hottest New Vegan Spot
If you haven't already noticed, vegan food is having a moment in San Diego. Late last year, Café Gratitude moved into Little Italy and other indie spots have been popping up everywhere, from La Jolla to Hillcrest.
Of all the recent openings, we're most excited about KINDRED, the bellwether cocktail bar-restaurant brainchild of Kory Stetina, creator of LOVELIKEBEER -- a popular series of vegan and craft beer pop-up dinners, with proceeds going to charity. Stetina has the Midas touch of the bar and restaurant world -- everything he touches is minted. With all the other accolades in mind, here's everything you need to know about his spankin' new South Park hotspot.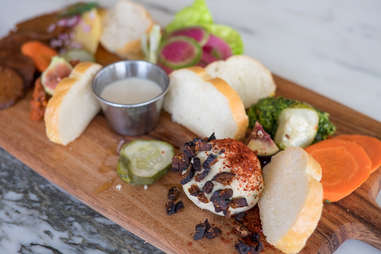 They serve vegan food, but it's so much more than just a vegan restaurant
Stetina says he wants Kindred to be known for more than its plant-based cuisine, made sans meat and animal products. His goal was to create a space that treads the line between a bar and a restaurant with friendly hospitality, great drinks, cool decor, and a well-priced menu of tasty dishes that are full of flavor and "just happen to be vegan."
Like his pop-up events -- which attract everyone from staunchly vegan diners to curious eaters bent on culinary exploration -- Kindred has mass appeal, and caters to anyone with a sense of adventure. If you're vegan, great! If you're not, that's cool too! Just get in here, would ya?

Cocktails are a must
Amaro liqueurs are featured prominently on the cocktail menu, including the pretty-in-pink beverage featured above. It's the Cosmic Key, and it's made with Amaro Montenegro, rosé, grapefruit, cucumber, and Peychaud's Bitters. If you love herbal notes and citrus, try the King in Yellow, with Amaro CioCiaro, pear brandy, lemon juice, and sugar cane. There's also a selection of beer cocktails, nine year-round beers, cold brew coffee, kombucha, wine, and craft soda for your consideration. And, it will probably please you to know that all of the drink prices max out at $9!
The decor is weird and wonderful
The ceilings are mirrored and partially covered; the custom pink wallpaper depicts carnivorous plants and fighting eyeballs. From these details to the enormous, mythical four-eyed wolf/snake/skull beast totem mounted on the wall, it's immediately obvious that Kindred is a place with personality. The mix of modern materials and feminine, vintage elements work together (seemingly against all odds) to create a bewildering, dazzling space full of fantastical wonder from wall to wall, bathrooms included.
As for the music, expect an uninterrupted soundtrack of metal tunes (except for Thursday nights, when Kindred hosts "Permanent Vacation," a weekly event featuring tiki-drinks and bites).
The food has big, loud flavors
Chef Jeremy Scullin (who relocated from Philly's highly renowned Vedge) holds nothing back with his food. If the vegan designation gives you pause, know this: KINDRED isn't the type of establishment to serve you a plate of wilted greens with a whisper of dressing and call it a meal. There are no sanctimonious dish names, or even the slightest whiff of superiority or pretentiousness.
If vegan restaurants were cars, typical joints would be like a Nissan Leaf (safe and responsible) and KINDRED would be a Camaro with the sound system cranked (ballsy, aggressive, and in-your-face). The beet risotto with fried scallop potatoes, sweet corn sauce, and scallion sour cream is the perfect example. It's a bold, confident dish that's as delicious as it is visually jaw-dropping.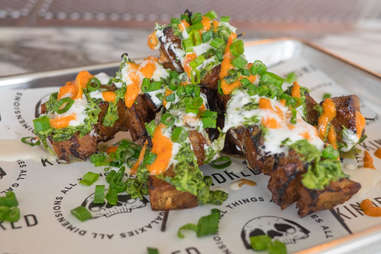 Portions are generous and prices are reasonable
Too often, a restaurant's wow-factor is directly correlated to inflated menu prices. It's almost like all of the shiny baubles are there to distract you while your wallet gets lightened. Not here! The average price per plate is approximately $10 -- and portions are large. For example, the chargrilled seitan skewers with chimichurri, horseradish aioli, and harissa can be yours for $8.
Comfort food is the name of the game
Vegan food, by its very nature, tends to be healthy, but the menu here proves it doesn't necessarily have to be almost devoid of calories and packed with a day's intake of nutrients. Take the Memphis BBQ jackfruit sandwich, for example. It's coated with sweet and tangy sauce, topped with green chili aioli, and comes with chips (lots of chips!). See? Vegans are people too.
Housemade cheese is coming
KINDRED is partnering with White Labs to launch a vegan cheese program, featuring non-dairy cheeses made from nut milks (like cashew and macadamia) that are cultured and fermented in-house. When it's ready, say hello to the vegan cheese board. If you're itching to eat small bites off of a plank of wood, try the most guilt-free charcuterie you've ever tasted: red chili and orange fennel seitan, smoked golden beets, a miso cashew ball, and a whole bunch of house-made spreads served with warm baguette.
The restaurant recently rolled out a "hangover-style" brunch with hefty pancakes, tofu-based "egg" dishes, and hair-of-the-dog drinks. And if you're wondering why we included a photo of that kick-ass print by Ryan Patterson, it's because it will soon be available as a T-shirt.
Suffice to say, South Park will receive a gem of a place when KINDRED has its grand opening on January 21st. If the wall beast frightens you, don't let it -- it's just a representation of the audacious food and drinks waiting for you here.
Sign up here for our daily San Diego email and be the first to get all the food/drink/fun in town.
Erin Jackson is San Diego-based food writer and photographer who loves sharing her latest finds. Follow her on Twitter if you enjoy food content, random thoughts, and cat photos.