Flaming booze & bacon for dessert: 10 things to know about Bang Bang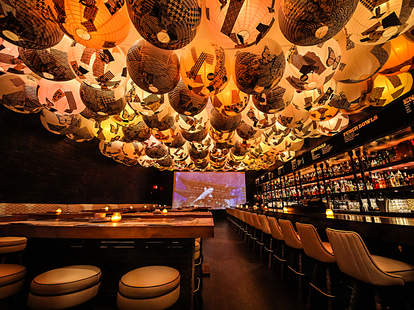 One of the Gaslamp's most anticipated spots in a while has finally opened with not just a bang, but a Bang Bang: an Asian-influenced den of madness just waiting to put bacon in your dessert and set your drinks on fire. All of which will be explained in our 10 indispensable pieces of info on this place.1. They have almost as many sakes as they do giant lanterns: Which is impressive, because... well, just look at all those lanterns! The dozens-strong list of premium sakes is ready to be sipped or bombed. Or, if it's just beer you're after, get Sapporo and Kirin by the pitcher.
2. They know how to make an entrance: Walking into Bang Bang feels like entering a Tokyo subway tunnel (they have actual recorded subway sounds playing), and if you think there's a lot of stairs going up, just wait until you're coming back down them -- 10 sake bombs later. Luckily, there's also an elevator.
3. They don't skimp on disco balls: Behold: at 5.5ft around, this is the largest disco ball on the West Coast, and DJs are going to be spinning under it several nights a week. Disco Stu will presumably be a fixture.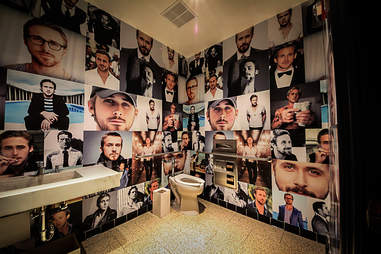 4. The ladies room might steal your girlfriend: If your lady has been missing for a while, you might want to have someone check the Ryan Gosling stall in the ladies room.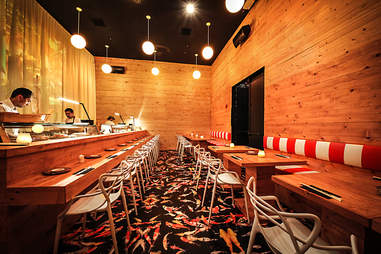 5. They have fish you'll want to eat, and fish that you shouldn't: Enjoy man's dominance over sea creatures in more ways than one as you scarf sushi while sitting on top of a koi pond.
6. They found a way to make fish and ice cream go together: This relatively normal-looking arugula salad takes a dramatic shift into the unconventional when it's topped with ahi poke and sushi rice ice cream, along with crispy nori and miso dressing.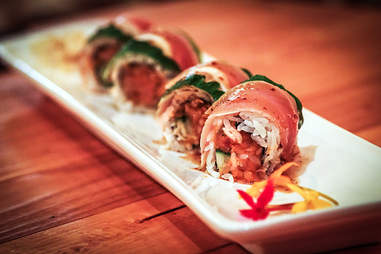 7. They're also doing kickass things with non-ice-creamed fish: Take this Bruce Lee Roll, with spicy yellowtail, cucumber-wrapped albacore, shiso, lemon slices, and miso-mustard sauce.
8. There's a sandwich called the Bang Mi: It may sound like you're crassly hitting on the waitress, but it turns out you really just want a sandwich packed with homemade chicken liver pate, grilled jidori chicken, Vietnamese banana leaf-steamed ham, pickles & jalapeno.
9. You can have bacon for dessert: The Bangwich (also fun to say) is an ice cream sandwich made with banana-bacon cookies.
10. They will set your booze on fire: This Flaming Karate Punch Bowl gets its (crane) kick from rye whiskey that's flavored with ginger, grapefruit & honey and topped off with Champagne before being set ablaze. You'll want to wax on and on about it.