Come the weekend, there's a good chance you'll be heading out to get brunch (and the cocktail[s] that come with it) at some point in your morning or early-ish afternoon. Whatever your preferred mode of operation is for the undisputed king of hybrid meals, we've found San Diego's best brunch spots, serving everything from shrimp & grits to old-school diner fare, and anything in between.
Gaslamp Quarter and University Heights
Indecisive drinkers will appreciate the mimosa, mojito, and sangria flights served at this colorful duo of restaurants with a large location smack dab in the center of the Gaslamp Quarter, and another on Adams Avenue in University Heights. The overachieving brunch menu stars tempting items like tiramisu pancakes heaped with mascarpone whipped cream, plus crepes, pancakes, salads, cast-iron omelets, burgers, and so much more. And because the brunch menu is available 8am to 3pm daily, you don't have to wait until the weekend to get your fix.
Solana Beach
There's usually a line out the door by 11am, but it's worth the wait. Once you make it to a table, you're going to have your way with bananas Foster-stuffed French toast (house-made ricotta-stuffed brioche topped with toasted pecans and bananas, served with rum-infused maple syrup), short rib hash, and green enchiladas & eggs. Bonus: the back patio is dog-friendly.
Hillcrest
There's only one rule for brunching at TRUST: you must order the sticky bun for reasons that should be immediately clear just by looking at the photo of it that's currently right in front of your face. A good partner for it is something savory, like smoked pork shoulder hash, egg in a hole, or the Wood Grill burger (a cheffy presentation that features sharp Asiago cheese, smoky bacon-tomato jam, pickled onions, and arugula on a house-made poppy seed bun). If that's not brunchy enough for you, get it with a fried egg & bacon on top for a few extra bucks.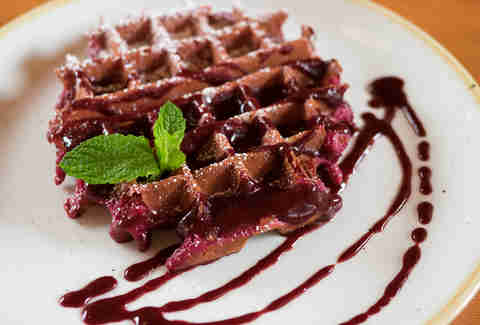 University Heights
There's a good variety of inventive and eye-catching dishes on the recently launched brunch menu at Madison, including this beet waffle topped with blackberry coconut puree that tastes like a grownup version of Smucker's Boysenberry Syrup. On the savory side, you'll find plenty of delicious meat-based dishes like braised lamb and grilled leeks over a potato & beet hash, buffalo burgers topped with a creamy chive yogurt sauce, and skirt steak Benedicts on toasted 12-grain bread.
Hillcrest (& other locations)
This local chain is busy slinging inspired brunch eats like short rib Benedicts, pistachio pancakes, and breakfast sushi (thick slices of candied bacon wrapped around fried rice & egg with plum sauce on top). It's also the top brunch pick of Juniper & Ivy chef Jon Sloan, who digs the restaurant's "quiet and charming vibe." He's big on the granola with fresh fruit and strawberry yogurt, and French toast stuffed with mascarpone cheese, strawberries, and mango, in case you're curious.
National City and Chula Vista
Since 1964, this old-school diner has been known for its huge portions and friendly service. The no-nonsense decor, complete with tight booths and swiveling barstools, is the opposite of the meticulously designed spaces dominating the San Diego food scene lately (and a welcome change). As you might expect, the pancakes are a great option, but the waffles, omelettes, and Mexican dishes (like chilaquiles, burritos, and house-made chorizo) all have their fans, too. The breakfast menu is available any time, so if you're craving a heaping stack of pecan 'cakes at 9pm, they'll hook you up. (FYI: the Chula Vista location is open 6am to 2pm Monday through Sunday; National City stays open until 10pm every day).
East Village
When you're looking for the classy brunch option, this East Village stunner delivers. The "Bottega Favorites" section is a good place to start; that's where you'll find the caramel-topped baked French toast (really just bread pudding in disguise) and Tuscan shrimp & grits with poached eggs and hollandaise. If you arrive closer to lunchtime craving carbs, there's also a solid variety of pasta and pizza dishes, plus "flowing mimosas" (bottomless for two hours, with the purchase of a meal).
University Heights
The team behind Hash House a Go Go and The Tractor Room is responsible for this midcentury-modern space serving creative spins on typical brunch fare, like lolliwaffles with dipping sauces, peanut butter & fried banana pancakes, and maple bacon doughnuts, served warm from the fryer. On weekends, the place is mobbed, so if you intend to eat immediately, get there early. For a more laid-back experience, consider brunching mid-week. Brunch is served from 8am to 2pm on weekdays and 8am to 2:30pm on weekends, so you've got options.
University Heights
Whether you go for traditional fare or one of several global-inspired egg dishes, one of those being eggs a la Africana with fava beans cooked in African spices with tomato yogurt sauce, you'll leave this tiny neighborhood cafe happy. Pancakes are always a prime pick. The carrot cake berry ricotta pancakes are the popular choice, but the blueberry 'cakes with a side of lemon curd cream are the unsung heroes.
Little Italy
The Sunday brunch menu here is short and sweet, but no matter what you order, you really can't miss. If you want something on the lighter side, go with the yogurt parfait with best-in-class ingredients like locally made yogurt, gluten-free granola (made in-house), seasonal jam, and fresh fruit. If that won't quite quell your hunger pangs, the heartier baked mac & cheese (made with Assenti's cavatelli pasta and a crust of seasoned breadcrumbs) is equally excellent.
Sign up here for our daily San Diego email and be the first to get all the food/drink/fun in town.