If you've never eaten at a churrascaria before, it's like the carnivore version of red light/green light. Flip your card to the green side, and the parade of servers will begin; carrying large knives and 15 different meats impaled on giant skewers, they'll keep it coming until you've hit max capacity. Flip the card to the red side for a breather (and maybe a short nap) before you either tap out or flip it again and summon another round. Most of the options are some form of beef or pork, or beef wrapped in pork, like the filet mignon wrapped in bacon on the right, but Frango (on the left), is chicken basted in their special marinade and (of course) wrapped in strips of bacon. With all this meat coming at you from their Brazilian churrasco grill, and names like Fraldinha and Lunguica, be thankful you can get by on pointing and nodding, no pronunciation needed.
Recommended Video
This Mojito Hot Toddy Is the Destroyer of Colds
Picanha (pea-CAN-ya) may sound like a nut, but it's actually their signature steak, a lightly seasoned prime cut of top sirloin and the first item in the rotation.
These lamb chops, Cordeiro (cor-DAY-roo), are covered in a mint marinade and grilled on a skewer, which is what happens to lambs who won't stop singing "The Song That Never Ends".
Seasoned with both a wet and dry rub, Costela de Porco (co-STELL-a gee PO-co) are baby back pork ribs that are so tender, the meat is practically falling off the bone, meaning there's less work standing in between you and more protein.
The Fogo Steak is a juicy center cut of their signature Picanha, and probably the only thing on the menu you can pronounce.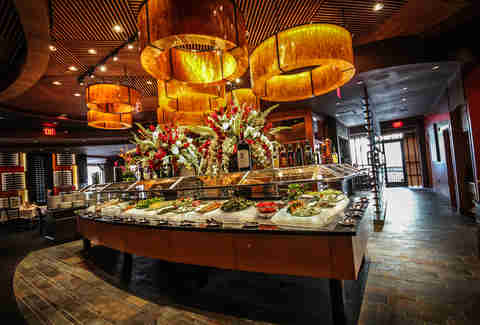 Along with all this meat, you'll also have unlimited access to their gourmet salad bar, which's got 30 items that go well beyond vegetation with plenty of cured meats, cheeses, and sides challenging you to stretch yourself to the limit until you throw down that red button for good.
Previous Venue
Next Venue
Venue Description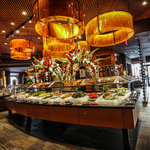 1. Fogo de Chao
668 6th St, San Diego, CA 92101
A Gaslamp Brazilian churrascaria where you flip your card to green to keep the (filet mignon wrapped in bacon, etc.) meat coming, and flip to red to breathe between episodes of stuffing your face with said meat.