Kobe beef four ways, and so many sake bombs
Thankfully only incorporating bombs of the sake variety, Kamikaze 7 is bringing powerful Japanese flavor to the Gaslamp. Owner Kevin Roberts (East Village Tavern & Bowl) and chef Chad White are betting big on Rising Sun-inspired standouts like the Kobe beef that they're doing four ways: nigiri, sashimi, yakitori-style, and fat cracklin... aka fried Kobe fat.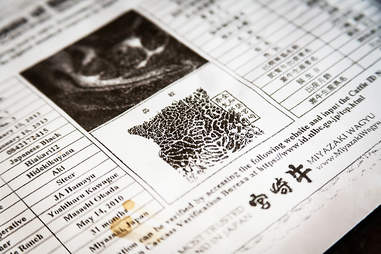 Bringing a whole new meaning to "farm to table": if you want to get personal with your meat, ask to see the lineage sheet to check out the cow's nose print and learn the name, breed, birthday, and more info than you ever wanted to know about the bovine you are feasting on.
The bar has a selection of Japanese whiskeys and beers, a cocktail menu with an Asian twist, and a list of custom sake bombs like the Black Magic (espresso shot with Sapporo) and the Old School or New School (hot or cold sake and Sapporo) from their sake on tap.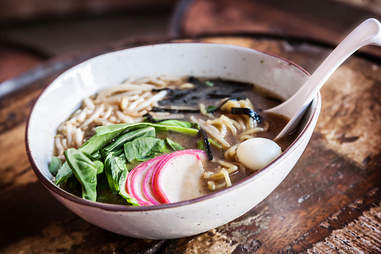 It may be named Japanese Penicillin, but while ramen with a quail egg, fish cake, bok choy, sprouts, nori, and miso broth is delicious, it most likely won't cure anything except hunger.
Possibly just a fat joke about the big dude from Lost, the Hugo Dreams of Sushi roll has a mix of fresh fish, crab, masago, red onion, cilantro, spicy mayo & lemon zest -- oh, there's more -- topped with seared albacore, avocado, ponzu, more masago, green onion, and sesame seeds.
The Geisha is a rice-less protein roll with tuna, salmon, yellowtail, avocado, cilantro, and ponzu all dressed up in some sexy... cucumber.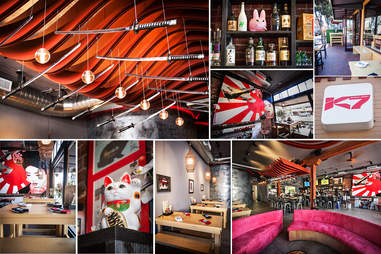 Aiming to set Kamikaze 7 apart from your typical stuffy sushi resto, they'll also serve you edamame guacamole under a samurai sword light fixture while you watch TVs playing Godzilla, anime, and Kill Bill -- appropriate, as all that Kobe may end up increasing your volume by two.