This former Playboy Playmate wants to feed you burgers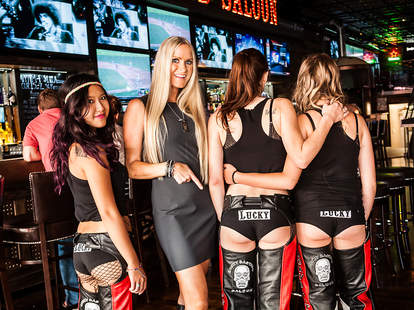 Former Playboy Playmate and actress Nicole Dahm Kelly tapped into her Midwestern roots and her own personal recipe book to bring the Lucky Bastard Saloon to the Gaslamp with a biker theme and a hot chap-wearing waitstaff -- not to be confused with a hot chap waitstaff, which would have a different target demo.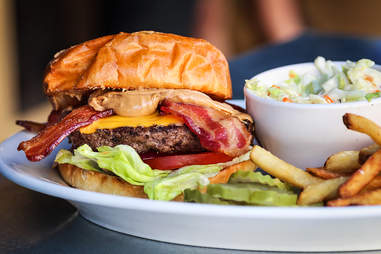 Forget about ketchup and mustard -- slather peanut butter on a cheeseburger and top it with applewood-smoked bacon and you've got yourself a Lucky Bastard Burger, which comes with coleslaw and a side of hand-cut fries. The "lucky" part comes in when you don't have an immediate coronary.
Beer-battered, deep-fried, and even cheesier than the pickup line you just embarrassed yourself with, these beer-battered California cheese curds are a West Coast rendition of the Midwest staple, served up hot and gooey.
The chili is Nicole's own recipe made with beer, spicy ground beef, tomato, and beans mixed with a few secret ingredients, then slow-cooked for hours and covered in cheese and sour cream. And it comes with the typical pairing of... a homemade warm cinnamon roll smothered in frosting? Fine -- not typical, but awesome.
No woman will be able to resist The Ladies' Man, a mahi-mahi filet, lettuce, tomato, avocado, and homemade tartar sauce on a toasted bun, especially if you order it with a shot of Courvoisier. Which you totally can.
There's a pretty extensive list of shooters, like Sex on the Saddle (Malibu, peach schnapps, pineapple, and cranberry juice), the 3 Wise Men (Jack Daniels, Johnny Walker, Jim Beam), and Charlie's Apple Pie (Goldschlager, Apple Pucker, Peach Schnapps, pineapple juice) -- get any of them as a shot or on the rocks.
Between the Jack Daniel's bottle chandelier, the Harley in the window, and the vintage saddle seats, there is no shortage of badassery in this biker-themed bar (to go with the previously pictured fine-assery), and if all of those shots got you feeling lucky, try pool, beer pong, or one of those terrible lines on the waitstaff.