Giant Bloody Marys & waffle breakfast sandwiches: The 6 best places to watch football this season
Watching the Chargers isn't always a good time. But being surrounded by beer, calorie-laden grub, and plenty of TVs to turn to when Rivers throws his third INT is always a good time. We've got the drop on six places upping their game for your benefit this season, starting with Tavern at the Beach, which's offering this Brewer's Hash on its weekend-only brunch menu: a mountain of assorted craft sausages, house-pickled peppers, and potatoes covered in roasted serrano beer-cheese sauce, topped with two fried eggs, and served on a hot skillet.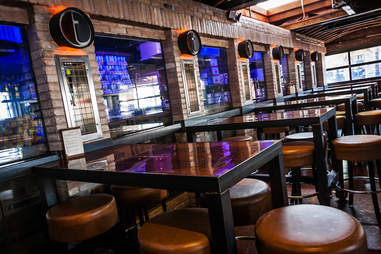 Sara Norris
Tavern at the Beach
Beyond that hash, Tavern is busting out the deals for their first football season after the big remodel, starting with their table taps. There are six beers to choose from and three different keg/food combo specials to share, ranging from the Pony Keg (1/6 barrel, Brewer's Platter, and any two pies), and The 1, 2, 3 (think the Pony Keg, and add any three starters), to the Tapped Out (1/4 barrel, two Brewer's Platters, two pies, and any five menu items). Those generous folks at Tavern aren't just hooking up kegs at your table -- they're hooking up each person helping you kill it with a raffle ticket to win a trip to Hawaii (including flight and room and board) for the 2014 Pro Bowl, so drink up.
Sara Norris
This Breakfast Pretzel Pie is also on the Kegs and Eggs weekend brunch menu, with roasted tomato sauce, a three-cheese blend, applewood-smoked bacon, and two fried eggs served on a wooden plank. Pair it with a Bloody from their Hail Mary Bloody Mary Bar, which kind of counts as going to church.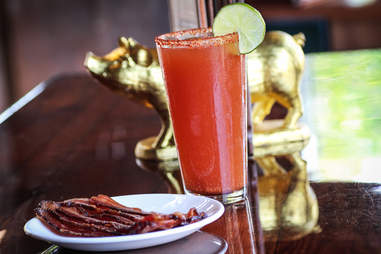 Sara Norris
Of course, they'll have football beer specials like $3.50 Coors and $5 Blue Moons, but the highlight of the drink menu is the Hog Michelada, a 20oz Tajin-rimmed Dos Equis-Bloody beer served with a half-pound of bacon on the side. And even if the Chargers don't score, you might, in the form of cash giveaways, beach cruisers, kegs, 2014 Charger Season tickets, and more, if you sign up for their Season Pass rewards program and show up for the games each week.
Slater's 50/50
The burger masters are rolling out a breakfast menu that'll be served all day Sundays just for football season, including the Slater's 50/50 Breakfast Sandwich, made from a patty that is half ground chorizo, half ground bacon, and is 100% delicious, with cheddar cheese, two eggs, and strips of bacon between two Eggos. You won't leggo, unless you pass out from excessive pork intake.
In a surprise twist on the whole chicken & waffles idea, they're doing fried chicken with pancakes, house-made bacon-infused gravy, bacon, and eggs sandwiched between buttermilk pancakes. For those who aren't down with breakfast, their Slater's 50/50 burger with their signature half ground beef, half ground bacon patty is also on the game-day menu. If you're planning on cheering on the Chargers at home games, don't miss out on one of Slater's four tailgate packages, offering everything from burgers and beers to game tickets -- and they'll even give you a ride to the stadium.
Bub's at the Ballpark
If you are a huge procrastinator and STILL haven't done your fantasy draft yet, sign up at Bub's to get a free draft board, a Bub's hat for the commish, and coozies for all of your team members, plus 20% off your entire tab (new idea -- just pretend you're having a draft and get the discount!). If you're the type who actually likes to hear what's going on with the game, be sure to ask your server about the Soundog, so you can hear the commentary from any game right at your table. The football deals start on Thursday nights with four grilled cheeses, and look out for discounted tots, drafts, and pitchers as well. During brunch, you'll want to hit up their Best Damn Bloody Mary Bar stocked with fresh garnishes, salts, house-made pickled veggies, and more than 50 different condiments.
Sara Norris
Sandbar Sportsbar and Grill
Sign up for their NFL rewards program and you'll get a tote bag full of swag just for joining, and that's only the beginning. Keep coming back every week for more freebies and prizes, like an iPad Mini and NFL game tickets. Stick around for 14 of 17 weeks and you'll be entered to win an iPad and an HD TV. On top of all the prizes, they're breaking out a whole new menu available on Sundays during football season. Sandbar might be a Boise State bar, but the football menu is full of dishes named for the home team, like the Charger Dog: a bacon-wrapped all-beef hot dog on an onion bun, smothered in queso dip and fried onion straws and served up with a side of house-made potato chips. Hopefully they have also charger'd their defibrillator.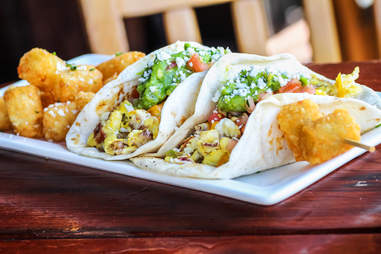 Sara Norris
Breakfast tacos are also on the menu, and're stuffed with eggs, ham, sausage, bacon, green peppers, onions, and mushrooms topped with pico de gallo & quacamole and skewered together with tater tots.
Sara Norris
Thirsty? The Charger-rita is 22oz of Espolon tequila, agave nectar, lime juice, and a splash of soda with a float of Dos Equis and a candied lime wedge. It wouldn't be Sunday without their "BAB" (Big Ass Bloody): Skyy vodka is mixed with their house-made Bloody Mary mix and served with a skewer of salami, jalapeno bacon, cheddar & jack cheeses, olive, red bell pepper, spicy green beans, lemon & lime wedges, and a piece of French toast dripping with syrup. Pretty impressive, though it doesn't top this.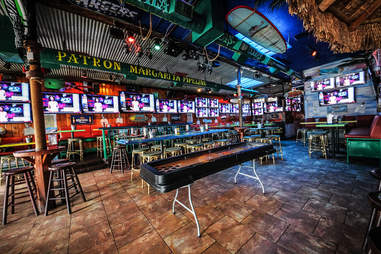 Sara Norris
PB Cantina
You can see the glow from PB's more than 50 HD LEDs from the street, and, with some of them as big as 90in, you can watch Ryan Mathews continue to disappoint you in incredible detail. For Thursday games, you can take advantage of their all-you-can-eat ribs deal with mashed potatoes and mac & cheese. Brunch is served on Sundays, along with bottomless Bloody Marys and mimosas until 3p; then take a breather for an hour, because the two-for-one drink special starts at 4p and doesn't end until 8p. Those Monday night football games, meanwhile, are accompanied by a free appetizer buffet featuring several choices from their appetizer menu.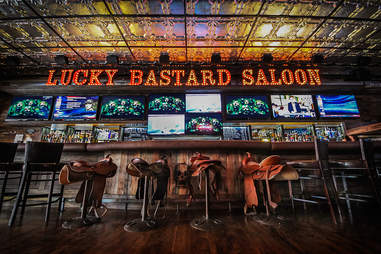 Lucky Bastard Saloon
If you plan on taking in the game in the Gaslamp, saddle up at the Lucky Bastard Saloon, where, if you can take your eyes off their assless chap-wearing waitresses, you can catch the game on their 38 big screen TVs, 30 of which are 70in.
They're also doing bottomless... mimosas on Saturday and Sunday from 10a-3p, and they're introducing their new football brunch menu with hand-crafted 10in pizzas, and breakfast meals like steak & eggs with a grilled ribeye steak, two eggs any style, tots, and Texas toast. Because die-hard fans don't just watch the games on Sundays, they have the Original Bastard Burger and a draft beer for only $10 during Monday night football.
From pool and shuffleboard to beer pong, there are plenty games to keep you busy when your eyes aren't glued to the game... or those waitresses.