Also a common follow-up endeavor for losers on Project Runway, Project Pie's the passion project of a Ninja Turtle-level pizzaphile so displeased by the category's general offerings that he pioneered his own fast-casual pizza concept that's popping up in SD with the second location of a planned empire.

Aside from this massive, street-facing community bar, the counter-ordering joint's stocked with a few four-tops and has a minimalist design meant to reflect the style of the neighborhood.

Inspirational/ famous/ funny quotes cover everything from the windows... to the walls! Actually, just the walls. Two of them, specifically

Baked to perfection in roughly 2mins, each pie starts with their super-secret custom pizza dough made extra-thin via a modified tortilla press, then gets doused with their secret-recipe, housemade red sauce, and then piled with any of nine ingredient combos like this #2, sporting mozz, pepperoni, mild Italian sausage, crumbled meatballs, and garlic

If their nine options make you say "nein", go all custom with 20+ toppings for personalized pies like this sauce-less mix of artichoke hearts, sliced tomatoes, red onion, mozzarella, and dollops of pesto.

If you only eat salads that start with a less-healthy word, check out this Pizza Salad with grilled chicken, mixed greens, Gorgonzola, tomatoes, and olive oil on fresh-baked dough

Because you should always follow your pie with... more pie, they'll also cook up sweetness like this Nutella & banana number finished off with powdered sugar, helping you transition into Project Diabetes.
Recommended Video
Eat Up Jerk Chicken & Stewed Oxtail in Pizza Form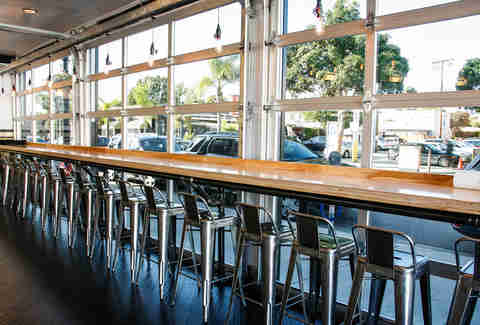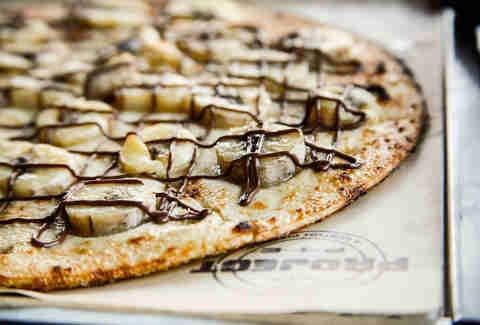 Previous Venue
Next Venue
Venue Description
1. Project Pie
3888 4th Ave, Hillcrest , CA 92103
Hillcrest is one competitive restaurant neighborhood, but Project Pie has earned an edge over the fast-casual pizza chain competition by holding it down for over three years. Here, you can build a pizza with whatever you want on it (or everything!) for one reasonable price. Don't feel like making decisions? There's also a menu of pre-designed pies that are reliably tasty.