7 ways to eat your way through SD's hottest new happy hour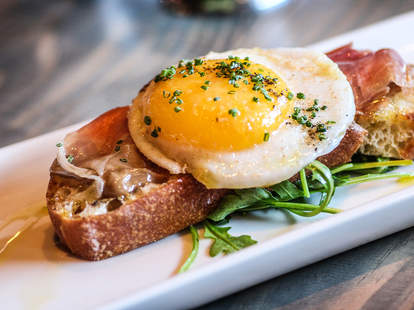 The folks who brought Blue Ribbon Artisan Pizza and Craftsman Tavern to Encinitas now have a trifecta of restos and some of the hottest happy hour fare in town, with the addition of Blue Ribbon Rustic Kitchen in Hillcrest. The entire happy hour menu is just six bucks a plate, and they're even game for another go-round late-night (so, really, it's happy hours?). Get yourself started with the open-faced duck sando with a basted egg, San Daniele prosciutto, and black garlic aioli, and still have enough dough left over to drink your way through the cocktail menu. Or, if you wanna stretch that dough further, well cocktails are $5!
Sara Norris
Behold the fanciest popcorn that will ever meet your lips: heirloom Wisconsin black seed popcorn is covered with truffle salt, Parmigiano Reggiano, and chives. Your move, Redenbacher.
Sara Norris
In the mood for handmade pasta? There's nothing tiny about this serving of petite angel hair with Roma tomatoes and double-blanched garlic, topped with Grana Padano.
Sara Norris
Bite into the house-cured lardo with bagna cauda, arugula, and black Mission figs -- the ensuing jokes about you becoming a lardo will be worth it.
Sara Norris
Even if Brussels sprouts were your childhood nemesis, don't worry -- these are cooked with house-made pancetta, capers, and apple cider vinaigrette, and then deep-fried, which makes them not only edible, but actually addictive.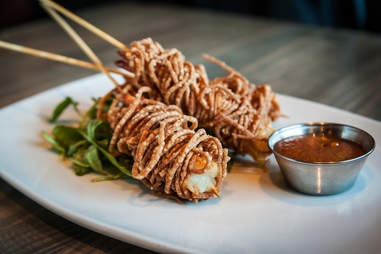 Sara Norris
Crispy angel hair-wrapped prawns are fried and served on skewers with roasted tomato cocktail sauce, horseradish, and lime.
Sara Norris
Regular fries just won't do on this happy hour menu, so Blue Ribbon has made them out of fried organic zucchini and served them with garlic aioli, sea salt, and Italian parsley. And remember: if you can't eat all this in the first happy hour, just come back later that night.