Not just a place for big fans of sodium/ Jerry Mathers (though they're welcome, too), Salt and Cleaver is offering locally sourced and house-made gourmet sausages that can be tailored to anyone's taste, with the exception of those on the "protected" menu, which are only served the way exec chef Carlos SanMartano designed them, like this Duck. Duck. Pig: duck and bacon sausage, duck confit, Baconnaise & orange marmalade
The space is a modern rustic ménage à trois of wood (!), metal, and brick, with barnwood tables and exposed beams surrounding the U-shaped bar that's pouring a rotating lineup of 20 draft brews
Another chef's choice is the smoked bratwurst topped with a carefully crafted combo of malted sauerkraut (sorry, milk balls), roasted peppers, and smoked brown ale mustard
Recommended Video
Potato Skin-Breaded Queso Balls Will Make All Other Apps Obsolete
If you like to do things your way but not necessarily at Burger King, take your pick from nearly 20 sausages (Chicken Florentine, Lamb Merguez), then add fixings and housemade sauces like spicy horseradish mustard or their S&C sauce ("like ketchup, but better"). Order it with one of their out-of-the-bun sides like tzatziki-sided "cucumber fries", and don't forget to check the chalk board for the chef's off-menu specials
Every sausage comes plated on an angled metal tray that was custom-designed and handmade just for them, while chain-link fencing, industrial hooks hanging from the ceiling, and an illuminated wrought iron wall on the patio add to the badassery... On second thought, Leave It to Beaver fans may want to head elsewhere.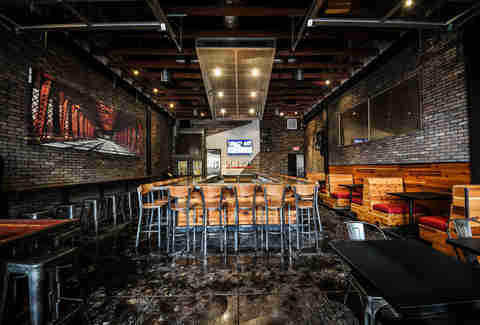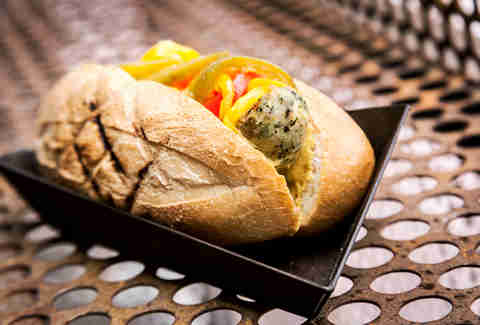 Previous Venue
Next Venue
Venue Description
1. Salt & Cleaver
3805 5th Ave, San Diego, CA 92103
This sausage spot is slinging weiners served any way you like them, or (for those on the "protected" menu), exactly the way the chef intended them. Add to that some badass features like chain-link fences and wrought iron everywhere, and you've got yourself a sausage that's going to be hard to miss.