There's something comforting about going to the same spot every week, where the waitresses call you by name and know your order before you even say anything. Then again, there's something kind of creepy about that, too. GET OUT OF MY HEAD, MILDRED! It's time for you to branch out a bit, so here are five new spots you shouldn't miss, even if it means Mildred will miss you. Cucina Enoteca Del Mar The latest addition to Urban Kitchen's ever-growing resto roster is the farmhouse-/equestrian-inspired Italian haven Cucina Enoteca in Del Mar. It's their most elaborate venue yet, with two impeccably appointed stories (pro tip: anything you see can be a hostess stand). The menu's deep, with fresh house-made pastas, pizzas, and that giant meatball smothered in marinara, which's best washed down with one of their Italian beers and some Tums.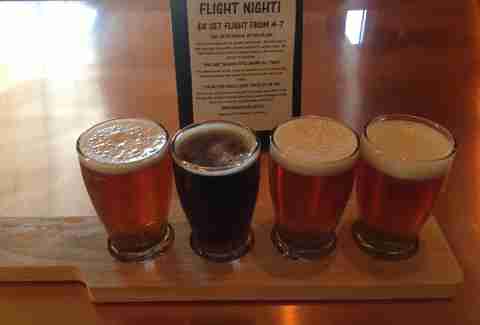 Acoustic Ales Brewing Experiment Tasting Room
Mission Valley
Housed in the historic Mission Brewery Plaza, Acoustic Ales Brewing Experiment is now pouring their musically named brews in a new cave-like, 13-tap tasting room. Now you can enjoy The Groupie (their Belgian-style strong blonde ale) while lounging on one of their leather couches or Shake Your Money Maker at the bar. Shake Your Money Maker is a honey nut brown ale. Please don't actually shake anything.
Social Life Pizza
SDSU
The perfect place for stress-eating during finals/hitting on undergrads, SLP's a new pizza joint near SDSU cooking Neapolitan-style pies in a forno oven that heats up to 900 degrees. Go with one of their selections like the prosciutto-topped Porco Blanco, or create your own custom pizza to pair with one of 10 craft beers on tap. If you like dessert but don't want to stop eating pizza, they have a pie that's topped cannoli-style.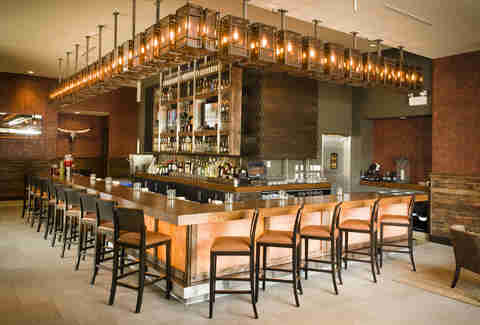 Venga Venga Cantina and Tequila Bar
Chula Vista
Pair Mexican comfort food with 100 tequilas & mezcals behind the bar (all of which are also comforting), add in guac prepared tableside and a large patio outfitted with firepits, and you've got Venga Venga. They host a bottomless brunch on the weekends with unlimited breakfast tacos and shareable small plates, plus unlimited access to the brunch bar stocked with micheladas, Bloody Marias, margaritas, and mimosas.
Outcast Grill
University City
In the spirit of Outcasts United, the refugee soccer team it's named after, this place has rebranded, remodeled and reopened with a new look and a refreshed seasonal menu filled with grass-fed burgers and wings. They're serving wine and local craft beers on tap, weekend brunch, and these fish tacos, which you'll find as a special during tastily alliterative Taco Tuesdays.