Wash down Indiana Jones-inspired sushi with $1 sake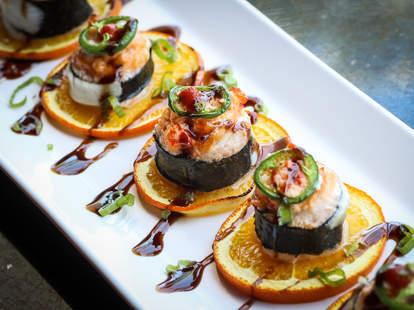 You won't need $1 sake to be amused by Shiku Sushi, which is sporting a devilish red and black motif and a menu with devilishly clever rolls, including creations like the Indy-ana Jones & the Tempura of Doom and this rice-less I'm So Baked roll made with spicy crab, spicy tuna, and cream cheese wrapped with white fish, then topped with lobster and jalapeno baked with garlic-crab dynamite sauce.
The Tiger Woulds roll is made with an open disdain for Sergio Garcia grilled black tiger shrimp, asparagus, and crab, topped with halibut and avocado, then drenched in a sweet Thai chili sauce with cilantro.
If carbs go straight to your hips, there's the rice-less Jewel roll made with tuna, albacore, fresh salmon, crab, and avocado, wrapped in cucumber, and served with ponzu vinaigrette.
The open layout lets you watch owner and 11yr sushi-making vet James La create his impressive works of aquatic art from just about any seat.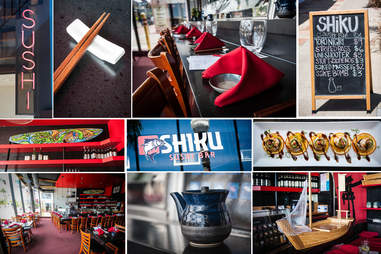 Oh, and that sake -- hot sake bottles are sold for the comically low price of $1 during happy hour, plus rotating sushi specials that'll appear on the outside chalkboard. If you're devilishly clever you can probably change "rolls" to "balls".