12 reasons Ironside Fish & Oyster is San Diego's most exciting new restaurant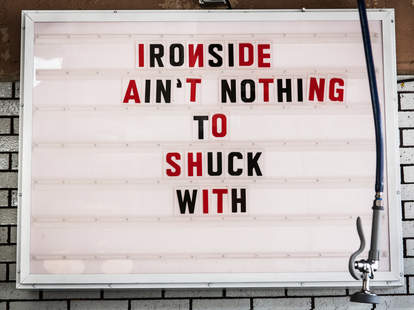 More than a year after Consortium Holdings added Soda & Swine and the award-winning Polite Provisions to their already impressive repertoire of bars and restaurants, San Diegans have been patiently awaiting their newest venture in Little Italy. Teaming up once again with designer Paul Basile, CH has transformed a 1920s warehouse into a nautical-themed work of art that thoroughly backs up the clever wordplay on their signage with a little help from piranha skulls and giant lobster rolls. Let us explain.
1. They know how to present their booze
The 14-foot, custom-fabricated bar displays shelf after shelf of liquor bottles all the way up to the ceiling, housing more than 90 fortified wines, 16 beers, eight wines, a draft cocktail, and, if you need a buzz of the caffeinated variety, iced coffee on tap -- thanks to a collaboration with local favorite, Coffee & Tea Collective.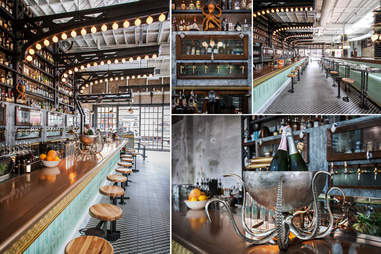 2. Serving you that booze: an octopus!
In line with their other projects, eye-catching design is everywhere; from the copper bar top and custom bar stools, to the silver octopus presenting a chilled bowl full of Champagne. Thank you, generous octopus!
3. The nautical vibe is everywhere
Opposite the bar, on the other side of the sea foam-green wooden bench that divides the space in half, you'll find stacks of vintage suitcases made to look like the cargo in a ship, plus golden mermaid statues overlooking the copper-topped (your move, Duracell!) tables.
4. Piranha wall? Piranha wall!
Reminiscent of the golden skull wall at Noble Experiment, hundreds of vicious-looking, toothy fish jaws protrude from the wall.
5. There isn't a bad seat in the house
Any place you choose to sit at Ironside offers a completely unique dining experience. You can eat at the long, white marble table and have a front-row seat for the happenings of their open kitchen, or dine at the long wooden bar surrounding the bakery where Pastry Chef Donna Antaloczy heads up their artisanal bread program and bakes all of their fresh breads in-house.
6. Their happy hour will make you... happy
You can get up close and personal with your shellfish when you post up at their raw bar, which is stocked full with piles of fresh oysters, crabs, mussels, and more on ice. Oyster happy hour is 3-6pm Monday through Friday, offering oysters for just a buck apiece.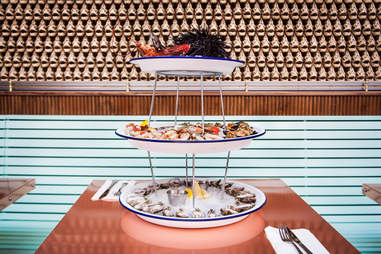 7. Their raw bar goes beyond big
Ironside Platters are the way to go to get a little taste of everything they offer at the raw bar. They come in three sizes: Big, Bigger, and Biggest. Guess which one this is…
8. Like, way beyond big
Take a closer look. For a mere $139, you and six to eight of your closest mates can enjoy the Biggest Ironside Platter stacked three tiers high with 18 oysters, eight clams, 18 shrimp, 18 mussels, a whole lobster, and an entire sea urchin.
9. The kitchen has star power... and 1lb lobster rolls
Michelin star Chef Jason McLeod, who has been overseeing the back of house for Consortium's other spots, has stepped back into the kitchen for this project, bringing you tasty seafood dishes like fried oyster sliders, beer-braised mussels, and 1lb lobster rolls made with a full pound of lobster lightly covered with brown butter mayo and stuffed into one of those fresh baked rolls we told you about.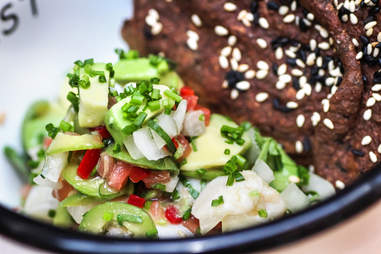 10. They keep it fresh
So they're sure to deliver you the freshest seafood possible, the menu at Ironside can and probably will change as frequently as the tides; so whether you get the shrimp ceviche, or this one made with scallops and chunks of avocado, you won't be disappointed.
11. You can drink out of this
We all know that Consortium has it down when it comes to making cocktails, and Ironside is no exception. The bar program is headed up by bar manager Leigh Lacap, who is bringing back those aforementioned fortified wines, plus a bar menu featuring more than 50 cocktails, like this Fog Cutter made with light rum, Cognac, gin, Pedro Ximenez Sherry, orgeat, lemon, and orange, topped off with grated cinnamon. Like the old pirate saying goes, "Yo ho ho and… a killer whale tiki mug full of rum!" Or something.
12. But you don't HAVE to
Try one of their Sherry cocktails like the Thunder Child -- Amontillado Sherry, bourbon, Licor 43, Curaçao, lemon, and grated cinnamon. The glass isn't nearly as cool as the killer whale, though. Maybe they'll serve it in one if you ask super nicely.