A burger joint by way of New Zealand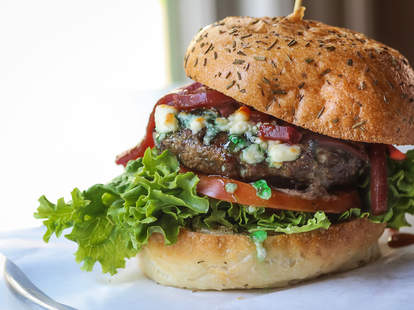 In case repeated viewings of Flight of the Conchords DVDs aren't fulfilling your kiwi quota, the dudes behind Bareback Grill and Ragland Public House have rolled out Queenstown Public House, bringing you burger goodness inspired by an out-of-the-way-joint the owners uncovered in New Zealand, so prepare to sink your teeth into this lamb patty/blue cheese/mint jelly/shoestring beetroot Bare Lil Lamb, and other meaty creations. Of course, such a massive meat payload might require the occasional foray into seafood & plant matter, so this Big Bowl is a... big bowl of grilled shrimp, diced papaya, arugula, avocado, mango, fennel, and fresh mint.
In addition to the 20 beers on tap and 10 bottled, they're pouring red and white sangria by the glass or by the pitcher, and hand-shaken lemonades if it's lunchtime and you have to go back to work. Well, even then, maybe have just one beer.
The outside looks like your grandma's house landed smack in the middle of Little Italy. Do not bring them your laundry
Walk inside and you might start to wonder if grandma has gone a little crazy. There's grass with grazing wire sheep on the ceiling, vintage serving trays & water pitchers on the walls, and an old canoe hanging behind the bar
There's also plenty of outdoor seating, including a large semi-covered patio on the side where they brew jars of Porch Sun Tea. There's also a firepit made from a vintage washtub out front, so it's no longer usable to clean yourself Down Under.