If you're like most people in SD, the only reason you go to Little Italy is to stuff your face and throw back a few adult beverages.
But once you've done that, then what? Until now your options were to either take your food baby home while swearing off carbs, sit in the same ol' bar and drink more, or hop in an Uber and head to another 'hood.
Now? Everything has changed! Because you have a 13,000sqft behemoth of a live music venue to occupy yourself in. And if you still want to make the whole face-stuffing, adult beverage-consuming thing part of your evening, don't worry, this place is absurdly good at that stuff, too.
Recommended Video
Charleston: The Ultimate Local's Guide
The building once occupied by Anthology has finally been revived into a tri-level, state-of-the-art concert venue. The roomy general admission area holds around 700 music lovers (compared to the 300 people they could cram in there way back during the Anthology days), opera booths with bottle service, two outdoor patios, bars on two levels, and a private VIP room overlooking the stage.
Rest assured, this is not your typical dark, dingy, sticky-floored music venue. From the second floor mural of iconic musicians' mug shots by local artist Christopher Konecki, to the massive organ pipes hanging over the downstairs bar, this concert hall is designed to look as good as it sounds.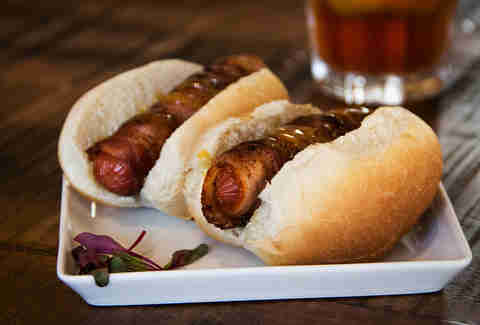 Music Box's lineup of elevated small plates thoroughly shames the typical concert venue fare of reheated pizza slices and stale chips covered in goopy nacho cheese. Dinner gets started at 5pm and Chef Craig Martin keeps the kitchen running hot until last call. That gives you plenty of time to scarf down as many jalapeño mustard-drizzled, bacon-wrapped mini hot dogs as possible.
There are plenty of shareable, handheld options like quesadillas stuffed with shrimp, black beans, corn, and goat cheese, or shrimp street tacos with avocado and cilantro.
Oh, and when was the last time you had calamari at a concert? Correct, you have not had calamari at a concert. And you certainly haven't had orange chutney for dipping said calamari.
If you're looking for something a little more meaty you can order the Kobe sliders with cheddar, Russian dressing, and balsamic-glazed onions. Less meaty? Then your slider style will be wild mushrooms with caramelized onions, balsamic vinegar, and herb aioli.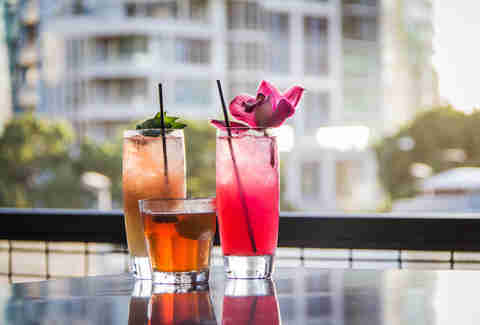 What's that? You're parched from shrieking at the lead singer from the front row like a tween at a One Direction concert? And you will accept nothing less than a fine cocktail, but don't have time to wait for some shaker-wielding mixologist? Well, Music Box has three Craft on Draft cocktails (plus excellent beers on draft, obviously). The bartenders can refill your Moscow mule, Flor de Paloma, or Bold Fashioned, and have you back in the crowd before anyone misses you.
Sign up here for our daily San Diego email and be the first to get all the food/drink/fun in town.
Sara Norris is a freelance photographer, writer, and music lover who you'll find shaking her money maker at Music Box and Instagramming at @saraknorris.