Summer is arguably the best time of year in SD (arguable because, let's be honest, every time of year is pretty good), so nobody would blame you if you've been too busy hanging at the beach and hitting up the pool parties to keep up with all the newest places to stuff your face. Luckily, we have the rundown on everything from the freshest place to get the freshest fish, to the newest spots to wrap your lips around a frosty craft brew, to the best of both, like Southpaw Social Club, which offers their upstream salmon with Summer succotash and a mile-long list of beers to go with it.
Recommended Video
Meat Flowers Are Here to Give You The Best Valentine's Day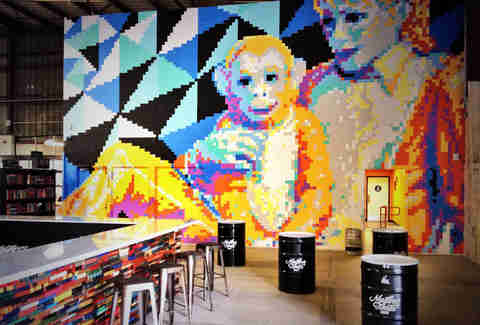 Modern Times Tasting Room
Point Loma
Times are a-changing at Modern Times, with the opening of a 16-tap tasting room in their Point Loma brewery pouring their four staple beers (Blazing World, Fortunate Islands, Black House, Lomaland), seasonal selections, and special releases. The space is far from your typical tasting room, with a bar front made from old books and a colorful wall-sized mural made from thousands of Post-it Notes that pays tribute to the king of pop and his monkey friend Bubbles.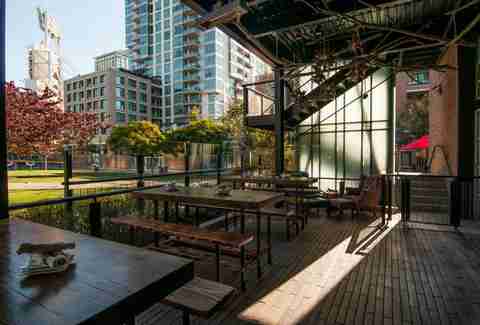 Southpaw Social Club
East Village
Joining the ranks of the East Village restos from Good Time Design (Blind Burro, Cat Eye Club, Bub's at the Ballpark), Southpaw Social Club pays tribute to the great American pastime: drinking baseball. Sit around the fire pit, eat some classic American grub, and sip on a craft beer from their extensive list, all while hanging out in the shadow of Petco Park. Don't miss out on the daily Supper Club, featuring menu items only served after 4p, like their Angus ribeye with charred jalapeno, roasted tomatillo salsa, and blue cheese frites. They have DJs on the weekends, and Monday night cask nights feature a new beer each week with $5 pints until it runs dry.
Iberico Spanish Bistro and Gin Club
La Jolla
The owner of El Agave in Old Town has expanded to La Jolla, where his new venture is turning out Spanish tapas with a little Mexican flavor. Iberico's also home to San Diego's first gin club. There are 14 different gins in the bar, each mixed into their own unique cocktail with ingredients like elderflower, licorice, and rosemary, proving that gin is good for more than just tonic and lengthy card games with your grandmother.
Meatball Cucina
Downtown
Downtown's new meatball-themed resto has all the Italian staples, like pizzas and paninis, but the highlight of the menu is the extensive selection of meatballs. Skip the carb-heavy plate of noodles and get your meatballs solo, or take advantage of the 60 possible combinations of meat, sauce, and pasta, like their spaghetti and meatball: a huge 10oz meatball made of a beef, pork, and veal blend, topped with classic tomato sauce, and finished with ricotta cheese and parsley.
The Hake Kitchen and Bar
La Jolla
If you're the kinda guy who's looking for a fish so fresh it's still flopping on the plate, dining at The Hake is a must. They have a menu that changes with the season, so you only get the freshest of the fresh, like the spicy cayenne shrimp made with Spanish smoked paprika and heirloom tomatoes. If seafood doesn't float your boat (heyo!), they also have a "Land" menu, with choices like the Berkshire pork chop or black Angus burger. Their bar is stocked with an extensive inventory of mezcals for you to sip on their open-air patio while you're soaking up the last little bit of Summer.