7 Things to Know About StreetCar, Your New Fried Chicken & Doughnut Go-To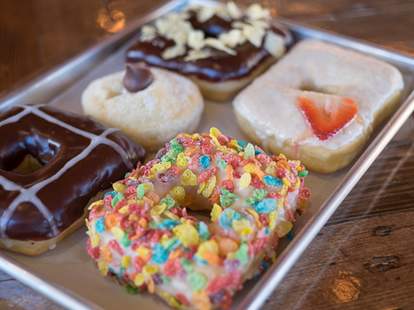 Erin Jackson
1. There's a whole lot of butter in these doughnuts
Most doughnut shops sell a selection of crumbly cake and springy yeast doughnuts. Not here. Instead, the display case is stocked with brioche doughnuts, made from butter-rich dough that takes two full days to come together. The result is dense, squishy, and flavorful doughnuts that want to be inside you.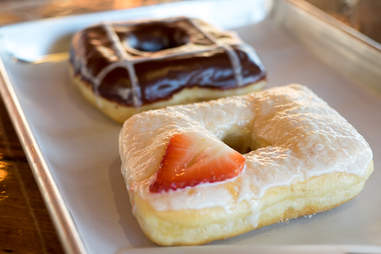 Erin Jackson
2. It's hip to be square (and substantial)
If these square-shaped doughnuts wore pants, they'd shop for them in the big & tall section. Yes, you could technically split one doughnut between two people, but you won't want to. The ideal doughnut-to-patron ratio is 2:1. Arrive hungry.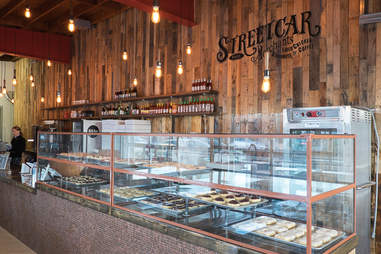 Erin Jackson
3. The display cases are stocked well into the afternoon
Early birds are rewarded with the best selection, but even if you roll in at 2 or 3pm, co-owner RaVae Smith says there will still be at least half a dozen varieties available, so go ahead and sleep in.
Erin Jackson
4. There's a good mix of classics and new creations
Love a good, old-fashioned doughnut? Classics like cinnamon sugar, Boston cream, and vanilla glazed are well-represented, along with imaginative creations like eggnog, horchata, and whiskey pecan with blue hibiscus jam filling, whiskey glaze, candied hibiscus flowers & pecan pieces. Most classics are $2 apiece, while the more envelope-pushing options range from $3-$4.
Erin Jackson
5. Fried chicken comes three ways
Mary's free-range, organic, air-chilled chickens are available in three delicious preparations: Southern (traditional), Nashville-style (hot and spicy), and Korean (twice-fried). Add a waffle or two to double your pleasure. Just be prepared to wait; chickens are cooked to order one at a time, so it can take 30 minutes or more to get your bird. On the plus side, you can pass the time with a doughnut.
Erin Jackson
6. There's coffee, too
Pour overs, espresso beverages, and straight-up coffee brewed from fresh roasted Intelligentsia beans go great with a doughnut any time of day. For your fried chicken pairing pleasure, the shop also stocks a selection of craft sodas.
Erin Jackson
7. Beer (and a whole lot more) is on the way
Co-owner Ron Suel says he'll be adding six beer taps of Green Flash and Alpine Beer Company brews within the next month, along with a separate menu of hot and fresh made-to-order doughnuts in February. The team is also working on perfecting French crullers and finalizing a late-night menu with crave-worthy munchies like popcorn shrimp po' boys, fried pickles, and doughnut grilled cheese sandwiches. Yes, doughnut grilled cheese sandwiches.
Sign up here for our daily San Diego email and be the first to get all the food/drink/fun in town.