Without batting an eye, any red-blooded American will scarf down a huge steak so rare that its practically still saying "eat mor chickin" on the plate, but until recently most of us wouldn't consider eating that same cow's organs and other random bits. We rounded up 10 great dishes representing all the "parts" possibilities available to adventurous San Diego diners, some from places leading the nose-to-tail movement, and some from places that were serving this stuff before there was a movement. Enjoy.
Grilled Lamb's Brain Tacos at Aqui es Texcoco
There's a reason the zombies in Return of the Living Dead craved brain so much -- because it's delicious!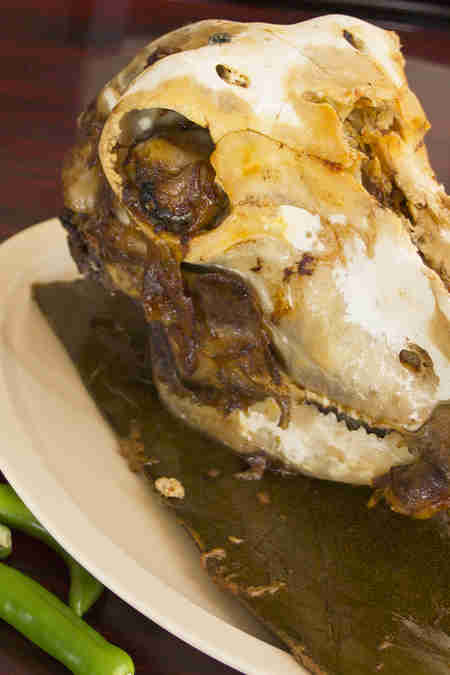 Cabeza Completa at Aqui es Texcoco
Another option here is the whole lamb's head. Texcoco's menu boasts "no flashy gimmicks or chef's interpretations", so you know this is a classic... which means that other people have eaten it before... which means it's safe for you to eat... which means you should try it.
Roasted Beets & Pork Belly Salad at Waypoint Public
Amanda Baumgarten is not only a chef but a skilled butcher to boot, so it's no surprise that this salad's pork belly comes with a bonus of crispy pig ears (and tangerine and frisse).
Beef Heart Tostadas at Común
Not only has Chef Chad White poured his heart into Común, but various animals' hearts as well. This tostada is spread with beef heart tartare, then topped with burnt mayo, avocado, egg yolk, anchovies powder, chili morita ash, dehydrated onion, and a ginger, lime, soy, and garlic vinaigrette.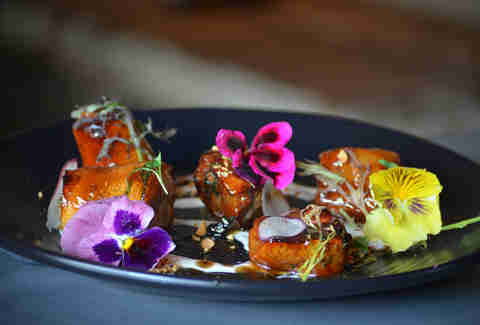 Tamarind-Jalapeño Glazed Pig Tails at Indigo Grill
Indigo's newest chef Jason Maitland has found some imaginative uses for random parts found on both ends of a pig, from the number above (served with radish, peanut, and house buttermilk dressing), to a bucket of pig ears with lime zest and cotija called "Flaming Hot Cheetos". So hey, where are the Takis?
Tacos de Lengua at Lion's Share
The Lion's Share is known for having all kinds of interesting proteins on their menu, but they bring a whole new meaning to "silence of the lambs" with their lamb tongue tacos. Sadly, there's no calamari on the menu, or you could ask for Squid Pro Quo, Clarice.
Veal Intestines at Manna Korean BBQ
Remember that time you had that backyard cookout and everybody was, like, "Steve, why don't you ever grill veal intestines? You know that's what the average American man craves." Okay, maybe that never happened, but it might after you take your buddies here and tell the squeamish ones to Manna up.
Rabbit Loin & Rabbit Liver at Mille Fleurs
Forget buffalo. Mille Fleurs is leading the "every part of the rabbit" movement with this dish also featuring broccolini, polenta and mustard tarragon sauce.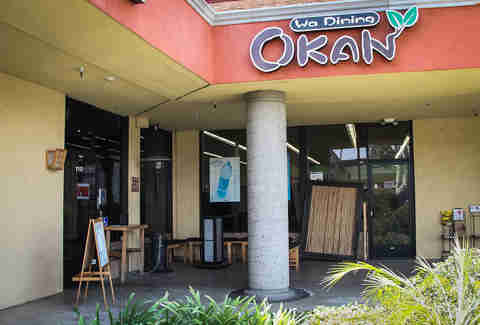 Tongue Steak at Okan
Okan's menu will have you speaking in tongues, with two different preparations, one thinly sliced and grilled to perfection, the other more likely to make anything you say with your mouth full incomprehensible as it's a thicker cut steak grilled on skewers.
The Parrillada "El Conventillo" at Puerto La Boca
The ultimate carnivore's feast: a sizzling platter piled with short ribs, skirt steak, chorizo, blood sausage, sweetbreads, and flap meat. You're not alone in wondering exactly what part of the cow is the "flap", but you'll be happy to know this formerly ignored cut comes from the bottom of the sirloin, and not...